Weaver's Week 2017-04-23
Last week | Weaver's Week Index | Next week
A pair of reality shows this week. One is novel, thrusting, and interesting. The other is deeply conservative, and bored us.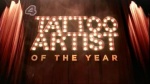 Studio Lambert (all All3Media company) for E4, from 4 April
For some years, E4 has run Tattoo Fixers, a show about people who work on tattoos. It's a successful series, and now there's a game show. The contest's structure is not a surprise. Ten competitors are gathered in a large room, they'll be set tasks, and the omnipotent judges will decide who stays and who leaves.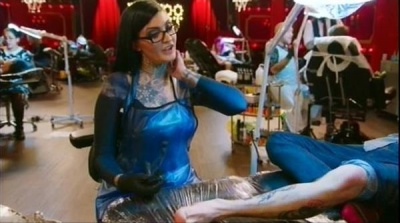 Tattoos have the trappings of counter-culture – all sorts of piercings, metal bits, and brightly coloured hair. Contestants and "clients" show off this unconventional attire. But the contest's format is the most conservative we've seen in a long time.
Within moments, we're in a round of cliché bingo. Here comes a profile of a player. Are they going to cover all ten in the opening episode? No? This one is going to be in trouble. We know the clichés. The opening challenge is to tattoo a dead pig? Shock value, kick the series off with something to get social media buzzing.
Tattoo Artist lives in a predictable, safe world. All the mean-and-moody camerawork. The spooky location, somewhere near steampunk and a run-down music hall. The trappings, the clingfilm, the soundtrack, the narration. None of this comes as a surprise, it feels like a skills challenge in its comfort zone.
With nothing to note in the format, we're left to concentrate on the presentation. It's not impressive. In any skills challenge, there's going to be a range of experience. The show has got to cover all the bases, from expert to complete novice. We can't speak for experts, but we can see where the show is going, and why some efforts are marked down.
Jay Hardy and Rose Hutton are the judges. They have to explain why they hold their opinions, otherwise they are indistinguishable from prejudices. Most of the time, they do come up with a reason. Not always a good reason.
One judge said "cover-ups are a big no-no." We had to work out what they meant by "a cover-up" (it's one tattoo drawn on top of another), and then try to figure why it's so bad. We're still not sure. As soon as the judge had said it looks wrong, the narration repeated this opinion. Because it came from a judge's mouth, it was treated as fact. It's not, it's an opinion, and it's open to dispute.
And that brings us to the last problem with Tattoo Artist: we're manipulated by the commentary. We're pretty much told what to think throughout. Which contestants get profiles, which get good and bad narration, it's all done to set the mood and justify the judges' decisions. Vas Blackwood delivers the script well; it's not his fault that the script manipulates.
This doesn't feel like honest editing, it feels like the producers have come in to make a programme, and will bend reality to meet their script. Big Brother pulls the same trick. So did Studio Lambert's notorious flop Love Thy Neighbour.
Overall, we're not impressed. Tattoo Artist lives within its aesthetic, and it does look good on screen. But the format is nothing special, the narration leaves us feeling slightly manipulated, and when we lose confidence in the judges we lose confidence in the show as a whole.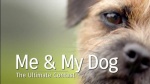 Wall to Wall (a Warner Bros Television Production Uk Company) in association with Ten66 for BBC2, 5-26 April
To the great outdoors, where Chris Packham meets some pets and their owners. Over the four weeks, they will explore the relationship between man and dog united.
We've just criticised Tattoo Artist for being conservative, so we need to recognise progressive ideas when we find them. Me and My Dog really is something different. The eight pairs are with us for three weeks, there are no eliminations as we go.
Instantly, the tenor of the show changes. We can get to know the pairs much better, they'll be with us for a time yet. The mere fact that dog and human are profiled doesn't mean they're leaving this week. Tension dissipates, and we get honest camaraderie.
Each week's challenges have a theme: testing the physical bond, obedience, and letting the human see the world through the dog's eyes. Tests are set by Sian Ryan the dog trainer, and are a mixture of precision and ability.
In the fullness of time, we figured that the test was not just of the dog, nor just the human, but of both operating as a team. The tests were rigorous, and achieved their design goal. They were true tests of relationships, unlike the efforts of The Getaway Car last year.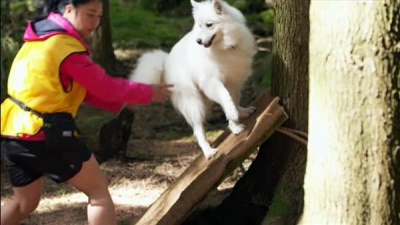 Each show was split into three parts: a test for the yellow team, a different test for the red team, and then something that they'd all do. While one team went on the water to try paddleboards with a dog sat on the front, the other team was asked to complete an agility course. Both came together for a cross-country run.
They did keep score, and they kept score on a blackboard with some chalk. 4 points for winning an event within the group, 3 for the runner-up, then 2 and 1. Top two in each group after seven events will go on to the final challenge, a triathlon.
Interspersed amongst the tasks and games were some science bits with Emily Blackwell. These were outright experiments, such as which colour tennis ball does a dog like to choose? (Blue ones, because that's the clearest colour to their eyes.) Chris Packham's narration also gave some scientific detail, thrown naturally into the commentary. The Really Wild Show lives on...
Not everything in this show was top drawer. We thought the show lacked pace, there wasn't quite enough content to fill the hour. It's clear where the edits for UKTV Woof will fall, and that shorter time is going to make for a tighter show.
There were plenty of arty shots, and good use of drone cameras, but after a while these tended to blend together. Yes, the Lake District is picturesque, and it's got a lot of lakes, but is that it?
By calling itself "The Ultimate Test", Me and My Dog set itself impossibly high standards, ones it didn't meet. The science is a sprinkling amongst lots of emotion, many shots of dogs doing doggy things. Sadly, dogs don't float our boat much – if we did like canines, we'd have loved this show a lot more.
We don't think the show is a failure, not by a long chalk. It blends feelgood entertainment with gentle education, something rare on adult television. And it has demonstrated that you can do a reality format without eliminating someone every single week.
This Week and Next
Radio 4's Brain programme reached the semi-finals. The reigning Mastermind champion, Isabelle Heward, is in this match. Jim Cook was a Mastermind finalist in 2004 (Shaun Wallace's series). But it's the other contenders – Ross Goodwin and William Barney who take an early lead. Three points clear in the first round, but Brain of Britain is a middle-distance race.
William Barney extends his position in the second round – he's lucky with one or two of his guesses. Each contender gets one music question, and William Barney has the best-selling single last Christmas. He knows Rag 'n' Bone Man, but lets slip the singing career of Kevin Keegan. After three rounds, William Barney is four points clear of the closest competitor.
We call it a French kiss, they call it a Florentine kiss. Go on, what do they call it in Florence? "French kiss", much to the chagrin of the Only Connect question pixies. No major change in the next round, "They don't know" sung by Tracey Ullman is a highlight of any show, and it's welcome here.
The scores bunch up a little, Isabelle Heward dredges up the date of the battle of Agincourt to keep alive a strong run, and almost comes through to win. But the Lathes of Kent block her path, and the contest closes. Final scores: Isabelle Heward 9 Jim Cook 9 Ross Goodwin 10 William Barney 12.
William Barney's strong early start proved enough – he had good fortune in the first three rounds, and scored just one point – a bonus – in the second half.
The Fifteen-to-One final crept up on us. After a brutal first round (three out! In the final! This never happens!!) and the usual second phase, the three finalists emerged. Zoe Millman, Darren Martin, and Ross Goodwin. Ross had been top of the finals board, which these days wins absolutely nothing. Darren takes a one-point lead, having arrived with two lives.
There's nothing between the players after ten questions – three apiece, one dropped. Darren loses a life after suggesting the shopping centre near Sheffield is "Meadowvale" – it's "Meadowhall". Zoe takes a lead in the next few questions, with Darren in second place. Within moments, Zoe has lost a life, and Darren has picked up to take a small lead of his own. Fingers-on-buzzers produces a fast and furious game.
With ten to go, Darren has a one-question lead on Ross, himself one ahead of Zoe. All have lost a life. Zoe knows Verruca Salt, but then Ross goes on a roll. York, The Pirates of Penzance, Adele and Kansas, and takes a clear lead. Inheritance tax puts him four clear with four to play, and Robert Redford secures the title – and £40,000 – for Ross Goodwin.
BARB ratings in the week to 9 April
Broadchurch (ITV, Mon, 10.15m) remains on top overall. Saturday Night Takeaway (ITV) went to Disneyland, and returned the top game, with 6.9m viewers.
Masterchef (BBC1, Thu) began a new series with 5.45m viewers. Pointless Celebrities (BBC1, Sat) finishes in bronze position, 3.2m.
University Challenge (Mon) won on BBC2, a round 3m. Bake Off Creme de la Creme (Tue) pulled 2.45m, and the Only Connect final (Fri, part-network) 1.85m. Me and My Dog (Wed) began with a very strong 1.7m.
Celebrity Juice (ITV2, Thu, 1.09m) tops the digital chart, ahead of Hell's Kitchen (ITV2, Tue, 445,000) and America's Next Top Model (UK Living, Thu, 305,000). We don't have information for the Dave channel.
Some shows hovering just north of 100,000 viewers: Dating in the Dark repeats (ITVBe, Wed), new Battlebots (Spike, Wed), and new Blue Peter (CBBC, Thu). Never knew you could do *that* with two thick books...
Khyrese makes his debut after taking The Next Step (CBBC, Tue). Taskmaster is back (Dave, Tue). So is A League of Their Own (The Satellite Channel, Thu). The Boss (BBC1, weekdays) is all about being in control.
There's a documentary about Big Brother contestant Anthony Joshua (BBC1, Tue; The Satellite Channel, Thu). New physical game Bigheads (ITV, Sun) normalises abusers. Pointless Celebrities (BBC1, Sat) goes international, with Ossie Ardiles, Nancy Lam, and Jedward.
Photo credits: Studio Lambert, Wall to Wall / Ten66, Presentable.
To have Weaver's Week emailed to you on publication day, receive our exclusive TV roundup of the game shows in the week ahead, and chat to other ukgameshows.com readers, sign up to our Yahoo! Group.