Weaver's Week 2018-02-18
Last week | Weaver's Week Index | Next week
There have been lots of programmes aimed at children this year, and over the next few weeks we're going to review three of them. Prosiect Z on S4C and Last Commanders on CBBC will follow; today, we go to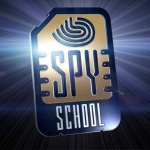 Zodiak Kids for CITV, shown on ITV Breakfast Broadcasting 2 from 7 January
The world is in peril! Balding ex-public schoolboy Goldfist wants to ruin civilisation for the rest of us, by executing some dastardly plans. It's the job of spy networks to infiltrate this plot, prevent it from happening, and allow voiceover man to declaim, "Once again, the Day is Saved!"
Each episode follows one mission, performed by two trainee spies. It begins with the "spy simulator", a physical assault course to test the young cadets. The course tests physical ability (over a wall, through a fence), dexterity (crawl through airvents, avoid laser wires), balance (walk along narrow beams and ledges) and upper body strength (swing over a shark pit). Being indoors, the course doesn't have much height, and nor does it have a rope slide.
This physical test is against the clock, and failure on any section adds 20 seconds to their time, but does allow them to skip the rest of the element. The trainees have a target time of 3 minutes to complete the course – that's a difficult target, but can be achieved. Success earns the duo three "hacks" for use later in the mission, this could be extra time or additional information to complete a task. Lesser success earns fewer "hacks", with the last "hack" going at 4 and a half minutes.
But all this rule-stuff will be glossed over. The trainees emerge into the main studio space, dressed to look like the inside of the Clock Tower in the Palace of Westminster. There are display monitors all around this cramped space, with a large metallic desk in the middle.
Already in the room is "Agent J", a brisk and no-nonsense spy teacher. Outside of television, Jack Finch is a character actor in old English roles like Henry "Hound of the" Baskerville. He brings a similar sensibility to this part, we can easily imagine Agent J taking a brisk walk through the countryside with his lurchers.
For this show, Agent J is stuck in his eyrie. His companion is a supercomputer with a cute name: the "Biologically Enhanced Network", BEN. There is someone in the field, "Agent L", played by Bessy Naidu. Early in each episode, we're treated to a shot of satellites in space, bleeping in an effort to locate the agent. Where are you, Anneka?
The bulk of the show consists of a plot to do something horrible to the world. For instance, one episode featured Goldfist's plan to remove all the pollen in the world. As the plot progresses, we find out Goldfist's accomplice (Dr. Bea Yonce), and the dastardly scheme he hopes to inflict upon the world. No pollen will cure Goldfist's hay fever sufferers, but it's terrible news for flowers and bees, because without pollen, the bees will have nothing to do. (See how they've smuggled in a little education while having fun? Don't turn over the channel!)
At various stages, the plot requires our eager young spy cadets to perform tasks. Disable Goldfist's computer firewall, or assemble people's faces, or complete a jigsaw, or complete a pair-the-squares memory exercise. All of these tasks are played on the giant desk, which doubles as a touch-screen display. This is where the "hacks" from the assault course are used, to make the tasks easier.
We get the sense that these tasks took longer when played for real, and have been edited down for time. How can we suggest this? The time limits are tight, and Agent J doesn't always say them out loud. And we sometimes cut away to a shot of the players' faces, and return to see they've made a lot of progress in very little time. Zodiak did the same trick in the 22-minute Fort Boyard Ultimate Challenge, and we can understand why they'd elide time from physical challenges. On Spy School, it's mental and dexterity challenges, and trimming time feels a little more false.
Failure is not an option: if the team are unable to complete the task, it'll be thrown to the ALPHA team of experts. The plot must progress!
One of the common features to the current crop of children's shows is how they spin content out to fill the slot. Spy School has the most elegant method: the children find out something in the studio, and they relay the results to Agent L in the field. From this, Agent L can move to her next location, set up the next challenge, and keep the show moving on.
These recaps serve other purposes. Viewers don't always give the show their complete and undivided attention. For the benefit of those who might have wandered off to put more honey on their toast, this recap fills them in, as well as Agent L. That the recaps fill up a little time in the show helps the edit, though we'd rather see a full account of the team's challenges.
Another technique to extend the content comes from Goldfist's little vignettes, gloriously hammed up by comedy actor Steve Furst. The lines between BEN, Agent L, and headquarters appear to be very insecure, as Goldfist is always hacking into them. The superbaddie bigs himself up, and tries to make out that the Spy School cadets are sad losers.
Agent J has to remind us that Goldfist may look like a comedian whose jokes are as funny as his hair is thick, but he's actually capable of wreaking tremendous damage. Buffoons with delusions of adequacy can seriously mess up your life, as Andrew Marr demonstrates on BBC1 around this time.
Why is Goldfist shown as a massive incompetent? It helps to separate the world of Spy School from the mundane world outside. Children might not want Goldfist's plot to happen, but it'll never threaten them directly. The show's plots are outlandish – steal all the pollen, make all the pop singers go out of tune, make tea taste horrible. Outlandish, but not nightmare fuel. No-one is going to be poisoned, or stabbed, or murdered; this is CITV, not Mortcliff.
Goldfist's general uselessness helps Spy School to come across as its own world, similar to our own, but slightly detached from it. In that way, Spy School is safe for children to watch alone. CBBC's Danger Mouse uses animation and anthromorphism to distance itself from the real world, its plots would be scary if acted by humans.
The final challenge is certainly animated. On some pretext or other, the team is to join Agent L at the location, and complete a physical challenge. It could be to find some detonators, or press things in a certain sequence, or unscramble a web of intricate threads. Succeed in this last task, and the spies will have thwarted Goldfist's plan for world domination.
But will they have graduated from Spy School, and earned a "mission chip" of their own? To achieve that honour, the team needs to win this final mission, and two of the three mini-tasks up in the tower. It's a high bar, not everyone achieves it, and there's no shame in failure. To have a children's show where more teams fail than succeed is rare, and we salute the producers for it.
Overall, we've enjoyed Spy School. The villains are camp enough to be incredible, the trainers are suave enough to meet James Bond expectations, and the show takes itself just seriously enough to hold our attention and leave us rooting for all the teams.
A general knowledge contest of champions
The rules of Brain are very simple. General knowledge questions come at you until you get one wrong, or score five in a row. Bonus points for picking up a question missed by someone else, or getting five in a row.
Win a heat, come back in the semi-finals. Win that, come back in the final. Win the annual final, and your name is painted in gold leaf on the Quizdom Honours Board. And you return for the triennial Brain of Brains contest. Recent champions include Ian Bayley and Mark Grant, both have since won Mastermind. Competing tonight:
John Baynham, winner in 2017
Brian Chesney, runner-up in 2016
Mike Clarke, winner in 2016
Nigel Jones, winner in 2015
John got a couple of questions on his opening set, but Brian didn't know Paddy Ashdown's birth name was "Jeremy". Nigel knew the Metropolitan Police are reigning Olympic tug o'war champions. At the end of the first round, no clear lead.
Three for John on his turn, but Brian worked out that Joshua was the first person to give their name to a book of the Bible. Bonuses elsewhere allowed John and Brian to pull away from the other two.
Remember the ship that rescued people from the Titanic? Or the first woman Home Secretary? They're part of a four-in-a-row from Brian, which founders with a Brain classic: if 18 characters are allowed for a horse's name, how many are allowed for a greyhound? That helps Mike keep pace with the leaders, but Brian moves two clear.
John can't remember the name of Anthony Eden's wife, Brian pounces; Clarissa was the Countess of Avon. Brian gets the William G Stewart Memorial Question, a musical number from his beloved "Road to..." series, and Nigel guesses it's "Bali". Brian is now three clear.
Is that the time? We're into the final round! John knows the mountain at Newlands, and Mel Blanc's autobiography, but the subject of a Tom Stoppard play evades everyone. Brian misses the collected works of Culture Club, which goes to Mike. His music question is UB40's cover of "Every breath you take". John picks up a sly bonus from Mike's turn, and that is the end of the round.
The final scores: Nigel Jones 5, Mike Clarke 9, Brian Chesney 12, John Baynham 12. Glossophobia – the fear of public speaking – does not afflict John Baynham. By the tightest possible margin, he wins Brain of Brains 2018, and picks up a trophy that looks great on the radio. His name will be etched into the stone tablets above the Quizdom Great Door.
But there's more. John will join Ian and Mark next week for the once-a-decade ultra-final Top Brain.
This Week and Next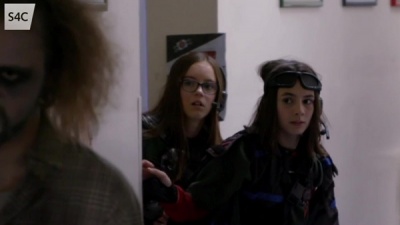 Even before we've properly reviewed it, there's already good news for Prosiect Z. It's into the final ten for the prestigious Prix Jeunesse International, in the "11-15 non-fiction" category. The awards will be given out at the main festival in Munich at the end of May.
Who Wants to be a Millionaire? is like an old and expensive place of education. Just when you thought you'd put it out of your life, up pops some privately-educated disagreeable person to remind you of why you left.
Yes, there have been rumours that WWTBAM could return, with Jeremy Clarkson (Repton, Oxford Brookes, and cold meat) as the new host. This is all speculation, nothing has been confirmed at press time, and we suspect that it could be a ruse for a failing newspaper to prop up its invisible columnist. It's four years since Chris Tarrant closed the cashpoint, and perhaps it's time to think about re-opening it. But we don't want to see that host, we already have enough quizzes hosted by right-wing old boys.
University Challenge (Malvern College and Cambridge) was a game of two halves. St John's Cambridge opened up a massive lead, 150-0 at the music round. But then their opponents from Ulster started buzzing, gave good answers, and very nearly gave Cambridge a scare. But not quite: Cambridge had tied up the match in the first half, 15/24 on those early bonuses. Ulster lost the match, 185-130 the final score. Ulster can take some hope from their comeback against a very good team; St John's Cambridge can take away a win, and that counts for much more.
And to clarify something: Ian Jack on Mastermind is not the same Iain Jack as on the Ulster team in University Challenge.
Mastermind (Cardiff High and the Penarth Times) was absolutely fascinating this week. Two contenders came in with strong general knowledge rounds, and both blobbed their specialist rounds. Neil Wright (Wines of Burgundy) advanced from 6 points to 18 (4 passes). Tim Footman (Kazuo Ishiguro) moved from 6 to 18 (0 passes).
But then we move four points up, Ian Jack (Novels of Virginia Woolf) does enough to take the lead, finishing on 19 (2 passes). Michael Taylor (Films of Paul Thomas Anderson, with more minutiae than we find ideal) shot from 11 to 23, with barely an error. Maggz Bennett (Mötley Crüe) needed to double her 12, and suffer through Humpo's Mae West impression. Never quite on the pace, Maggz finished on 20.
Michael Taylor becomes the third person through to the final. In a correction to something we posted two weeks ago, we now expect the final on 23 March, we forgot about athletics coverage on 2 March.
Only Connect (St Ante's and Oxford) is not hosted by a right-wing old boy. Very little to split Wanderers and Vikings in the Connections round, it's the second time in a few months we've been able to drop a link to classic song "John Kettley is a weatherman".
Vikings pulled away in Sequences, getting the Greek alphabet in missing vowels style, and people who climbed high mountains. They were perfect on the walls, the Wanderers dropped points. And though the Wanderers trimmed the lead in Missing Vowels, the Vikings just needed a few answers of their own to win, 25-19.
BARB ratings in the week to 4 February, and the only BBC data we've got is for BBC1.
Call the Midwife is still number one overall (BBC1, Sun, 9.4m). Top game show is BBC The Voice (ITV, Sat, 6m).
Medals also for Dancing on Ice (ITV, Sun, 5.7m) and The Chase (ITV, Mon, 3.9m). All Together Now held stable (BBC1, Sat, 3.9m).
Channel 4's big games end: Hunted (Thu, 2.5m) and SAS Who Dares Wins (Sun, 2.3m). Catsdown (Fri) pulled 2.25m, and beat the Celebrity Big Brother final (C5, 1.8m).
Sizy on the digital tier: Celebrity Juice (ITV2, Thu, 495,000), Four in a Bed (More4, Sun, 455,000), Come Dine with Me (More4, Sun, 380,000).
More new digital shows: Portrait Artist of the Year (Artsworld, Tue, 365,000), Yankee Next Top Model (UK Living, Fri, 330,000), and Spy School (ITV Breakfast Broadcasting 2, Sun, 110,000).
This section revised 6 March after data for BBC1 was released.
Talking without hesitation, repetition, deviation, dragons, or repetition on Just a Minute (R4, Mon). Fans of brawn will like Australian Ninja Warrior (Challenge, Sun); fans of braised meats might like The Restaurant (TV3, Wed), if you can get that Irish channel.
It's the final of Fferm Ffactor Selebs (S4C, Tue), and of outdoorsy challenge Ar y Dibyn (S4C, Fri). And, after nine years of competition, we find the ultimate general knowledge winner on Top Brain (R4, Mon).
Next Saturday, a very special edition of you-know-what, the return of mmm-and-mmm, and BBC The Voice moves to the next round. Yes, ITV has again embargoed next week's schedules until Tuesday, and as we respect broadcasters, we can't tell you what they are showing.
Photo credits: Zodiak Kids, Boom Cymru.
To have Weaver's Week emailed to you on publication day, receive our exclusive TV roundup of the game shows in the week ahead, and chat to other ukgameshows.com readers, sign up to our Yahoo! Group.