Weaver's Week 2018-05-20
Last week | Weaver's Week Index | Next week
Kapara Aleichem, Europe!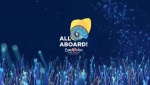 RTP for BBC1, RTE 2fm, and others, 12 May
"This could be our winner," said Graham Norton at 9.49:45 last Saturday evening.
"Toy" (IPBC) written by Stav Beger & Doron Medalie, performed by Netta Barzilai
Fifteen seconds later, the camera had closed in on a young woman, standing behind a desk. She's in front of two bookcases filled with golden cats waving their left forepaw – a lucky charm. Netta (for it is she!) has made a purring noise, and will go on to make noises like a chicken. The noises will begin to resolve into a rhythm, a backbeat and some instrumentation will evolve, and a song emerges.
It's a striking way to start a song, struggling out of the noises like a young bird emerges from its egg, and quickly learning to fly, because if you don't learn to fly, you're going to be picked off. Netta will not allow that to happen. She stands behind her mixing desk, bringing up the sounds, playing in the looped vocals, spelling out "H-E-Y" for the hard-of-thinking. Netta has taken control of this song, and she's not going to let it go.
Wonder Woman don't you ever forget
You're divine and he's about to regret
He's a baka-mhm-bak-mhm-bakbak-bak-mhm-boy
In the pre-chorus, Netta aligns herself with Gal Gadot, who played Wonder Woman in last year's movie, and also holds a passport marked "Israel". Netta could also be one of the strong amazons. Her staging is forceful without being overly aggressive, and the shelf of lucky cats takes the edge off any steel. How can anyone be nasty if they've got all these fun items, if they look less aggressive?
"Toy" is a song for the moment. It's utterly contemporary, it drips 2018 from every line. The sound, the East Asian styling, even the in-your-face feminist message are of this moment. The song may not date well, a fate suffered by "I wanna" and "My number one" in the last decade.
But that is an argument for the future. This week, we are sure of one thing. IPBC found the song to touch the most hearts. It won the televote, and came second with the juries; in this year's scoring mechanism, that makes it a winner.
We noted last week that Netta's vocals were ropey; it's pleasing to hear that she was more controlled and in tune on Saturday. That might have made the winning difference.
"Fuego" (CyBC) written by Alex Papaconstantinou, Geraldo Sandell, Anderz Wrethov, Viktor Svensson, Didrick, performed by Eleni Foureira
"It's fairly standard Eurovision fare," said Graham Norton at 10.01:37.
"Toy" was of the moment. "Fuego" was an eternal song, it could have been entered last year, ten years ago, ten years hence. There's nothing wrong with timeless songs, and a really outstanding timeless song will win the contest (see "Amar pelois dois" from last year).
This column doesn't see anything special in this song. Eleni and her backing dancers are curvaceous, sensuous, and voters only need to keep their hands on their phone for four minutes until voting starts. We're also aware that the song has been adopted by young gay men, for reasons we don't profess to understand.
Going into the competition fortnight, CyBC seemed to target qualification from the semi-final, and perhaps a top-ten place on Saturday. The feedback from the rehearsals was tremendous, the sort of people who go to Monday rehearsals loved it. This fed up the chain: people talked to tastemakers, tastemakers talked to the delegation. The internet became abuzz with the meme that "Fuego" is good, the professional gamblers got on, and the bookmakers slashed the odds. In a way, this felt like a Eurovision fan bubble hit, and it almost carried that status into the real world.
"Nobody but you" (ÖRF) written by Sebastian Arman, Cesár Sampson, Joacim Persson, Johan Alkenäs, Borislav Milanov, performed by Cesár Sampson
Third place – and a distant third – to the heights of staging. We start with a series of close-ups of Cesár, he's in a dark arena, all we can see is his head and torso. Then we pull back to see he's standing on a massive hydraulic platform, slowly coming down to earth. As we realise this, Cesár launches into the chorus.
"It wouldn't be right, letting you go, running away". Ah, it becomes clear. Cesár is the man scorned, and he's making a big spectacle about how much he loves his other half, how he'll do very silly things to retain her affection. He'll get attention by standing on this massive platform, raised so high that everyone has to take notice. In this year's climate, that's a tricky message to sell.
The performance only works because Cesár is such a good performer. He sounds as though he believes what he's singing, he is convincing, he is authentic to the song. His gospel training – and gospel-inspired backing vocalists – turn a creepy lyric into an optimistic song, full of longing and passion.
Video nations
Fourth place went to "You let me walk alone" (NDR "Germany"), performed by Michael Schulte. Another of those timeless songs, albeit with tinges that say "Ed Sheeran was an influence". It's the little piano motifs, and the slightly strained voice. Michael chose to illustrate his song with some video effects, line drawings and family photos visible behind him. It's a way of performing, but feels like they're trying to re-create a music video in the hall.
In fifth place, "Non mi avete fatto niente" (RAI "Italy"), performed by Ermal Meta e Fabrizo Moro. Again, they're trying to re-create the lyric video on screen, though here pulling out the important lyric in translation. Ermal and Fabrizo are intense, and brought out the song's emotion. They were rewarded with a very strong televote, perhaps helped by being last in the running order.
"Lie to me" (CT, "Czech Republic"), Mikolas Josef came sixth. The cute boy with the backpack also re-created a video on stage. This staging was faithful to the stage – no video effects, just lots of cuts from Mikolas to his dancers. It would be an entertaining video on tape; to see it done live, with every dancer hitting his mark every single second, was a tremendous achievement. If anything, we think this was under-marked by the juries.
"You let me walk alone" was good enough to stand out for the televoters, in a way that "Dance you off" (SVT "Sweden") wasn't. Perhaps the biggest surprise of the night came in the televote announcement – "Dance you off" had reached second place amongst the professional juries, but scored just a handful of popular votes, and finished 7th.
Video of the competition was DoReDoS's performance of "My lucky day" (TVM, "Moldova), the one with the doors and the body-doubles. It came tenth, behind pop-opera-projection-dress "La forza" (EER, "Estonia") and the Viking-inspired "Higher ground" (DR, "Denmark").
We'll scoot on down to 13th place, where we find "Mercy" (France2 / "France") and Madame Monsieur. They got the first 12 points of the contest, but were soon swamped by other entries. Crucially, the televote didn't come through as it had in their final, Destination Eurovision.
One root cause: Destination Eurovision used a small, intimate stage. Hilda, the stage in Lisbon, was huge. What worked when the camera's up your nose became a speck on a larger stage. The other cause was apparent back in January. "Mercy" was the third-best song according to the international juries, and won because of a massive televote, almost half the points available. The televote in Europe cannot deliver more than a fifth of its points to one song, and "Mercy" was left stranded.
We followed France2's final shows, and can answer the question: was there a better song in the national selection? "Eva" had the social media bandwagon in January, "OK ou ko" would have been the strongest woman in the year of strong women. "Ailleurs" would have competed with "You let me walk alone" for the Ed Sheeran-esque vote. Would any of them have done substantially better? Difficult to say; 13th place is only a disappointment because everyone expected much more.
"Mercy" did won something, the press section of the Marcel Besançon Awards. The other winners were "Fuego" (artistic award, from the commentators), and "Bones" (composer award; to Equinox / BNT / "Bulgaria").
There is disappointment for Alexander Rybak, a bad case of Euro-flu meant he gave a poor performance of "That's how you write a song", and the 7th song will get forgotten by later works. He finished 15th, a place ahead of "Together". Still think that had the best staging of all, but it's a Song Contest not a Staging Contest. For sheer clip-reel potential, look no further than the opening number "Under the ladder", in 17th. (Those were NRK "Norway", RTÉ "Ireland", and NTU "Ukraine".)
"Get a room"
Our hosts for the night were RTP. Ever polite, they let everyone else finish in front of themselves. "O jardim" was their entry, Cláudia Pascoal entered a tune that sounds like the dream sequence in a Manic Pixie Dream Girl movie. Not quite unsettling, but not reassuring either. Isaura, the songwriter, added backing vocals and an extra hint of menace. Exactly what this column chooses to hear, hence why it came last.
Saara Aalto continued her streak of finishing second, with the second-worst score of the night. This is unfair to "Monsters", the entry from YLE ("Finland"). To our surprise, this qualified in 10th place from Tuesday, within a few points of the greatest shock non-qualifier since Sylvia Night.
Other strong women finished poorly, "Hvala, ne!" (Lea Sirk, RTVSLO "Slovenia") was third performance, and eclipsed by later delights. Getting to the Saturday final is a result for this broadcaster. It's expected for SBS, and "We got love" (Jessica Mauboy, "Australia") feels like it underperformed by their high standards. As a guest of the EBU, is it now time for SBS to step back, and be replaced by KBC ("South Korea") or CBC ("Canada")?
Amaia y Alfred performed "Tu canción" for TVE ("Spain"). They played a couple of young lovers, like Troy and Gabriella on High School Musical. In fact, the whole performance felt like a pastiche of a Disney Channel original musical, without the sharp wit of Zombies or the self-referentialism of Descendents. Finished 23rd, deserved worse.
The night's second-biggest winners might be AWS. "Viszlát Nyár" is the rock-apocalypse brought to life. It was the literal warm-up act for Netta, and exposed screamo rock to primetime BBC1. As a direct result of their performance, AWS have been invited to the massive Wacken rock festival. It's a tremendous promotion – one day they're pootling along quiet village greens on a three-speed bike, the next they're soaring on the Tour de France.
"Got a bunker ready for the apocalypse – and you're not invited."
The exact fee paid by a broadcaster to enter the Eurovision Song Contest is not known. Other sources have suggested that the BBC pays about £300,000 to compete. By the time they've added on the qualifying final, and the cost of being there, the BBC might have spent a million quid.
Sounds a lot, but consider what they get for it? A complete evening's entertainment on BBC1, a big event on BBC2, two nights on BBC4, clip rights into infinity, something for music radio in a quiet month, and plenty of kudos with the record industry. And all for about three episodes of Casualty.
All of which leads us to "Storm", which finished 24th. From the selection programme, the "United Kingdom" entry had been pitched down a semitone, apparently to help fit SuRie's voice better. They'd also added a disco beat, and perform the song in front of a series of diamond shapes. If Benjamin Ingrosso was performing in front of the Tenable lights, SuRie was evoking KYTV's oh-so-successful Sing.
The camera angles were terrible. The diamond pulsed with disco lights throughout, and there were wide sweeping shots of the vocalist. This isn't our impression of "Storm", it could have been a tense song, holding close to SuRie until the chorus, and slowly lighting the stage from black to dusky pink.
The planning didn't include a stage invasion, ripping the microphone from SuRie's hand to make some sort of internal political point. It's a sad reflection on everyone who has coarsened debate in the "United" Kingdom. The EBU offered a re-sing, the delegation declined, and we fear this might have been a tactical error. Last on before the voting? Would have blunted RAI's guns.
But 24th place wasn't unfair to this BBC entry. It was OK, and that's not good enough on a night when there were twenty better songs. Was there a better BBC entry in their final? Had Asanda performed "Legends" better, it could have won. Had Rylan not put the kybosh on "You", the result could have fallen for Jaz Ellington.
We're also going to have a very hard stare at the BBC's Eurovision Liaison department. "Eurovision Young Musicians happens in Edinburgh this August!" said the promotional video. "I know nothing more about this," said Graham Norton.
Why on earth not?! The BBC is the host broadcaster for this event! It's almost as if the Song Contest crew was completely isolated from the Young Musicians crew. Graham could have waxed lyrical, said how there will be nightly finals on BBC4, leading up to the grand final. He could have plugged the qualifying contest, Young Musician of the Year, on BBC4 tomorrow night. He could have discussed Sheku Kanneh-Mason, Young Musician 2016 and now playing weddings in Windsor. He could have extended the olive branch; even if 1% of his audience pick up, that's 70,000 extra viewers. But no. The chance to promote Eurovision as more than this song contest was squandered.
This column is resigned about the BBC's poor performance on the scoreboard; we're properly livid about the BBC's abysmal internal communication.
As a whole, the show dragged more than it ought. We'll let them have a burst of local colour, the performances don't need to start slap-bang on 8pm. But we don't need the introductory parade, it eats up five minutes, and focusses attention on the performer and nation. Remember, it is a song contest.
The active voting window was long. Does it need to be 40 minutes? Almost certainly, it gives SMS messages plenty of time to be registered. While the BBC chooses not to use SMS voting, every other broadcaster is prepared to take the risk of some votes going astray. This long timeframe allows more SMS messages to reach Digame's servers, without crashing the telephone networks.
Given that there's to be a 40 minute interval, we need 40 minutes of interesting content. Not every year can have "Love love peace peace" and Justin Intervalact. This year had 10 minutes of recaps, performances from Salvador, an interview with Polina from Junior Eurovision, and 25 minutes of weak filler. A chunk of smooth jazz, a self-indulgent "53 long years" piece, random dancing in the crowd. We'd probably have swapped it for the dancing performance from Thursday's semi-final. We'd also have concluded "Planet Portugal" and the "ESClopedia" series. Or, yes, watched Alien Fun Capsule on catch-up.
The voting sequence almost worked: round the various International Mel Giedroycs in no time at all, and then the televote in one massive lump. The only thing they could improve: stretch the final reveal a bit longer.
"Two songs remain. [pause] One has scored [pause] 253 points.
[massive pause as the International Graham Nortons try to do the mathematics in their heads.]
The other has scored [pause] 317 points.
[massive pause as the International Graham Nortons think "oh, why can't I take lessons off of International Rachel Riley, she did offer and all]
Scoring 317 points, and the winner of the contest..."
And insert extra pauses to taste.
Our winners
Full disclosure: this column televoted for "Together" (RTÉ, 2nd in the territorial vote), "Toy" (IPBC, 4th), "My lucky day" (TVM, 7th), "Higher ground" (DR, 9th), "Viszlát Nyár" (MTV, 12th), and "Monsters" (YLE, 14th).
Let's end on the positive, this column's five winners from this Eurovision Song Contest season.
RTÉ, for four days, they had the smell of victory in their nostrils. And suddenly, the broadcaster discovered that it was hungry to win this glass microphone. Results didn't go their way, but it's an unexpected opportunity to do something even better in the next cycle.
Lea Sirk, has a catalogue of strong covers, none of them ruined by a fake breakdown. Her take on "Amar pelos dois" was seen on RTVSLO's version of Your Face Sounds Familiar last year, and we prefer her version of "Love yourself" to Justin Beaver's original.
June The Girl didn't make it past the semi-finals in Destination France, but we've fallen for their electro pop. Whether it's on Eurosong entry "Same" or the cover of "Blank space", there's a delicious sound and crisp performance.
AWS, the rock band who set fire to prejudice.
Netta Barzilai, the Eurovision Song Contest champion.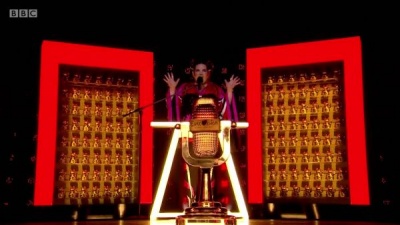 This Week and Next
Great news for Love Island, winner of the BAFTA television award for Reality and Constructed Factual series. This Territory's Got Talent won the Entertainment Programme award.
Excellent news from Channel 5, as they've picked up Win Your Wish List. One of the last lottery shows, it ran from Christmas 2014 to spring 2016. It's the one with the video floor, people asking questions of each other, and a lot of feelgood prizes. Shane Richie hasn't been renewed, the new host will be Gino D'Acampo.
A career-defining week for pianist Lauren Zhang, winner of the BBC's Young Musician of the Year contest.
BARB ratings in the week to 6 May.
Hot weather and the bank holiday depressed weekend viewing; This Territory's Got Talent slipped to 9.3m (ITV, Sat).
The unexpected return of Who Wants to be a Millionaire? secured 6.1m (ITV, Sat). Have I Got News for You ran off with 4.7m (BBC1, Fri).
Best Home Cook made an underwhelming debut (BBC1, Thu, 3.35m). The Only Connect final (BBC2, Mon, 2.25m) just beat Breadxit Professionals (C4, Sun, 2.2m).
Taskmaster was back on Dave on Wednesday, and how! 1.24m viewers cannot be wrong. Celebrity Juice was left in the dust (ITV2, Thu, 995,000), and Stephen Mulhern's Got More Talent with Stephen Mulhern (ITV2, Sat, 820,000) almost beat The Crystal Maze (C4, Sun, 860,000).
Channel 5's When Eurovision Goes Horribly Wrong (Sun) pulled 790,000. Antiques Road Trip brought 300,000 to Really (Fri), 200,000 for Your Face or Mine (Comedy Central, Wed). A stonking 46,000 for Lip Sync Battle with DeAndre Jordan and Sarah Hyland (BET, Fri); par for that slot is 10,000.
A quiet week in prospect, our highlight is the final of Revolution (The Satellite Channel, Sun). 80s popstars on Pointless Celebrities (BBC1, Sat), and watch out for the Got Talent live shows from Monday 28 May. Tom Scott and David Bodycombe of The Internet promise "a new quiz for those who like to think sideways", that's on Thursday.
Photo credits: RTP/EBU, ITV Studios France
To have Weaver's Week emailed to you on publication day, receive our exclusive TV roundup of the game shows in the week ahead, and chat to other ukgameshows.com readers, sign up to our Yahoo! Group.