Weaver's Week 2018-10-07
Last week | Weaver's Week Index | Next week
This week's shows have something in common: the hosts appeal to a certain demographic.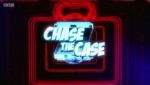 Bandicoot for BBC1, from 17 September
Remember Dan Walker? Quality sport presenter, host of the Copacabana Book Club a couple of summers back, now moved to Breakfast Time. And Dan has a game show of his own.
Chase the Case is a daytime programme. It will give away a prize every episode, but that prize could be Zero Pounds. Five coloured cases are distributed between five players. Each has a different value inside – a top prize of £5000, then down to £1000, £500, £100, and £Nothing.
The first round is "The Reconnaissance", a round of trivia questions on the buzzer. Dan starts to read a long question, "I got my name from a promotional gimmick to capitalise on the real estate surge after World War Two." Any of the players can buzz in and guess an answer. Yes, we remember this sort of question from Going for Gold, though never on open buzzers.
All of the questions in each round are linked by a loose theme, so when the subject is "Jack", it could be about people with the given name Jack, or the family name Jack, or about jacks in cards, or bowls, or.... The links are loose, sometimes tenuous, sometimes wilfully obscure, and this allows some witty and entertaining questions.
An error will freeze the player out of the rest of this question. Three correct answers will earn a player a spot in The Vault, and there are only two Vault spots in each round.
The Vault is a show hosted by Davina McCall where... no! That's ancient history! In Chase the Case, The Vault is a place where contestants go to learn about other people's cases. A player is never allowed to see what's in their own case, but they might get to "Peek" – see inside someone else's case. Or they might go "More or Less" – compare someone else's case to their own and see what's more valuable.
The first player in each round to go into the vault gets to pick their option, the second player has to choose what's left. Other players' cases are brought into the vault by Deborah, a scowling security guard. She doesn't say a word, but lets us know through body language how little she thinks of this game.
The vault is a soundproof room, the other contestants cannot hear the conversation between Dan and the player. But it has a clear wall, the other contestants can see the conversation. It won't directly help them learn what's going on, but body language can be a giveaway. And the weaker contestants might learn something from the inspection strategies of the stronger ones.
We get four rounds of The Reconnaissance, and scores reset to zero after each round. The strongest quiz players tend to turn up in the vault time and again, the weakest may only have their cases inspected.
The final third of the show is The Final. Yes, only two distinct types of round on this show, which is a little sparse. On the other hand, it's one more type of round than The Weakest Link, and that seemed to run for a few millennia.
This round is general knowledge questions on the buzzer. We don't see the players' buzzers, they're teeny tiny things held in the hand. We do see their place on the grid – five columns of four squares, all but the first square are red. Get the question right, and the player steps forward on the board. Get it wrong, and the player's wallied out of the next question.
Every time a player steps onto a red square – after two, three, and four right answers – they have the option to challenge another player. It's an option, not an obligation, and the player doesn't have to challenge.
What is the point of challenging? You can take over someone else's case. If, for instance, you challenge for the green case, and win the challenge, then you take that green case. The player holding the green case is out of the game, and so is the case you're currently holding.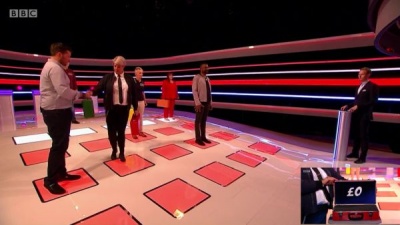 Red has successfully challenged green, eliminating him from the game. Viewers will see what's inside the red case
How does one win a challenge? Questions are asked alternately; if one player leads after two questions each, they've won the challenge, otherwise it's sudden death on the buzzers. When the player challenged successfully defends their position, they've defended the case, and both players remain in the game.
The first player to give five correct answers will cross the finish line, and win whatever's in their case. Or, if all the opponents are knocked out through challenges, the last person standing wins.
There's a lot to like about Chase the Case. The questions are firm and solid, a cut above the stodge on Alphabetical. Dan Walker is as pleasant and affable as ever, this show pleases his fan club of grannies and young mummies. There's plenty of action for the quizzers – almost two questions a minute across the show, far more quiz than it feels like there is. And there's a strategy game we can play along at home, show producers Bandicoot produced little cards you can fill out as the show progresses.
All that said, there are a few discordant elements. Dan Walker is affable, and the show's typeface is lighthearted. But the music is stark, a cold sequence of electronic beeps and heartbeats. Neither element is wrong per se, but it feels disjointed, as if a memorandum's been lost somewhere between musician Marc Sylvan and art director Ayden Miller.
And if you join the show halfway through, you're clearly missing key information. Here's the thing. It's 2.38, and Countdown is having a one-sided match, it's clear the champion will win. Bored of the adverts, you flick the remote, and alight on Chase the Case. Can you play along? Not a chance; Dan is already halfway through the game, you've missed most of The Reconnaissance, and there's no way you'll find out the "more or less" results.
We like the idea behind Chase the Case, and particularly the dramatic tension – we viewers know more than any individual contestant ever can. But it's another good daytime quiz, and we're crying out for a great daytime quiz, the next !mpossible or Tenable. For all its qualities, Chase the Case isn't it, and we fear that Dan's catchphrase will haunt the programme.
"It's case closed".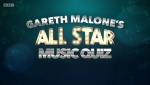 Twenty Twenty for BBC Music, shown on BBC2, 27 September
Another of the grannies' favourites is Gareth Malone, the firm and masterful choir leader. We met him on Pitch Battle last summer, and now he has a music quiz to promote BBC Music Day.
This show is very much what it says on the tin. It's a music quiz, hosted by Gareth Malone. The "All Star" bit comes because the contestants are celebrities. Rob Rouse, on electric guitar and trumpet. Yolanda Brown on saxophone, and Ed Balls on electric piano. Pippa Evans is on acoustic guitar, JB Gill's on keyboards, and John Thomson plays the drums. They're backed by a house band (Richard Beadle, Matt Greaves, Justin Shaw, Beth Symonds, Martin Williams).
"We are here to have some fun", promised Gareth. Here's a spoiler: this promise was met, and met in spades. Round one was "Play it, don't say it". One team played the first four notes of a song or piece of music. Could be any song, from any era. And just four notes? Somehow, the teams guess "Tequila" and "Seven nation army" from just that little snippet.
Some of the celebrity panel are virtuosi, Yolanda impresses on the saxophone, and John is a wicked drummer. Ed Balls is as good at playing the keyboard as he is a good dancer, relying on one finger and getting most of the notes in the right places, sort of.
Then comes the Multitrack test, splitting famous songs into their component tracks. Can you name this tune from just the bassline? Or the bassline and the guitar? After the rollocking start, this was a much slower round, and rather sapped energy from the show. Both performances came from tapes used in Mark Ronson's production studio, and it would have been lovely to see Mark drop into the show. Lovely, and budget-busting.
Song That Name came next, with the challenge for the best musician on the team to play a song backwards, then the other players were to play it forwards. If you wanted to hear the sax solo in "Baker Street" played backwards, put yourself on the hot spot.
We've taken the liberty to play these backwards sections and reverse them, so that they're the right way round. And – would you believe it – that really was "Baker Street" and "The Eastenders" played backwards. Not just recognisable, but almost identical to the originals.
Fill Me In is the final round, John plays drum "fills" – solos and patterns – to identify the tunes. The whole show had a light and frothy feel, a jam session between friends. The sound balance on this show was excellent, all of the instruments came through at a good level, with some difference between loud and quiet, but not so much that we had to adjust the volume or strain our ears.
Gareth Malone's All-Star Music Quiz was a one-off, and we came away thinking "can we have another episode"? The show needs strong and unexpected celebrity guests, which might argue against long series, but we'd love to see more.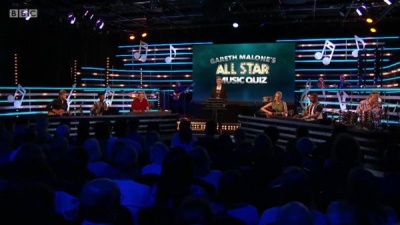 If you didn't turn over from Chase the Case, you'll have seen quite a few one-sided matches. Dave Ashton blew hot and cold during his octochamp run, four very strong performances and four with two or more disallowed words. He's currently number 2 seed in a weak field.
Replacing him atop the standings was Robin Johnson, better by just 6 points. A very weak opening game proved deceptive, Robin ramped up his performance to score consistently and well.
There were two one-game wonders: Greg Purling lost to Robin, and Tealin Glenn fell to Mike Daysley. Three wins so far for Mike, and if he hits octochampdom next week, he'll be favourite for this low-scoring series.
More Countdown in four weeks.
This Week and Next
Little Lion Entertainment have been teasing us with a new project. What could it be? Play-along Dr Who? That's almost been done, in the Manchester International Festival some years ago. Your chance to survive Project Z? Sadly not, we'll just have to watch new episodes at the end of the month. The 100% Experience? That would only appeal to people who find Stationery World of Fun too racy.
No, the new project from the makers of The Crystal Maze Live is – The Crystal Maze Live In the West End. Mumsie is moving her maze from Islington to Piccadilly, effective from next spring. Sadly, the games are never going to fit through the narrow passages at Holborn, so they'll have to come up with 32 new challenges. Good luck to them, and we hope to pay a visit at some point.
Last week, we suggested that Alan Carr was too unsubtle to host Sorry voor Alles. This week, we learn that Alan Carr is to host a pilot revival of Play Your Cards Right. It's much closer to his brash style.
And now, three paragraphs for people disappointed not to play The 100% Experience. Broadcasting audiences body BARB have put out a very excited press release, talking about their new "four screen" measurements. In addition to traditional television, through a cable or the ether, BARB is also able to tell us about viewing delivered over the internet. They split internet figures into "computer", "tablet", and "smartphone". Strikes us as cheeky marketing, "four screen" sounds bigger than "tv and internet combined".
Anyway, whatever they call it, BARB figures now include internet viewing. For many shows, this is small, about 1% of the total audience. For some shows like Love Island, it can raise viewer counts by a third. BARB have also expanded their "universe" – the number of households who can watch television – to include houses with broadband but no telly set.
This column will continue to quote "total" figures, combining +1 and HD channels, and catchup within a week of first airing. We'll include internet viewing from this week forward. Take care when comparing these figures to previous weekly reports, the broad patterns remain but details may change because of methodology changes. This column doesn't routinely discuss share, but that statistic has also changed because of the expanded "universe".
All of which brings us to the BARB ratings in the week to 23 September
Bodyguard was the most-seen show (BBC1, Sun, 14.35m) – and that might end up the top score of the year for something other than Mark Pougatch's The World Cup. Top game was Strictly Come Dancing (BBC1, Sat, 10.6m).
Just behind comes Breadxit Burn-Off (C4, Tue, 8.55m). Then it's a long gap to The X Factor (ITV, Sat, 6.3m) and Celebrity Masterchef (BBC1, Thu, 4.4m). Pointless Celebrities scored well (BBC1, Sat, 3.75m) and beat The Chase (ITV, Thu, 3.4m).
5 Gold Rings continues to do well (ITV, Sun, 2.8m), and Tipping Point benefits from the new counting methods (ITV, Thu, 2.25m). University Challenge continued (BBC2, Mon, 2.14m), just ahead of Great Local Menu (BBC2, Tue, 2.12m). Monkman and Seagull's Genius Guide (1.7m) was well ahead of QI (1.2m).
The Circle launched to big numbers (C4, Tue, 1.5m), then stabilised around 850,000. New Four in a Bed pulls in 750,000. On Channel 5, Big Brother stabilised around 1.1m and change.
A League of Their Own (The Satellite Channel, Thu, 805,000) is the top digital show, beating the previously impregnable Celebrity Juice (ITV2, Thu, 790,000). Taskmaster on Dave continues (Wed, 695,000).
Two top formats are back on Wednesday: Your Face or Mine (Comedy Central) and Celwydd Noeth (S4C). We've also got Don't Hate the Playaz (ITV2, Thu), which will expand our horizons.
Last on The Circle (C4, Mon). Finals week in Great Local Menu (BBC2), and the Eurovision final of Chwilio am Seren Junior Eurovision (S4C, Tue).
Photo credits: Bandicoot, Twenty Twenty, Fizz / Little Lion, Objective Media Group / Panda Television (parts of All3Media group) / Accidentally On Purpose
To have Weaver's Week emailed to you on publication day, receive our exclusive TV roundup of the game shows in the week ahead, and chat to other ukgameshows.com readers, sign up to our Yahoo! Group.