Weaver's Week 2018-11-25
Last week | Weaver's Week Index | Next week
Another gin and tonic, anyone?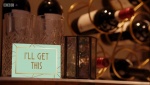 12 Yard for BBC2, from 6 November
Five celebrities arrive at a fancy restaurant. They have come in their finery, sharp suits and smart dresses. They will eat around a dinner table in a secluded, candlelit part of the place, and they'll be filmed throughout.
As they arrive, each celebrity puts their credit card in the middle of the table.
We see them place their orders – and we see that this is both a fancy restaurant and an expensive one. £10 for a starter? £55 for a steak? Mate, this ain't the cuisine we're accustomed to. (Buy two King Mac meals, get a packet of indigestion tablets for free!)
So, we have five disparate celebrities, and five credit cards in the middle of the table. How are they going to settle the bill? Is everyone going to pay for what they've personally eaten? Might they split the bill down the middle, shafting the person who only ate a £30 nut cutlet? Will the show be five minutes of sumptuous food and twenty minutes of tedious bickering about the prawn cocktails?
No, no, yes, and no. Yes, the show will spend about five minutes on the sumptuous food, and the hugemungous prices. But the bulk is spent playing a string of games. Over the show, the winners of these games get to retrieve their card. At the end, one person is left to pay the bill for the entire party.
I'll Get This turns out to be a very chatty show, everything is done by words, the stars of the show are the wagging tongues of Julian Clary and Carol Vorderman. On I'll Get This, no-one will leave the table, no-one will so much as stand up. There are no stunts with props, though there might be challenges involving water. The sedentary gabfest has worked for Richard Osman and his House of Games, that show works by creating a good atmosphere of mild daftness.
A talky programme needs to put great ideas into our head. When the visuals are uninspiring, we can still make fun through a shared imagination. House of Games works wonders, the unlikely combinations of Answer Smash, the brief concentration of Broken Karaoke, the conundrum of where is Kazakhstan. (Halfway between Portugal and Albanian Barbie, obvs. More on this story next week.)
The ideas projected into our heads on I'll Get This aren't so entertaining. "Get a friend to text you the word 'caravan' without using that word." One player might text, "What is that thing that irritates me when it's being towed down the motorway and comes from parks?"
A later round asks the team to answer a personal question, with the challenge being to guess the question from the answer. "Fourteen, on a school trip to Bognor Regis." And if you said "what was the first night you spent in a hotel away from your parents," that's the right answer.
But as the evening wears on, the imagination begins to run out. "Sing a song and see how quickly other people pick it up." "Guess which player these microblogs were about." The players are getting drunk on expensive Champagne, in a way we viewers aren't. These are simple games, perhaps a touch too simple to be satisfying.
The final round is meant to be a high stakes grand finale. Some shows end with the final round as a quiz about the evening, which had playalong value and built tension. Another ended with "guess from the player's reaction if they've chugged vodka or water", which we found confusing – it would have gained from a score on screen.
All things considered, we found I'll Get This to be an entertaining programme, which relies more on its casting than its challenges. And, to be fair, the casting has been strong – we wouldn't expect to see Griff Rhys Jones and Scarlett Moffatt on the same show, but they make great entertainment together.
It also helps that everyone is prepared to get along. There's a lot of bonhomie and civil behaviour. The players are trusted to run their own games, there's no Voice of Dinner telling them what's right and wrong. The shot direction is lovely, they've clearly thought about their angles and worked on the close-ups. The effect is glossy and upmarket, the show looks as expensive as the restaurant.
Ultimately, this feels like the sort of show aimed at a particular audience, people who frequent expensive restaurants. And that's where this column must part ways: we don't do expensive restaurants. We can imagine playing these games as entertainment, perhaps even at a dinner table, but not to split the £100-a-head bill.
We can see I'll Get This would do very well for the sort of people who do spend £100 on dinner, or the sort of people who would like to spend £100 on dinner. Are they the same sort of people who go to MIPCOM, or vote in the Golden Rose awards? 12 Yard might have hit on a winner in the television industry.
November brought four heats of Mastermind, the fifth Friday will be occupied by men's football.
We mentioned last month that there have been some visible changes to each Mastermind show. Ever since the BBC television revival began, the show has opened with the week's contestants sat down, the host tells us their name, location and specialist subject. This doesn't happen any more.
Now, each person enters the arena through an illuminated arch, sits down, and takes their questions. After their specialist interrogation, the contender is told their score. This information isn't given to the other contenders, not even when they all file back into the arena for general knowledge questions.
The score is revealed at the start of the general knowledge round, which feels like the daftest of all places to give it. Doesn't add anything to the viewer's experience, and only distracts contenders from what they're about to do.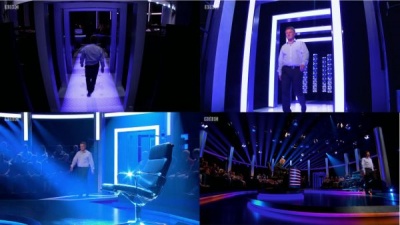 It's always tricky to change a long-running format, and this column doesn't much mind presentation changes. Adding a blue line around the edge of the scorebox helps to introduce a sense of tension to the final seconds, playing a snippet of the theme as time expires is just about OK. Extending the general knowledge round alters the contest so that specialist subjects are devalued, but this is the same for all contenders in a series.
Entering through the "portal of portent" is a cosmetic change, and replicates what Celebrity Mastermind has done for a few years. Not telling contenders their scores makes it a surprise when they're called up, but will they still be facing the same general knowledge rounds? So long as they are, we can file this as a cosmetic change. It's not to our taste - indeed, we think it's a lot of effort for no purpose - but does not affect the result.
With that, let's give a month's worth of results.
Mark Grant won heat 5, the reigning BBC Radio Top Brain hopes to add another trophy to his cabinet. He scored 29 after taking Keith Douglas as his specialist subject. Emma Swift (specialist: Abraham Lincoln) was runner-up with 24. Monisha Rajesh had a Perfect Round on her specialist, the films of John Hughes; Zoe Alford took Billie Holliday to complete the show.
Heat 6 went to pass countback, for the first time this series. Pat Lucas won the show, she'd scored 23 and 1 pass after taking Isaac Newton. Tom Cappleman reached 23 with 6 passes from the Letters of the New Testament. Mic Wright was just one point off the pace with Mark E Smith and The Fall. Mary Breading (History of the Wrens) was fourth.
David Cowan won heat 7 at a canter, a score of 27 from Glamorgan County Cricket Club. Mik Levin (Clement Attlee), Matilda Southwood (Florence Nightingale) and Corinne Male (Rudyard Kipling) all scored decently, but won't return.
As is the case so often, all the heat 8 contenders did really well in their specialist sets, allowing the game to be decided on general knowledge. Linda King (The Derby 1955-90) proved best at that part of the game, and won with a total of 28 - she could be a threat in the next round. Alister Jones (Cambridge spy ring) came second, ahead of Sarah Turner (the singer Cher) and Fi Withers (Tove Jansson).
We'll recap more civilian Mastermind shows in the new year.
This Week and Next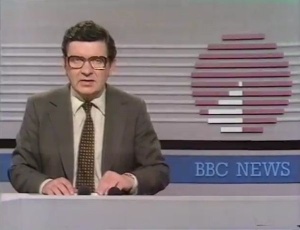 We're sorry to post an obituary notice for Richard Baker. He was best known as a newsreader, but this only scratched the surface of his talents. The warm and welcoming voice for popular classical music concerts, the host of Radio 4's Start the Week, and narrator for 1970s urban fantasy Mary Mungo and Midge. He has a slim connection to game shows, having hosted A Question of News in the 1970s. Richard Baker died last weekend, aged 93.
BARB ratings in the week to 11 November.
Strictly Come Dancing is still television's top show (BBC1, Sat, 11.5m).
The X Factor moves up to second spot (ITV, Sat, 4.95m), ahead of Have I Got News for You (BBC1, Fri, 4.85m). Would I Lie to You (BBC1, Fri) and Pointless Celebrities (BBC1, Sat) both just over 4.5m.
On BBC2, Masterchef The Professionals comes back in pole position (Tue, 2.85m). Dragons' Den (Sun, 2.55m) is ahead of Only Connect (Mon, 2.5m), and that's winning Quizzy Mondays from University Challenge (Mon, 2.4m). Lower down, Letterbox (Mon, 997,000) is ahead of Mastermind (Fri, 995,000), proving once and for all that Mel Giedroyc is more popular than John Humphrys.
Channel 4 still does well on Tuesday, with Celebrity Hunted (2.65m) and Lego Masters (1.95m) the top games. Channel 5 ended The Great Model Railway Challenge (Fri, 1.3m). Big Brother also ended (Mon, 985,000), proving that it's less popular than Mel Giedroyc's Letterbox.
And less popular than Taskmaster on Dave (Wed, 1.2m). Celebrity Juice (ITV2, Thu, 900,000) and The Heist (The Satellite Channel, Fri, 385,000) round out the digital top three.
Young people make music. We know this from Junior Eurovision Song Contest (S4C, Fun Kids Radio, and TG4, Sun). We know this from BBC Jazz Young Musician of the Year (BBC4, Sun). We know this from the final of Got What It Takes? (CBBC, Wed).
Elsewhere, Strongest Man returns with regional heats (C5, Tue and Wed). And I'm a Celebrity... Get Me Out of Here! continues (ITV and TV3, all week), now with added Noel Edmonds.
Photo credits: 12 Yard, BBC Studios, BBC
To have Weaver's Week emailed to you on publication day, receive our exclusive TV roundup of the game shows in the week ahead, and chat to other ukgameshows.com readers, sign up to our Yahoo! Group.