Weaver's Week 2020-01-19
Last week | Weaver's Week Index | Next week
Toujours plus féérique, toujours plus magnifique, toujours plus magique!
Boyard Land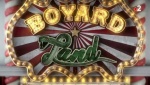 Adventure Line Productions for France 2, 21 December-11 January
Saturday evenings have been filled with Boyard Land, a new show from the people behind Fort Boyard. It keeps many of the same people, and a chunk of the show's spirit.
The setting is radically different. Olivier Minne and a group of celebrities are in an amusement park after dark. The whole show is shot at night, a featureless black curtain to throw the larger-than-life park into starker relief.
Willi Rovelli is the ringmaster of the park. He's known to the audience as The Terrible Chef from Fort Boyard, where he serves horrifying dishes like sheep's eyeballs, termite soup, and spotted dick.
The celebs are split into two teams, red and white. They're given 100 Boyard – the currency of the park doubles as a running score. Hopping into golf buggies, they're off to a series of adventures.
In one episode we saw, the programme began with a kart race, someone from each team jumps into a go-kart, and the first player to complete five laps of the course is the winner. It turns out that drivers must complete the course in the orthodox direction. Vous tournez si vous voulez; le conducteurse n'est pas pour tourner!
Each duel has a price of admission – pay 10 Boyard to play, and there's a reward of 30 Boyard for the winner. Other duels include:
L'Enygma – answer Père Fouras's riddle while on a plank that slowly retreats into the wall. Loser will fall into a tank containing crocodiles.
Les Chaises Volantes – while in a flying chair, catch a teddy bear.
Les Tasses – spin around in a cup, then walk along an unstable and spinny path to the teddy.
Much of the time is taken up with solo games. The player doing these challenges – and the duels – are chosen by Directeur Willy, and revealed on a sign by the entrance. For the solo games, the reward is a fixed 20 Boyard, but the price of admission varies. The cheap entry is 5 Boyard, allowing a strictly limited time or just the one chance to pass the test. The team can go for the luxury package of 10 Boyard, extending the time or allowing a second candidate to play.
There are a lot of solo games, these are some of our favourites.
Maison des Clowns – pull a teddy bear along a pipe through a haunted house. Any relation to Mayotte from Fort Boyard is entirely deliberate.
Le Ring – two candidates try to grab a teddy bear from the top of a pyramid of soft mats, while characters try to prevent them from ascending. Any relation to Pyramid off of Gladiators is entirely in our mind.
Le Mini-golf – find four small balls in miniature models of Fort Boyard, the Arc de Triomphe, and others.
Cham'Bowling – topple a pile of cans by throwing balls, while running on a treadmill.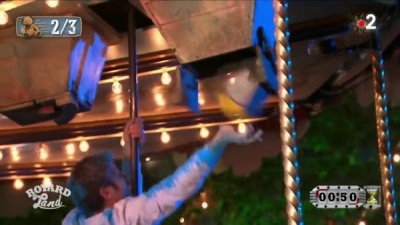 Le Carrousel – climb poles to open boxes and hope to reveal three teddy bears, while avoiding powder and paint. Any relation to Bizutage is entirely deliberate.
Le Pont Suspendu – crawl along a suspension bridge, while it's pulled from side to side by the resident strongfolk.
Le Rollercoaster – climb up a travelator, jump across some gaps, and then leap from an unstable rollercoaster to grab a teddy.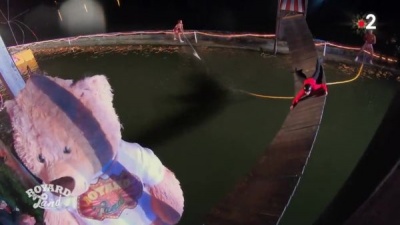 Suspension Bridge. This is Gladiators under another name, isn't it?
Time is marked by the traditional clepsydre, the water clocks that drain relentlessly. Failure at a game means the loss of the entry fee, and nothing more – there are no lock-ins, no prisoners. Rather than keys, games are played to retrieve teddy bears. This is most evident in "Le disparu" (the disappeared) – a head-to-head hunt to find the right teddy through a number of rooms.
Each team throws one Boyard into the pool to summon the fairy Roni. She poses more duels, played over water. It provides a soft landing for the human cannonball.
One Boyard is also the price for each attraction in the Arcade Room, duels inspired by classic funfair sideshows – or in one case, the shootout endgame from Take the Tower.
Towards the end of the show, someone from each team visits the Museum of Wonders, where they face an individual challenge from one of the resident freaks. The programme ends with a climb of the Ferris wheel, 18 metres due up, with a reward of 100 Boyard for the first person at the top. Winnings are converted into euro, for a donation to the team's charity.
The sound is familiar Fort Boyard tunes, re-orchestrated on carnival instruments. There are little motifs familiar from the summer show: an exploding toilet, cages of rats and birds, that kind of thing. The steampunk aesthetic is familiar, too. Most of the regular characters have their own themes; the spirit of Bod lives on.
So does the spirit of Bagpuss, as all the characters in Willy's fairground feel like throwbacks to the late Victorian era. There's a contortionist, a man with a very big moustache, two women who appear to share one body, and a contortionist. It feels like a turn-of-the-last-century entertainment, not something we'd expect to come across in real life.
The show looks lovely. The night setting provides extra atmosphere, it puts people's reactions into sharp relief. The show has been put together with care and attention, and it's clearly had A Bit of Budget. Boyard Land has proven a tremendous hit with children and their parents – and France Télévisions desperately needs to attract younger viewers. Not just because it needs to justify its privileged position on telly, but because its last primetime series was a flop.
For all that, we found the show to be a bit long. 1 hour 50 minutes is a big commitment, and it would be even longer if we didn't skip past the commercials. That's how they do things on France Télévisions, where all the night's big shows begin at 9pm after the news, and run for two hours. Crazy? Perhaps. They point to our deluge of primetime soap operas with equal bafflement.
The extra running time comes into its own when we look at Boyard Land as a gentle comedy drama in its own right. How did Père Fouras create all this marvellous contraptions? What was his relationship with La Fee? All of this is explored in each show, we get both the game and a subtle hook – enough to encourage us to come back next week.
Remember how John Leslie would leave the Scavengers, face off against an alien, defeat them in ten seconds flat, then return to the group as though nothing happened? Boyard Land does better than that. It has room to tell a backstory, while still progressing the main game. Too many anglophone slice their exposition so thinly, but Boyard Land (like most Francophone shows) tells another substantial story beyond the immediate game.
For all that, we can't see Boyard Land working here in a two-hour format. The mixture of game and story is an acquired taste, and viewers on this island haven't got that taste. Somewhere between 70 minutes and 90 minutes works well for a Saturday night on both BBC and ITV, and both channels could get something from the format.
In other news...
The Jeopardy! Tournament of Champions concluded on Tuesday, with Ken Jennings' third win. His opponent James Holzhauer won one match, and Brad Rutter triumphed in none.
All pud things come to an end. Dame Sandi Toksvig is to leave Bake Off after three years. The shorter presenter will spend more time on other projects, including a literacy show for Channel 4. Her swansong will be the forthcoming charity special episodes. A replacement for Dame Sandi will be announced in due course, and celebrities have been falling over themselves to say they're available.
A very strange first episode of Wie is de Mol, one of the few shows that can get away with a completely cold open to a whole series. Some bar-tenders get annoyed with a three-minute introduction spiel before The Masked Singer, but WIDM waited 23 minutes before showing its opening titles.
One of last year's contestants, Nikkie de Jager, had some news about herself. She gets respect and admiration and unquestioned support from this column, and from the current government. "You are really free if you can be who you are. Role models are of great importance for emancipation. Nikkie is such a role model." said Ingrid van Engelshoven (Education, Culture and Science minister).
This column doesn't do contestant calls, but we do do job opportunities. Remarkable Television is looking for a question writer – the position's open to people with disabilities. The successful candidate will work on shows like House of Games, The Wall, and Pointless.
Baseball news, and the Houston Astrodomers have been caught in a remarkable piece of cheating. The team used a camera to spy on the signs used by opposition catchers. The catchers will make one sign for a fast ball, another for a slower one, with modifications to turn left or right or up. All very clever. Anyway, the Astrodomers had a camera trained on the signs, and someone in the back room, decoding these signs. Once they'd cracked the code, they'd inform the teammates on the field.
The Astrodomers found this information very helpful, and it may well have helped them to win The World's series in 2017. The plot came to light in November 2019; Major League Baseball has this week found the Astrodomers guilty of cheating, fined them some cash, and suspended a number of managers for the coming season.
How is this related to game shows? The Astrodomers delivered the information by a very high-tech method: someone would bang a rubbish bin with a bat. Bangs? It's a slower ball. Silence? A faster ball. There are reports, not confirmed as yet, that some players might have received extra help through buzzers secreted about their body. All this is far too reminiscent of other low-tech cheating plots, such as those resulting in a court case about Who Wants to be a Millionaire.
Just the one new thrill this week, Portrait Artist of the Year is back (Artsworld, Tue). One very old thrill, Sunday Night at the London Palladium (Talking Pictures, Sun). Voting Season continues with the UKGameshows / Bother's Bar Poll of the Year 2019 Results Megacast (The Interwebs, 9pm Tue); our exclusive exit poll predicts a late swing towards Bob's Full House.
Photo credits: Adventure Line Productions, Love Productions, Celador / ITN.