Weaver's Week 2020-05-03
Last week | Weaver's Week Index | Next week
Could The Fuse have given us this?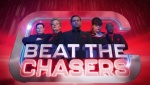 Potato (an ITV Studios company) for ITV, 27 Apri – 1 May
Louder, bolder, brasher than the daytime programme, Beat the Chasers delivers plenty of quiz for primetime viewers.
The format is deceptively simple. Bradley calls up someone from the audience. Yes, the player has been selected in advance. Yes, Bradley's been prepped with conversation points. Doesn't matter. For the next ten minutes, this one contestant is the star of the show, the centre of our world.
All of the players have been chosen for their quiz potential, and as an interesting person, and as someone who will thrive under the intense studio pressure. It's an amphitheatre of quiz, steep banks of seats on three sides, fierce spotlights point up to pick out the joints in the ceiling. Bradley talks to our player, finds out about them, what they'll do with the money. With ten years of practice, Bradley knows how to extract the most from a short interview, help show us what makes our contestant tick.
Ten years of practice? Indeed. Back in summer 2009, The Chase took to the airwaves in a short pilot series. There was some early weirdness – a longer individual chase, smaller offers, shorter and less rhythmical questions. We described that pilot as "Davids versus Goliath", plucky contestants against a major name in quiz. Bradley was a bit more functional, he had less opportunity to show his comedy talents – and to bring out the fun in his players.
Back at the modern game, we've reached the Cashbuilder. Five questions – we reckon they're questions of increasing difficulty. Three options for each question. Huey, Dewie, or Louis. Bell, book, or candle. Hit, miss, or maybe. Our contestant has a few seconds to consider the options, then picks one. Bradley will continue to dial down the tension, cracking some jokes and riffing off his earlier conversations with the player.
In the serious business of the quiz, it's £1000 for each right answer, but the round stops on an error. Got the first question wrong? Oh. That's a shame. You'll be walking off the set again, cheered by all, but without having the opportunity to face any Chasers.
Back when the show began, there were just two Chasers. Young Mark Labbett, heading towards his series victory on Only Connect, runner-up on The National Lottery The People's Quiz 2007, a big character in every sense of the word. And there was Young Shaun Wallace, a recent Mastermind champion, bookish and forensic, and what he doesn't know about football isn't worth knowing. One will rip you limb from limb, the other will make you tear yourself apart with his mental torture.
Since then, the ranks of Chasers have gradually swelled. Anne Hegerty, so nearly a Mastermind champion, so nearly a Brain of Britain, with the tenacity to grind you down with relentless precision strikes. Paul Sinha, a doctor and a comedian and raconteur: losing to him might hurt, but it will feel awesome. And Jenny Ryan, another Only Connect champion who's gone on to professional quizzing, a flamboyant singer and general good time gal.
These five Chasers have been sat in their balcony, above the arena. Like those two old geezers on The Muppet Show, they'll aim witty barbs at the action on stage. Scripted lines? Perhaps. Delivered with a slice of ham? Sometimes. But it all adds to the theatre: we're not just here for a quiz, we're here to be entertained. We want a game, and we want a show.
Once the Cashbuilder round has finished, the contestant will have earned a few thousand pounds. To win that money, they will need to beat two of the Chasers – and those two are chosen by the production team.
At the heart of Beat the Chasers is a classic chess-clock game. Our player starts with 60 seconds on their clock. The Chasers will handicap themselves, and say they'll win with more heads, but less time. For instance, Jenny and Mark might say that the two of them will beat the player in 39 seconds. Each side's clock will run down while they're asked questions, and play only switches when a correct answer comes from someone on that side.
But the player has a decision to make. They'll receive more offers. Beat three chasers – Jenny and Mark and Paul – in 44 seconds, to win £10,000. Beat four chasers – Jenny and Mark and Paul and Anne – in 49 seconds, and win £20,000. Beat all five in 56 seconds, and play for £75,000.
How confident is our player? What decision will they take? With the benefit of a week's watching, we can see that the key decision is time, not the number of Chasers. Can our player get 9, 10, 11, 14 questions correct in 60 seconds? An extra brain will help the Chasers, fill some gaps in their collective knowledge, but will it be so much of an advantage that they can squeeze out a whole extra question?
Back in the day, we noted how Bradley kept it light in the main part of the game, the solo Cashbuilder and the solo face-to-face. It wasn't the tension point, that came in the quickfire Final Chase, where a close finish is almost certain. For Beat the Chasers, the Final Chase switches play from side to side, always beginning with the contestant. At most, it's 110 seconds of rapid-fire quizzing, one David against five Goliaths in their balcony. It's tense and exciting, and we're assured of a close finish.
Before we know it, the close finish has happened. More often than not, our player has not been quite up to the task, and has failed to win the money on offer. They leave the set with a handshake and the cheers of the crowd.
From time to time, the Chasers' clock runs out first, and the player wins. Cue mass cheering, the spotlights turn gold, and Bradley moves up a gear we forgot that he had.
Some of the fan reaction has been to suggest tweaks to Beat the Chasers. Have the Chasers play each question in the Cashbuilder, with an extra £200 for each incorrect answer they give. Have a "Switch!" lifeline so the contestant can throw one question to the Chasers. Varying amounts on the Cashbuilder. Keep playing after clocks hit zero until someone gives a wrong answer. All of these ideas have some merit. All of these ideas would take extra time to explain, and we'd lose the show's perfect pace – fast enough, but not too fast.
The Chase has had a few spin-off series in primetime already. The Chase Celebrity Edition has been running on and off since 2011, it's simply the daily game played for charity, and often with somewhat larger amounts of money at stake. The Family Chase has had a couple of series, and there's one just finishing on Sunday nights. While it's got the same rules as the daytime show, there's an extra frisson from the way family contestants know each other, and understand their own strong and weak points.

Beat the Chasers is another programme entirely. Paul Farrer has composed some fresh music, he's taken the familiar riffs and motifs, and made them all darker and more dangerous. The dark set is illuminated by the red C surrounding the Chaser's box. Each is wearing a uniform black, enlivened only by a small red detail – the men's pocket squares, Mark and Anne's ties, the collar of Jenny's dress. They've thought about the presentation on this show, and it all amplifies the drama and sense of occasion. This isn't any old quiz: it's One Versus The Best.
Except they haven't thought fully about the presentation. Our biggest initial criticism is how they're using lots of typefaces on the show. There's one typeface for the Cashbuilder questions and answers, and something different for the contestant's name in the Final Chase. Consistency would be lovely.
While we're on the topic, the clocks are calibrated in fractions of a second, but only show the full second – it's easier to read, but the tenths can matter. We can't see which Chaser has buzzed in, that's hidden behind the caption. And the graphic shows a layer drain away almost every second, but not quite every second. These are really small nitpicks, but they're relatively easy to get right.
It's not immediately clear how the score in the Cashbuilder affects the higher offers in the main game. Sure, if you only go in with £1000, then you can expect a next offer of £5000. If your Cashbuilder earns the full £5000, the next offer would need to be around £15,000.
But why do some contestants get top offers of 25 grand, others 75 to 100 thousand? Are the producers dangling carrots in front of people they think will take them, put on a great show and feel secure they won't pay out? We have no evidence that Beat the Chasers is in any way unfair, or that the producers are not making a reasonable assessment of each player. It just feels a bit like Deal or No Deal at times.
And, in a lot of ways, Beat the Chasers is the penultimate round from The Fuse reconfigured. Back in 2009, ITV put out another pilot series at teatime, The Fuse. The second half was almost exactly like Beat the Chasers: get a question right, stop your fuse from burning and light someone else's, first fuse to hit the barrel of TNT explodes and takes you out of the game. The only difference is that the Chasers are playing as a team, and are on a shorter fuse.
The Fuse didn't get beyond that pilot order, primarily because the first half of the show was entirely meh, and it didn't have the cult potential we saw in The Chase. Two weeks was more than enough.
We have a nagging fear: that Beat the Chasers is going to be overdone. It's loud, it's lairy, it's got swagger and brio. And it's the same game repeated over and over and over throughout the hour, throughout the week. With four or five Final Chases in each episode, we can see Beat the Chasers would lose its attraction very quickly.
As an event format, stripped across a week, it's excellent. Apart from Ant and Dec, The Chase is ITV's biggest property, and they're right to bring it to primetime. But we remember what happened to Who Wants to be a Millionaire, how episodes every week turned from exciting into routine into boring. Beat the Chasers won't last that long: it needs to be rationed out, like a treat we love but that is really bad for us.
We look forward to another series immensely.
In other news...
On the other side of the pond, we hear that Total Wipeout is coming back. According to a press release quoted on Buzzerblog, "The new series will feature new format twists and elements that will push contestants' athleticism and willpower to even greater extremes, all while delivering some pretty epic falls! Each game has been designed in three rounds and now features a jaw-dropping three-stage obstacle course. But don't worry… the Big Balls are back."
To the surprise of no-one, the BBC will not make another series of The Greatest Dancer. The second series went out in January and February. Honest. It really did, but everyone was watching The Masked Singer or waiting for First & Last.
A new series of BBC Young Musician of the Year kicks off (BBC4, Sun). It's the Mastermind grand final (BBC2, Mon), and there's a new run of Dinner Date (ITVBe, Wed).
There's a tribute to Tim Brooke-Taylor (R4, Mon), and a previously unseen episode of Sunday Night at the London Palladium (Talking Pictures tv, Sun).
Highlights for next Saturday: Pointless Celebrities has a parent-and-child special, In for a Penny is in Belfast, and Schlag den Brig is back. The internet's toughest challenge, as Brig Bother of the eponymous bar takes on Accumulate's Daniel Peake. The two went head-to-head twice in 2014, and we've been waiting since then for a decider.
Photo credits: Potato (an ITV Studios company), ITV Factual