Weaver's Week 2021-04-25
Last week | Weaver's Week Index | Next week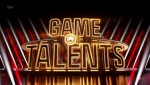 The basic idea is simplicity itself. Eight specific types of performance are named on screen. One by one, performers will come along. Each matches one of these descriptions. Can you match this performer and name their talent?
We can fit the idea onto the back of a matchstick. Have ITV made an elegant show from this elegant format? Let's find out.
Thames (a Fremantle label) for ITV, from 10 April
Vernon Kay is our host, the first time he's run a series on network television for something like five years. The game is played by two pairs: a civilian contestant and their celebrity partner. Only the civilian player will win any money, the celeb is just there to get on primetime ITV. The same arrangement they had for Rolling in It last summer.
They've a lot to get through, it's a 49½ minute programme with eight acts to perform. We don't really have time to waste with an introduction reel, a prolonged introduction to the players, and chat with contestants. That's 3½ minutes we're not going to spend with the performers.
Vernon eventually sets out the challenge. Work out the talent of the person coming on to the stage. Get it right, put money in your own prize pot; get it wrong, money goes to the opponent. They mix up the format a little towards the end, we'll get there when we get there. And without much further ado, let's get on with it.
Exciting music plays. The audience claps and cheers from the comfort of their computers. A camera pans up a silhouetted figure, he eventually steps into the spotlight. "I'm Euan, 32, from Cardiff, and I once played the piano at Downing Street". Welcome to Only Connect.
Based purely on this information, the pair in control decide whether to play or pass. Whoever plays gets to see a short video, which is meant to be full of clues to the guest's talent. For instance, Euan's clip was a spoof news bulletin, containing details of Arnold Schwarzenegger, holes in Swiss cheese, and how rivers are deep and mountains high. Obviously, Euan is something to do with mountains: is Alpenhorn blower up there? No, but yodeller is.
Our players say that Euan is a yodeller. He slopes off backstage. They then pick one of the money balls on offer, to work out how much their guess is worth. Only now do they open the stage doors, to the show's best effort at a catchphrase, "Show us your talent!"
The stage curtains crack open a little, and we catch sight of Euan with some backing dancers. Is he actually some sort of dancer? An opera singer? No, they're right, that alpenhorn and the mountains in the backdrop mean they're right, and will turn out to be £1000 better off. But first, we'll see Euan give a quick demonstration of his talent.
And then we're on to the next performer, a school-age dog agility expert. Didn't we see her on Crackerjack! earlier in the year? Or was it Blue Peter? Would it be entirely fitting to welcome a school-age child with a song about, um, er, creating children? Even though it's by The Bloodhound Gang, it's not a gram we'd care to drop.
Game of Talents has been filmed during the current health crisis, and is subject to the usual sorts of restrictions. Celebrity and their playing partner have gone through the necessary precautions to stand at the same podium, and we've no doubt that the house dancers have done the same. Everyone else keeps big distances, standing right across the set.
There's no audience on the set, the applause and laughter comes partly from people at home – but we fear that it's mostly Canned Crowd™. That, or so heavily edited that it might as well be from a tape.
Game of Talents is an ITV show, and doesn't hesitate to pull in a few favours from elsewhere on the network. The ITV News contribute a spoof report, Lorraine puts forward some clues, and no doubt breakfast show host Susanna Sensible will turn up at some point in the run.
So, after seven of the talents have emerged, we're down to the final two talents. Here's Max, who we definitely recognise from Crackerjack! as a really good ventriloquist.
This is a problem with ITV's talent franchises: many of the people have already been on better shows. Destiny from next month's Eurovision Song Contest? Did ITV's Got Talent in 2017, got voted off in the semis. That year's winner Tokio Myers? Toured with plenty of pop stars, then became one himself.
Anyway. Each pair puts in their guess, picks a ball. If they're right, they get to open it, and add that money to their account. Whoever's got the most money after this round is the winner, and goes forward to the final. The loser leaves with nothing.
In the final, we know the talent someone's going to demonstrate – in this opening episode, it's opera singer. But who is the real opera singer? Can we spot the real singer from amongst four possibilities? Isn't this a question we asked just last week, in the context of finding the real home owner?
Game of Talents doesn't have time to follow all four opera singers around their local aria, it's got to get off air in five minutes' time. Instead, it asks for a snap decision. But there's a clue to make it easier: each of the singers is asked to say a simple phrase in Italian. Because all opera singers always perform in Italian, just like they do throughout Die Walküre.
Our player has the option to halve the options and halve their prize – take it down to the last two singers, but for half the money. (Though on this episode, the money went up and down and up and down, as though we weren't going to notice.)
Throughout the show, the reveals have been with the maximum of tension: only opening the curtain a crack, giving false leads to make us think one talent is another. Here, all of the contenders are on stage, and hidden in the shadows. Someone is singing, but is it our player's choice? There's a limit to how much build-up they can give to a minor reveal, and perhaps Game of Talents goes a bit too far.
Some people have been reminded of Identity, a one-series wonder from 2006-7. Over here, it was a daytime programme hosted by Donny Osmond; over the Pond, it was a primetime show hosted by Penn Jillette.
The basic thrust of the show is similar: match these people with their claim to fame. The mechanic is very different – for starters, Game of Talents asks us to concentrate on just one talent, not spread our attention around lots of them. As was the fashion in the mid-aughts, Identity was mean and didn't give enough clues: if anything, Game of Talents gives too many clues, and it's all a bit too easy.
While Identity was a 33-minute show stretched out into a 45-minute slot, Game of Talents is a bit too rushed. We could see some more of these performers: after all the format procedurals, after all the guessing and clues and waiting, they're gone in 60 seconds. If Game of Talents is intended as a replacement for ITV's Got Talent, then it needed to spend longer on the actual talents.
Now, let's be fair. Game of Talents is not a bad show. We saw Bank Balance, and Game of Talents is infinitely better than Bank Balance. But it's not as good as it could be. It's unsatisfactory, it falls between two stools.
Game of Talents doesn't quite work as a variety show, because the talents aren't given enough time to show their brilliance. It doesn't quite work as a guessing show, because the clues are that little bit too easy. And it doesn't work as a gentle entertainment, because the stakes are high – someone's going to play for £50,000 and that's a lot of money to lose.
Would this have worked better with the version shown on Fox in North America? Maybe it would. We'd see just six performances, picking from a list of seven (with one red herring). Sometimes the team sees the video clue before deciding to play, sometimes they don't. There's a buzzer race to lock in the final person's talent. None of the money balls turn up – instead, they use the final question as a one-question decider, which always feels naff. There's less imagination in the clues, even more natter around the options. Doesn't really give more time to the performers, which is the easiest one of our problems to fix.
The all-or-quits finale is exactly that: quit with the money won so far, play and give the right answer to double it, or give the wrong answer to lose it all. Wayne Brady is their host, as natural with people as Stephen Mulhern. He's by far the best thing about Fox's version of the format, and might well be better than Vernon Kay.
We hoped to take a look at the Castillian original, Adivina qué hago esta noche, but haven't found an episode just yet. We do know that the show features 11 talented performers, and runs for about 90 minutes in the late evening. Money balls are involved, but the average prize is "only" about 20 000€ (£17,000).
Maybe that slot is the key. Game of Talents feels like a late evening entertainment, a parlour-game entertainment after a convivial meal. While we're reaching for the wafer-thin mints and the port, slightly tipsy and contented with life, our elegant host brings forward a suite of entertainers. They'll all perform for us, but can we guess what we'll be seeing next?
Spanish television captures that ambience, it's a headspace where strange things can happen, where the surreal is never too far away. For all its abilities, ITV light entertainment has never got into that mindset, it plays things straight. Most of the time, a straight bat is perfect; just once in a while, we viewers need to let our imaginations take flight. Game of Talents would be at its best with a looser format, and probably a later slot, and that probably means turning it from a medium-prize game into a panel game.
So in short, Game of Talents is an OK watch. It's nothing special. And, for ITV at primetime on Saturday night when we've nowhere to go, this isn't good enough. Especially when there's something better on the BBC, which we'll look at in two weeks' time.
In other news
Nominations are out for the Radio Academy's ARIAs, with one game show up for a gong. Fighting Talk, in the Best Sports Show. Winners to be named on 26 May.
The death this week of Jim Steinman, over-the-top songwriter. Best known for his work with Meat Loaf, we were surprised that he never wrote for anyone at the Eurovision Song Contest, where the larger-than-life imagery would have fit right in. His works have been recorded by many of the contest's greats – Céline Dion, Bonnie Tyler, Michael Ball, interval act Boyzone – plus Take That from Swizzlestick, Tom Jones and Boy George from The Voice, Elaine Paige from Crackerjack, and Donny Osmond from Idennidy. Jim Steinman cranked it all the way to 73 years.
ITV2 have announced a show called Apocalypse Wow, where celebrities compete against 'bosses' with unusual strengths. One of the characters is Hot Slippy Jesus, the leading gravy wrestler. We guess Mr., er, Slippy-Jesus came out on top against our school dinners, because that gravy broke teeth.
The Mastermind final (BBC2, Mon) sees six great brains compete for great honour – we'll have a review next week. BBC Young Musician of the Year finally gets its semi-final (BBC4, Fri), and there's a new run of The Good, the Bad and the Unexpected (Radio Scotland, Fri).
Saturday night features the penultimate Celebrity Mastermind of the current regime (BBC1), writers on Pointless Celebrities (BBC1), Stephen Mulhern risks meeting International Game Show Analyst Brig Bother on In for a Penny (ITV). Fleur East is the guest on I Can See Your Voice (BBC1), Joel Dommett and Oti Mabuse on Game of Talents (ITV). Alan Carr's Epic Game Show this week is Strike it Lucky (ITV).
Photo credits: Thames (a Fremantle label), BBC Children's Productions, BBC Manchester.
To have Weaver's Week emailed to you on publication day, receive our exclusive TV roundup of the game shows in the week ahead, and chat to other ukgameshows.com readers, sign up to our Google Group.