What Do You Know? (1)
Host
Broadcast
Pilot as "Do You Like It?", BBC Light Programme, 15 May 1953
BBC Light Programme, 2 August 1953 to 16 July 1967
BBC Television (one-off simulcast), 25 June 1955
Synopsis
The forerunner of Brain of Britain. Originally there were several different parts to the show, including Beat the Experts in which people famous in a particular field listened to a short play and were asked to point out the two deliberate mistakes. There was a memory test interlude called Hear Hear too. The most popular part, which soon took over nearly the whole show, was called Ask Me Another and originally involved two celebrities (including the likes of Joyce Grenfell and Anona Winn) and one member of the public. By 1956, the celebrity contestants had been dropped and it became purely a quiz for members of the public, competing for the title "Brain of Britain", while "Beat the Experts" was replaced by "Beat the Brains", in which listeners could send in questions to try to stump the panel. In 1968 Brain of Britain became the title of both the main quiz and the whole programme.
A version of the original quiz also transferred to television as Ask Me Another.
Inventor
Theme music
Opening theme: Fanfare 1 and 2 EMI EP 35
Closing theme: Flying Squad by R. Hanmer
Trivia
The pilot was one of a short series of pilots from the same team. Very short, in fact - it comprised two programmes, the other being the much less successful Radio Flitch.
Pictures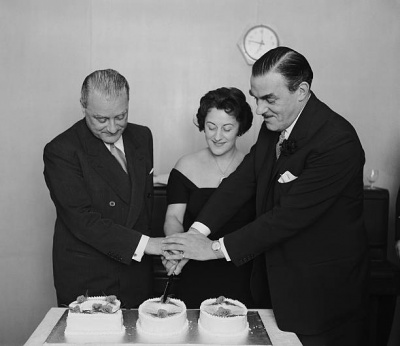 Creator John P. Wynn, producer Joan Clark and host Franklin Engelmann celebrate the 200th episode in 1960.
Feedback