Whatever You Want
Host
Broadcast
Hat Trick Productions for BBC1, 5 April 1997 to 10 June 2000 (37 episodes in 4 series)
Synopsis
It's Jim'll Fix It for the Nineties, but was given this name because Gaby'll Fix It doesn't trip off the tongue particularly well.
Gaby offers to give people Whatever They Want (within reason) providing they win a game where two other people who share the same dream are also competing for the same prize. So, for example, there would be three people who want to swim with dolphins, they would play a dolphin-influenced game and whoever won would get to swim with dolphins. And cameramen.
Many of the games were studio-bound and hence couldn't take up too much space. Therefore, typical games included Bucking Bronco-u-like, lots of inflatables, skill games and so on. The games were generally okay, sometimes very good, but not really worth watching more than once. This was lucky, because they never really used exactly the same game more than once. So that's alright then.
Two things that definitely crop up each week are:
The Obsessionals, a quiz where three people who love something a bit too much see who was the most obsessional. It had an excellent points scoring system: First two rounds: 5 points each, one question each. Then there's a quickfire round, questions worth 10 a piece. "Exciting finish" say some people. "Knickers" says we.
Also, Locked in the Limo gives three teenyboppers a chance to free the object of their desire and be rewarded by having dinner with them or somesuch. The star guest is locked in the car, and the chauffeur has six electronic door keys in his hat. If a player gets a question right (and they're asked questions in turn) they can pick a key. If the chosen key opens the door, that person wins. If not, the game goes on until thankfully someone wins it. (We'll bet you a tenner this is rigged in some way, because the first key picked never ever opens the car. Maybe it's done on the basis of "whoever answers the 4th question correctly wins".)
An innovation in the 1999 series saw a multi-round competition run throughout the series called Wherever you Want which involved outdoor games, where the top prize was a trip to anywhere on Earth. The outdoor setting of these led to some more imaginative games.
Gaby's in her element with this very people-based show. In these times of pressure shows like The Moment of Truth, it's good to have a non-threatening, feelgood programme. Furthermore, the show hasn't got any "rough edges" - the production values are extremely high, as should be the case for a Saturday night show.
Those of you who haven't a cynical bone in your body will really enjoy it. The more bitter and twisted individuals amongst you may well be reaching for the sick bucket. Never the twain.
Inventor
Whatever You Want unleashed the talents of one David Young upon the world.
Trivia
WYW won a Silver Rose of Montreux in 1999.
Web links
Pictures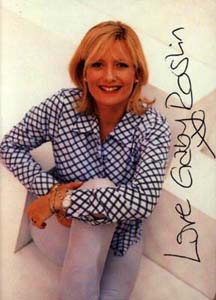 Gaby Roslin
.
Feedback