Who's Bluffing Who?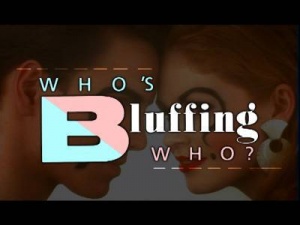 Host
Richard Cartridge and Ulrika Jonsson
Broadcast
BBC Elstree for BBC1, 20 to 31 May 1991 (8 episodes in 1 series)
Synopsis
"Battle of the sexes" game show where two teams of five players (one all male, the other... uh, right) try to knock each other out by giving true or false answers to fool their opponents.
Trivia
One of two shows that appeared in the 1.50pm slot occupied by Going for Gold during the summer of 1991. The other being Humdingers.
Curiously enough, highlights of the show were shown in September 1995 as part of the Won More Time strand.
Web links
Opening titles from the BBC Motion Graphics Archive
See also
Videos

Slightly wobbly video, but it's a near marvel someone's not recorded Chain Letters over it anyhow
Feedback