Young Scientists of the Year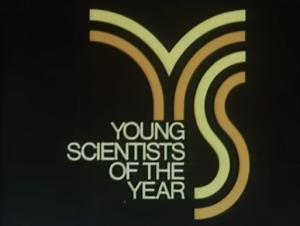 Host
Paddy Feeny (1966-78)
John Tidmarsh (1979-81)
Co-hosts
Dr. Tom Margerison (chair of the judges, 1966-67)
Judges included: Sir George Porter, Prof Heinz Wolff (see The Great Egg Race), Prof Eric Ash, Dr Colin Blakemore, Prof Aubrey Manning, Dr Donald Broadbent, Dr Josephine Douek
Broadcast
BBC 1, as Science Fair '66 (and 67 etc), 7 July 1966 - 27 February 1969 (28 episodes in 4 series)
18 January 1970 - 15 February 1981 (64 episodes in 12 series)
Synopsis
Teams of schoolchildren demonstrated their scientific research to a panel of scientists, experts in their fields. The best projects came back for the grand final, where the winners won a prestigious title and trophy.
Why Science Fair '66? The projects were selected from a Science Fair organised by the British Association for the Advancement of Science. Later series were supported by the Royal Institution of Great Britain (you know, the same lot who do the Christmas lectures). The trophy was sponsored by The Sunday Times newspaper until 1974.
A sample episode (from 1975) featured students from Glenrothes studying Couch Grass, a team from Codsall researching Magnesium, and work from Taunton investigating Amylase and Body Time. Their work was judged by Professor Anthony Bradshaw (botanist), Sir George Porter (chemist), and Professor Peter Venables (psychologist).
Theme music
Tony Hatch wrote the Science Fair theme. Later series used "Happy Trumpet" by Herb Alpert.
Trivia
Always presented in the plural, never as Young Scientist of the Year.
The series ran for a decade and a half, usually on Sunday afternoons at the start of the year.
Feedback