Bob Mortimer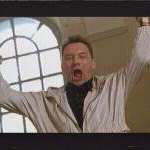 Biography
Bob Mortimer was working as a solicitor when he went along to one of Vic Reeves' early stand-up shows. Introduced by a mutual friend, Vic and Bob found they shared a similar comic sensibility, and formed a double act that endures to this day.
More recently he's been known for sitting on sumptuously-filmed riverbanks chatting with Paul Whitehouse (and occasionally managing to catch a fish) in the documentary series Mortimer and Whitehouse: Gone Fishing.
Trivia
He suffers from an unusually early onset of arthritis and has to take steroids to keep it under control.
He is co-founder, with Vic Reeves and Shooting Stars producer Lisa Clark, of Pett Productions. As well as producing Vic 'n' Bob's own shows, the company also made the short-lived competitive variation on the Cash in the Attic concept, Star Sale.
Books / Tapes
Shooting Stars (audio cassette)
Contact
PBJ Management Ltd, 7 Soho Street, London, W1D 3DQ
Web links
Feedback