Lucky Sexy Winners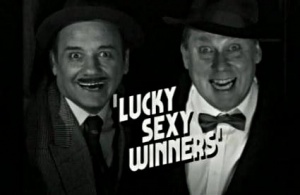 Host
Co-hosts
Scorer: Johnny Meringue (Dan Renton Skinner)
Broadcast
Pett Productions for Channel 4, 23 August 2012 (as part of Channel 4's Funny Fortnight)
Synopsis
Vic and Bob made a homecoming to Channel 4 for this broadcast pilot which had more than a stench of leftover ideas from Shooting Stars about it.
Instead of two teams, there's a line-up of three celebrity contestants (Chelsee Healey, Thomas Turgoose and Eddie Izzard) who are initially referred to by a number and colour - for no apparent reason. Actor Dan Renton Skinner (who played Angelos Epithemiou in Shooting Stars) returns too as a scorer-cum-timekeeper called Johnny Meringue.
Over 20 minutes of play, Vic and Bob fire off numerous varied surreal questions to the celebrities such as "Name this celebrity based on a bad drawing we've done". Some questions are accompanied by sketches played in from tape.
However, the vast majority of the show relies on questions that have no purpose than to be surreal with no real answer, so although this was indeed promised to be the show that would "rip up the rule book" for quiz shows, it's rather torn it too far.
The winner went through a door to The Kingdom of Prizes to receive their rewards and, er, that's about it.
Theme music
Dan McGrath and Josh Phillips
Web links
See also
Feedback