Eddie Izzard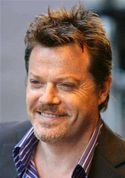 Biography
Stand-up comedian known for her stream-of-consciousness style and love of cross-dressing. Nowadays doing rather well for herself as a serious actor in the USA.
Trivia
Her awards include British Comedy Awards for best stand-up in 1993 and 1996, two Emmy Awards for her Dressed To Kill US TV special in 2000, a Best Leading Actor Tony Award for her performance in A Day in the Death of Joe Egg on Broadway, and honorary doctorates from The University of East Englia and the University of Sheffield.
Sat for an edition of Portrait Artist of the Year, where she requested the use of 'she/her' pronouns.
Contact
c/o PBJ Management, 7 Soho Street, London, W1D 3DQ
Web links
Feedback