Crazy Comparisons

Host
Co-hosts
Team captains: Simon Williams and Paula Wilcox (1991)
Broadcast
Celador and Thames for ITV, 5 September 1989 to 19 July 1991 (44 episodes in 2 series, 1989 as PSI)
Synopsis
'If this show was a gameshow, what gameshow would it be?' 'Well, it would be Crazy Comparisons (PSI), wouldn't it?'
And that, my friends, sums up Crazy Comparisons (PSI) nicely. Two teams of celebrities would try and guess who various mystery celebs would be if they were, say, a type of cheese, a Laurence Llewellyn Bowen style house furnishing, a type of light bulb whatever. And that was it really.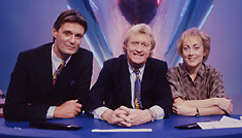 The crazy team that make a lot of comparisons. Williams, Tarrant and Wilcox.
It was based on a popular (at the time) board game, but if you were ask 'If this show was a gameshow, what gameshow would it be?', an equally acceptable answer would be 'Celebrity Intuition', because that's what the show changed its name to after about two series. No one knows why. Still, we're still waiting for Stephen Leahy to come up with 'Celebrity Table Football' or 'Celebrity Kerplunk'.
Hosted by Chris Tarrant, the latter could be fab as a celebrity can pick a straw and he can go 'is that your final decision?' or 'confident?' and when all the marbles came tumbling down he can go 'I'm sorry, you've just lost 14 marbles'.
Inventor
Based on the board game PSI, which stood for Psychology Slander Intuition. The game was invented by Steve Knight and Mike Whitehall, who later became the team behind Who Wants to be a Millionaire.
Theme music
LBS Commercial
Web links
Celador's Crazy Comparisons page
Feedback