Chris Tarrant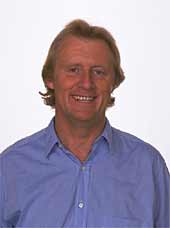 Biography
Regardless of whether the format he was hosting was a bit iffy (e.g. Cluedo) or quite innovative (Everybody's Equal), Chris Tarrant usually puts his all into presenting a programme. It is with some justice, therefore, that he finally found himself hosting a real hit show at the end of the 1990s in the form of WWTBAM.
Having graduated from Birmingham University in English, he worked under a number of jobs, including teaching, lorry driving and as a security guard.
After a period of extreme poverty, including living in a van for a period, he wrote to local TV stations until the head of news at ATV took notice. He started work on the evening news show ATV Today as a newsreader before settling into the role of the "quirky stories" reporter.
He came to national prominence through kids gunge show Tiswas and its adult spin-off, OTT. He was a fiercely loyal stalwart of Capital FM, where he was a disc jockey since the 1980s. Since then, he has hosted numerous shows, mainly for Action Time and Celador.
After a protracted is-he-or-isn't-he? period, he eventually did retire from Capital in 2004, handing over his mantle to Johnny Vaughan.
Trivia
He's a keen fisherman (he was president of the Anglers' Conservation Association from 2002 to 2004), and once broke a limb after falling out of a tree.
In 2006, he was the 2nd-most seen celebrity on British TV, behind Gary Lineker (due to the World Cup). It's estimated 32.9m people had seen him on the small box at some point.
At some point during the 1970's, he was forced to give up his newsreading role on "ATV Today", because it was considered inappropriate for him to be talking about serious matters such as car crashes during the week and then flinging custard pies and buckets of water over people on "Tiswas" on Saturdays.
One of his more minor hosting roles was as questionmaster for a DJs' quiz during ITV's 1990 Telethon.
Hosting 'Cluedo' had to be Tarrant's least-favourite role - if his words in an interview soon afterwards, "I absolutely hated hosting Cluedo, it's the worst thing I've ever done. It took forever to make the thing. We used to have to turn the studio audience over just to make sure they didn't get any bed sores" are anything to go by.
From 1986 to 2001, he was a partner in the menswear chain Made In Italy.
He began his career in the Central Office of Information, where he produced the "clunk-clip every trip" features starring Jimmy Savile. For reasons that have never been properly explained, one of his works - a 12-second silent film about the world's strongest rope - won him a gold medal from Romania.
In 2007, he accepted a formal police caution following accusations that he threw cutlery at another diner during "banter" in a Nottingham curry house. He made light of the incident when guest hosting Have I Got News for You during the matter.
If he spots people playing the Millionaire pub quiz game, he's fond of tapping the players on the shoulder and say "Is that your final answer?"
Correction: For some years, UKGameshows incorrectly reported that Chris Tarrant had hosted more shows than Bob Monkhouse or any other host. This was not accurate, and was due to a misinterpretation of data on our part. We regret the error.
Contact
c/o Paul Vaughan, PVA Management, County House, St. Mary's Street, Worcester, WR1 1HB
Books / Tapes
The Ultimate Book of Netty Nutters
Web links
See also
Weaver's Week retrospective (and part two)
Feedback