Bob Monkhouse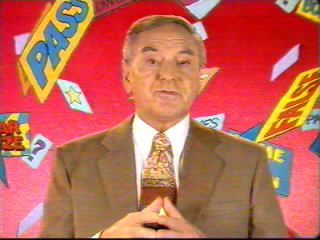 Biography
Bob Monkhouse was Britain's king of the quiz show, but this was just a part of a 50-year career in show business. While still at school, he wrote for the Beano and Dandy. His family owned a custard factory, but after leaving school he decided to go into writing comedy material in a double-act with Denis Godwin for major Hollywood stars such as Bob Hope, Frank Sinatra, Dean Martin and Jerry Lewis. He worked in cabaret, performed in West End farces, acted on film and presented countless programmes.
His big break came while performing in South Africa, when he received a contract to work one week at the London Palladium - in fact, he stayed for six months. His TV debut was in the 1950s comedy show Fast And Loose, and the Monkhouse / Goodwin double act put in a guest appearance on the 1953 show Why? (though even this couldn't save it from being a major flop). Though widely respected as a swift-witted comedian, audiences found something slightly unsettling about his enigmatic personality - and he was described in a show paying tribute to him as 'like Marmite - you either loved him or you hated him'.
His film roles included an appearance in the very first Carry On film, and he made cameo appearances in modern drama series such as Jonathan Creek. He also appeared alongside Hugh Laurie in the 1993 ITV drama series, "All Or Nothing At All", playing Laurie's boss, and he had a cameo role alongside Honor Blackman in the ITV comedy series, "The Upper Hand". In addition, he sang the theme song to the BBC's 1920's-set comedy series 'You Rang M'Lord', along with the show's main star, Paul Shane. He was an avid collector of silent film comedies, and is credited with preserving the only known copy of many films.
Bob Monkhouse was appointed OBE in 1993. He died in December 2003 from prostate cancer, aged 75. In 2007, a combination of archive footage and computer trickery were used to bring him back to life for a highly acclaimed "Give a Few Bob" advert highlighting the disease.
Trivia
He used a 'peg' memory system to help remember his jokes. When two folders of his jokes were stolen in 1995, he offered a £10,000 reward for their safe return. They were returned 18 months later, and London management consultant Stanley Allen Swaine was charged, but never prosecuted, with handling stolen goods.
In the 1970s, a daily newspaper conducted a poll in Bob Monkhouse was voted the third most popular performer on television. A week later, the same paper held another poll to discover which TV performers readers most hated. Bob Monkhouse headed the list.
He was a keen supporter of charities in aid of cerebral palsy sufferers, since one of his own sons had the condition.
Monkhouse was an enthusiastic contributor to the excellent book "The Gameshow Handbook" (David Mason, 1991). One very bizarre (and rather scary) story that he recounted was that of an American gameshow host he had met, who apparently refused to read anything about or meet his contestants before the show. Monkhouse asked him what he did if the contestants were getting cocky or talking too much and the American host said that he used the 'mouth tear'. When asked what that was, he explained that he'd put his thumb into the contestant's mouth and grab hold of his/her cheek, but the camera angles were such that it appeared that he was simply putting a friendly hand on the contestant's shoulder rather than grabbing hold of his/her mouth. The host also added that he had never once been bitten and that all his contestants were well-behaved. We should probably all be thankful that the mouth tear doesn't seem to have found its way into British gameshow culture... as far as we know.
Books / Tapes
Over the Limit: My Secret Diaries 1993-8 (hardback) (paperback)
See also
Web links
Feedback