BBC New Comedy Award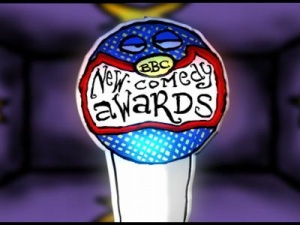 Host
Boothby Graffoe (1995)
Ardal O'Hanlon (1996-97)
Phill Jupitus (1998)
Bob Monkhouse (1999)
Terry Alderton (2000)
Ross Noble (2001)
Jimmy Tarbuck and Jenny Eclair (2002)
Jo Brand (2003)
Robin Ince (2004)
Dara Ó Briain (2005)
Patrick Kielty (semi-finals and finals, 2011-15)
Mark Watson (semi-finals and finals, 2016-19)
Guest hosts (in order, but not including repeat performances): Susan Calman, Mick Ferry, Justin Moorhouse, Jo Enright, Joe Lycett, Elis James, Arthur Smith, Tom Wrigglesworth, Lucy Beaumont, Chris Ramsey, John Robins, Pete Otway, Romesh Ranganathan, Ed Gamble, Lucy Porter, Dane Baptiste, Jessica Fostekew, Nish Kumar, Nathan Caton, Lloyd Langford, Mae Martin, Kerry Godliman, Barbara Nice, Tez Ilyas, Kiri Pritchard-McLean, Mike Bobbins, Darren Harriott, Amy Gledhill, Larry Dean, Shane Todd, Guz Khan, Thanyia Moore, Jayde Adams, Catherine Bohart, Christopher Macarthur-Boyd, Lauren Pattison, Josh Pugh (heats, 2013- / finals, 2021-)
Co-hosts
Head judges:
Mawaan Rizwan (2021)
Fern Brady (2022)
Broadcast
BBC1, 23 September 1995 to 27 August 1999 (5 specials, as part of The Stand-Up Show (1995-98))
BBC Choice, 31 July 2000 to 10 September 2002 (27 episodes in 3 series)
BBC Three, 1 to 7 September 2003 (7 episodes in 1 series)
BBC Radio 7, 22 November 2004 to 6 January 2006 (14 episodes in 2 series)
BBC Radio 4 Extra/BBC Radio 2, 4 June 2011 to 20 November 2015 (40 episodes in 5 series)
BBC Radio 4 Extra/BBC Radio 4, 1 July 2016 to 15 August 2019 (35 episodes in 4 series)
Phil McIntyre TV for BBC II!, 19 October 2021 to present
Sypnosis
Part of the Edinburgh festival for almost a decade, the BBC New Comedian award was an attempt to find great new stand-up comedy talent; thanks to the broadcaster's patronage and reputation, it became one of the most prestigious awards handed out at the August bash. The winner was traditionally named in the last week of the festival, and clips of the winner and finalists featured in a magazine programme screened late at night.
Such was the BBC's commitment to new talent that they closed the competition after ten years, muttering something about developing other fields of entertainment and not associating themselves too closely with one event. The contest did take place in 2005, entirely divorced from the Edinburgh festival. A comedy panel selected performers for regional heats, and thence to a final. After six years in abeyance, the New Comedy Award was revived in 2011 - from heats, the funniest progressed to national semi-finals and final on Radio 2, with the winner decided by a public televote.
Champions
1995 Julian Barratt
1996 Marcus Brigstocke and Jenny Ross (joint winners)
1997 Paul Foot
1998 Dan Antopolski
1999 Josie Long
2000 Jason John Whitehead
2001 Alan Carr
2002 Nina Conti
2003 Rhod Gilbert
2004 Andrew Lawrence
2005 Tom Allen
2006-10 contest not held
2011 Angela Barnes
2012 Lucy Beaumont
2013 Steve Bugeja
2014 Lee Ridley (Lost Voice Guy)
2015 Yuriko Kotani
2016 Jethro Bradley
2017 Heidi Regan
2018 Stephen Buchanan
2019 Janine Harouni
2021 Anna Thomas
2022 Dan Tiernan
Trivia
Lee Ridley (Lost Voice Guy), 2014's winner, would go on to win Britain's Got Talent in 2018.
The 2021 series was 'broadcast' on BBC Three, with a repeat on BBC One. By the 2022 contest, BBC Three had returned to terrestrial TV, so the heats were aired on that channel and the final aired on BBC One.
Web links
Feedback