Susan Calman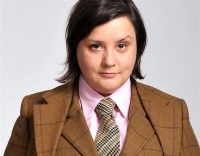 Biography
Just after her 30th birthday, Susan Calman stopped being a corporate lawyer and started to be a stand-up comedian. Semi-finalist in the BBC New Comedy Award for 2006, star of the Ugly Kid sketch show at the Edinburgh Fringe, and then stardom happened.
Calman became a regular booking on panel shows: The News Quiz, Have I Got News for You, QI, and many more. She's a favourite on children's television, that lawyer training makes her sound like a funny teacher on The Dog Ate My Homework, Top Class and All Over the Place. She also hosts the fact-finding quiz The Lie.
Trivia
Often confused with Scottish politician Ruth Davidson, as they resemble each other.
Web links
Feedback