School of Silence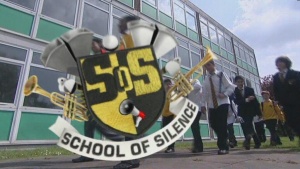 Host
Barney Harwood (2009)
Voiceover: Simon Greenall (2012)
Broadcast
Lucky Day for BBC One, 14 September to 7 December 2009 (13 episodes in 1 series)
Lucky Day for CBBC, 19 to 30 March 2012 (10 episodes in 1 series)
Synopsis
A group of noisy children are sent to the School of Silence, where head mistress Miss Gobstop awaits. In order to win the Golden Gobstopper trophy, and to avoid being expelled, they must prove they can be silent.
To help them, they first undergo intensive silent treatment, which involves attending three classes. Each of these classes is broadly similar, with each being overseen by a member of the school's staff, and host Barney Harwood providing a running commentary. Each class comprises of two or three tasks lasting 30 seconds each, which are either completed as a group, or by an individual pupil chosen at random. These short tasks are varied, however they are all designed to encourage the children to make noise. For example, the pupils may have to remain quiet while funny faces are being pulled. However most of the tasks are messy in nature, such as having icy water poured down their back, or wearing Wellington Boots filled with gunge. Throughout the school day, each of the pupils wears a microphone attached to their school tie which is linked to the 'Gobstop 2000' in Miss Gobstop's office. This device displays the amount of noise being made by each of the pupils by means of a series of green and red lights, with a flashing beacon being set off should the pupils make too much noise.
After the pupils have completed their three classes, they move on to the final exam. Here they are put into stocks by Colonel Kittens (who seems to go against the ethos of the school by shouting and generally barking orders). Here, in order to win, they must avoid setting off the Gobstop 2000 three or more times, as for a full minute they are subjected to a variety of different distractions to make them break their silence. These distractions range from being tickled with a feather duster, to being covered in gunge and shaving cream, to Colonel Kittens using a device to simulate passing wind. After the minute is up, they then go to Miss Gobstop's office for a final review of their performance. Here they discover if they have proven themselves capable of being silent, and can take home the Golden Gobstopper trophy, or whether they have failed and will be expelled from the School of Silence, taking home a whoopee-cushion as a consolation prize.
The thirteen original episodes continued to attract audiences when repeated on the CBBC channel, so a second series was made in 2012. Though the teaching staff had changed, the challenge remained the same: shut up, or ship out.
Cast list
Series 1:
Miss Gobstop: Natacza Boon
Mr Gross/Colonel Kittens: George Sawyer
Nora: Daniel Wiltshire
Miss Bunsen: Nicole Davis
Britney/Nurse: Jolana Lee
Series 2:
Miss Gobstop: Natacza Boon
Mr Gross/Colonel Kittens: George Sawyer
Miss Adventure: Susan Calman
Les Prance: Junior Simpson
The Professor: Billy Kirkwood
Nurse: Leah MacRae
Hamster: Dave Chapman
Music
Dobbs Vye
Web links
See also
Feedback