The News Quiz
Host
Barry Norman (1977-80)
Simon Hoggart (1980-85)
Barry Took (1981-95)
Simon Hoggart (again, 1996-2006)
Sandi Toksvig (2006-15)
Miles Jupp (2015-19)
Nish Kumar (2020)
Angela Barnes (2020)
Andy Zaltzman (2020-)
Guest hosts (in order, not including repeat bookings):
Sheridan Morley, Margaret Howard, Nick Ross, Stan McMurtry, David Taylor, Russell Davies, Bill Tidy, Martin Young, Clive Anderson, Rory Bremner, Susan Calman, Simon Evans, Fred MacAulay, Bridget Christie, Jo Brand, Lucy Porter, Zoe Lyons, Angela Barnes, Patrick Kielty, Andrew Maxwell, Kiri Pritchard-McLean, Nish Kumar, Andy Zaltzman, Phil Wang
Co-hosts
Team captains (when used): Alan Coren, Richard Ingrams (until 1995), Francis Wheen (from 1996).
Regular panellists include: Alan Coren (-2007), Linda Smith (-2005), Francis Wheen, Andy Hamilton, Jeremy Hardy (-2018), Fred MacAulay, Sandi Toksvig, Armando Iannucci, Mark Steel.
Newsreaders include: Brian Perkins, John Marsh, Corrie Corfield, Peter Donaldson, Charlotte Green.
Broadcast
BBC Radio 4, 6 September 1977 to present
as The News Quiz Extra, BBC Radio 4 Extra, 22 April 2011 to 2 March 2020 (approx. 227 episodes in 28 series)
Synopsis
The original Wright Flyer of the topical news quiz genre, which later begat Have I Got News for You.
However, while we're now all flying around in our Airbus A380s, there lies the torn and tattered remains of the many failed prototypes. The original idea can be traced back to Nicholas Parsons, who suggested a topical quiz about "And Finally..."-style news stories, to be written by two brothers who were teachers from Highgate and featuring his friend Gyles Brandreth. This was turned into a pilot called Keep Taking the Tabloids by producer John Lloyd, but it was judged to be a complete disaster.
Yet, the idea of a quiz about the news itself felt that it had legs, as there hadn't been one since Ned Sherrin's Quiz of the Week. John Lloyd stripped the idea to its basics - it's a quiz about the news so call it The News Quiz, and have proper journalists as guests.
Compared to its more celebrated television counterpart, The News Quiz is quite rigidly structured. There are four questions in each round, generally worded in a mildly cryptic or punning fashion, each directed at an individual panellist, though conferring is allowed. The key similarity to HIGNFY (apart from being about the news) is that the questions are largely there to spark off comedic ramblings and no-one really cares about the scores. Once each round, there is a "musical clue", which tends to be of no help whatsoever, and only rarely of any comedic value either, and to be honest we're not sure why they bother.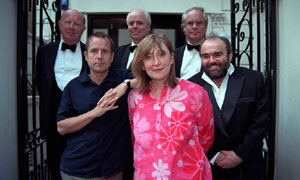 Suited and booted: Alan Coren, Francis Wheen, Simon Hoggart and Andy Hamilton. Defiantly casual: Jeremy Hardy and Linda Smith.
Between the rounds, the newsreader-in-residence reads clippings sent in by listeners. For years and years, these tended to be culled from the Shrdlu books by Denys Parsons, but that particular source seems to have been exhausted. Arguably the real-life clippings used nowadays aren't as funny, though there's still the odd gem.
At the end of the show, the teams are asked to read out further cuttings that "they'd brought with them" (supposedly). In recent years, they've done the decent thing and thanked the listeners for sending in their snippets rather than keep up their previous charade.
Key moments
Arguably, Charlotte Green at least partly owes her current cult status among R4 listeners to her habit of corpsing while reading out funny news stories, especially the bawdier items.
Inventor
Theme music
"The Typewriter" by Leroy Anderson.
Trivia
The title "Keep Taking the Tabloids" got used as a mock alternative title in Barry Norman's introduction to the pilot for The News Quiz proper (rather than the abandoned KTTT concept), which remained unaired until 2011.
Barry Norman hosted the first few series, then he was replaced by a pair of hosts. The News Quiz gained two series a year from 1981, and Simon Hoggart hosted the series in the summer. Barry Took took charge of series in the winter, except for the one in 1984-5. After that, Barry was the regular host, stepping down in favour of Simon over a decade later.
From April 2011 to early 2020, digital station Radio 4 Extra featured an extended version of The News Quiz, lasting 45 minutes compared to the main show's 30-minute slot. It's a similar conceit to Have I Got a Bit More News for You. The extended version was dropped during the Covid pandemic, and hasn't been reinstated.
A special edition at the start of 2013 featured Sandi Toksvig and Jeremy Hardy against Steve Punt and Hugh Dennis of The Now Show - they occupy the Friday evening topical comedy slot for the other half of the year. This edition was credited on-air as The News Now Quiz Show; this title is not used on the BBC archive pages.
There have occasionally been guest hosts, always drawn from regular panelists. For three weeks in 1980, we were graced by critic Sheridan Morley, Margaret Howard from Radio 4's Pick of the Week, and a pre-Crimewatch Nick Ross. Stan McMurtry hosted in 1982, he was better known as "Mac", the cartoonist in the Evening Standard. David Taylor hosted two episodes in 1984 while writing for Punch magazine. Russell Davies dropped in for a week in 1988, and Bill Tidy in 1990.
Martin Young (21 October 1995) deputised for Barry Took. Clive Anderson (23 February 2007) stood in when Sandi Toksvig was indisposed, and Rory Bremner hosted a special edition against The Now Show on 4 January 2013. Susan Calman stood in for Sandi Toksvig on 11 April 2014 and 3 April 2015.
Miles Jupp was filming overseas for most of series 97 in autumn 2018, and left the show in summer 2019. Series 100, in autumn 2019, featured planned guest hosts. The three series for 2020 each featured a regular host; the second of these had the participants contributing from home as a consequence of the Covid-19 pandemic.
Web links
See also
Weaver's Week review (2012)
Feedback