Gyles Brandreth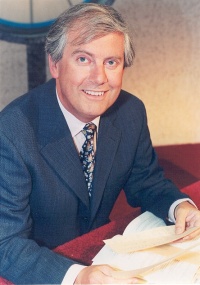 Biography
Author, raconteur, MP, arctophile and sartorial disaster zone: at one time or another, Gyles Brandreth has been all of these things and more.
He first made a name for himself as President of the Oxford Union debating society, following in the footsteps of such luminaries as Tony Benn, Edward Heath and Hillaire Belloc. After graduating from New College, Oxford, he became an inveterate writer and publisher, and was also instrumental in setting up the World Scrabble Championships. He turned up as a humorous contributor to numerous TV programmes, not least Good Morning Britain and Countdown, and became famed for his huge collection of gaudy knitted jumpers.
In 1992 he was elected MP for the City of Chester, and thus was able to serve as a Conservative whip in John Major's government. Although he claims not to have been entirely cut out for such a role, he did (inevitably) get a much acclaimed book out of it.
After losing his seat in the 1997 election, he went back to writing, TV and after-dinner speaking.
Trivia
He was fascinated with the history of Chester due to his family roots there. However, after years of research he found his family didn't actually come from there after all...
He set the record for the longest after-dinner speech three times, the lengths being 4 hours 19 minutes; 11 hours; and 12 and a half hours.
He is a former European Monopoly Champion. His trophy was a large model of the car used in the game. He came 3rd in the World championships in 1974. Despite his success, he actually hates it. Yet, he probably owes his existence to Monopoly - his father bought the first copy available from Selfridges and eloped with the student housemate he played the game with; Gyles was born some years later.
He founded the National Teddy Bear Museum in Stratford-On-Avon in 1988. It's since relocated to Newby Hall near Ripon, where you can also view some of his favourite jumpers, if you dare.
When he entered politics, most of his jumpers were given away to charity. When Countdown celebrated its 2000th episode in 1997, Gyles was one of the guests on a special retrospective programme, and they surprised him by arranging for some of the jumpers' new owners to sit in the studio audience, wearing the garments in question.
He was born in a British Military Hospital in Wuppertal in the German Federal Republic in 1948.
He once signed a cheque for £186 billion (as Her Majesty's Treasurer during his political career: Social Security payments, 1st quarter).
One of his less well-known accomplishments is that back in the 1970s, he devised the layout for a Collins appointments diary which is still used to this day.
Contact
International Artistes Limited, 4th Floor, Holborn Hall, 193-197 High Holborn, London, WC1V 7BD
Books / Tapes
Breaking The Code: Westminster Diaries 1992-7 (book)
Brief Encounters: Meetings With Remarkable People (book)
Web links
Feedback