Clive Anderson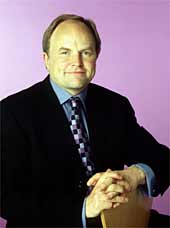 Biography
A former President of Footlights at Cambridge, Clive Anderson performed stand-up extensively around the world. He has written for, amongst others, Frankie Howerd and "Smith and Jones".
His first major appearance on screen came about when producer Dan Patterson persuaded Clive to host Whose Line... This led on to two talk shows, the political parody game show If I Ruled the World and a number of other programmes. He also does a lot of radio work, and took over from Ned Sherrin as host of Loose Ends in 2007.
Trivia
Before comedy took up all his time, Clive was a barrister by profession, and he still presents serious programmes about the law for Radio 4.
He hosted "Wogan" in Terry Wogan's absence in 1991.
Books / Tapes
Clive Anderson Talks Back (video)
Steam Through the Scottish Highlands (video)
Clive Anderson, Our Man in ...
Contact
Web links
Feedback