If I Ruled the World...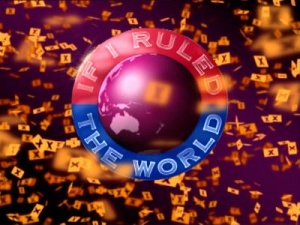 Host
Co-hosts
Team captains: Graeme Garden and Jeremy Hardy
Broadcast
Hat Trick Productions for BBC Two, 27 February 1998 to 29 March 1999 (16 episodes in 2 series)
Synopsis
Curious political spin-off from the Have I Got News for You team that very nearly worked. Two 'parties', the Reds (led by Jeremy Hardy) and the Blues (led by Graeme Garden), are joined by a guest each week and are led through a series of debate-style rounds.
Tasks included having the defend indefensible policies, answering questions without giving a straight Yes or No, and a final indignified grab for votes by shouting out a lot of populist policies.
Straw polls would be taken by push-button voting from the studio audience, and the final winner was the one who got the majority vote at the very end.
Some of the humour was a little forced, but there were plenty of tour de force moments from Garden that made the entry fee worthwhile.
Inventor
Devised by Richard Osman.
Theme music
Dave Hewson
Trivia
The Swedish version of If I Ruled the World, called Parlamentet, is a great success and has had over 23 seasons.
Web links
Opening titles from the BBC Motion Graphics Archive
Pictures
Feedback