Armchair Detectives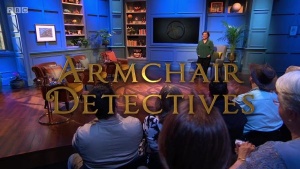 Host
Co-hosts
Regular characters:
DI Knight (played by Stephen Billington)
DC Slater (played by Roger Nsengiyumva)
SOCO Simmons (played by Sarah Baxendale)
Broadcast
Tiger Aspect for BBC One, 20 November to 22 December 2017 (20 episodes in 1 series)
Synopsis
Television's hardest-working host leads three amateur sleuths to the made-up town of Mortcliff, where there's been a murder. Who did it? How did they do it? And why?
In filmed clips, we meet the suspects, follow the investigation, learn more about the victim and the circumstance of the killing.
After each scene, three detectives sum up what they've seen, and put forward theories to explain everything. From time to time, they'll pick evidence from items the investigators might have found.
Near the end of the show, each detective will make an accusation. Get the murderer right, and the player wins a golden magnifying glass. The case is explained for everyone - viewer and player - before the end.
The cases in Armchair Detectives are clean: there's no gore, hardly any blood, lots of poison. The filmed inserts are precise and to the point, everything is a clue, there are no red herrings to filter out, and it's done at a pace to write down the important clues. Some viewers expected better acting, but we're not watching a television drama, we're watching clues so we can solve the case ourselves.
It's the studio sessions where Armchair Detectives makes its mark. Susan Calman hosts, and as a trained lawyer and forensic scientist, she's in her element, eager and willing to solve the case.
The contestants are all crime fans, also eager and willing to crack the clues. Some draw fantastic conclusions from zero evidence, all are happy to revise their opinion in the light of fresh evidence.
The result is an infectious show, and it might just have turned into cult television.
Catchphrases
Welcome to the TV show with only one question: whodunnit?
And remember: no-one gets away with murder in Mortcliff.
Theme music
Paul Arnold and Andrew Barnabas, credited as "Composers".
Trivia
Port Seton, a village near Edinburgh, is the location of Mortcliff.
The prize, given to each daily winner, is a golden magnifying glass.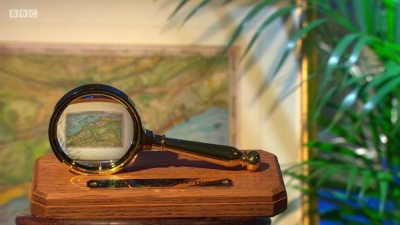 Perhaps due to its higher production costs, Armchair Detectives became the first BBC daytime game show to only get one series since 2013's Beat the Pack.
Web links
See also
Feedback