Gag Tag
Synopsis
Pun-tastic knockabout comedy game where a host gives two teams of comedians silly things to do involving as many jokes they can cram into the half-hour. Not original and just not funny.
Not even the saviour of many a dodgy format, Bob Monkhouse, could perform emergency CPR (Comedy Pun Revival) on this format.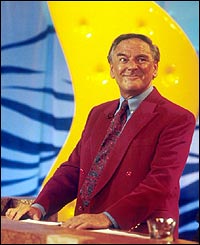 Bob Monkhouse, looking for the emergency exits.
Inventor
Bizarrely, devised by Tracey McLeod off of The Late Show.
Theme music
Jonathan Whitehead
Videos

A full episode from 1994.
Feedback