Jonathan Ross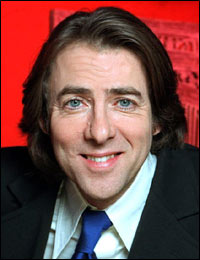 Biography
In the profession, Jonathan Ross is known for his quick-fire brain and uncommonly calm manner. For this reason, he's the first choice presenter for many awards ceremonies, and even fronted an entire series of live talent shows.
His big break on television was as presenter of The Last Resort, an unashamedly Letterman-style chat show on the (then) new Channel 4. He also hosted 'Wogan' in Terry Wogan's absence in 1990.
A film buff, especially of the weird and the bizarre flicks of the past, he snatched the job for presenting the BBC's film review programme when Barry Norman went off to that big satellite dish in the Sky and also hosted a BBC1 chatshow which has won several thousand BAFTAs, and presented a weekly slot on BBC Radio 2, but announced his decision to leave the BBC in January 2010. In July 2010, it was announced he would be presenting a chatshow for ITV1 from late 2011 onwards.
Trivia
He sold his successful independent production company, Channel X, for the grand sum of £1.
He was reportedly the BBC's highest-paid presenter.
His children are called Betty, Harvey and Honey.
He is the brother of Paul Ross and brother-in-law to Amanda Ross.
He appeared as himself in a 2001 edition of 'Only Fools and Horses', hosting a (fictional) 'Millionaire'-style gameshow entitled 'Gold Rush', in which Del Boy was a contestant and Rodney was the 'friend' Del could phone for help.
As a child, Ross appeared in a 1970's Kelloggs Rice Krispies advert. He also later made a cameo appearance in the last-ever episode of 'It Ain't Half Hot, Mum'.
Books / Tapes
The Incredibly Strange Film Book (book)
Web links
Feedback