Don't Ask Me Ask Britain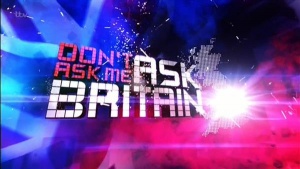 Synopsis
The ITV press office summed up the show.
This live, interactive series asks viewers to vote along on opinion-based topics, whilst a celebrity panel go head to head to try and second-guess what the audience at home will answer. Audiences will be asked to download a free app to play along with this 6 x 60 minute series.

Filmed in front of a live studio audience, the series will be hosted by Alexander Armstrong with celebrity team captains to be announced shortly.

Armstrong, who will have a direct line to the viewers at home, will pose questions on everything from "How many affairs are acceptable in a marriage?" to moral dilemmas; "If you saw someone leave £50 in a cash point, what would you do?" and more topical subjects like "Do you think we should have another Scottish Referendum?"
The result was Rossy and Skinner, plus two invited guests, talking about various topics that might be of interest. Early episodes had a remote link to some viewers at home, but this was far from slick, added little to the show, and was quietly dropped mid-run.
The format is simple. Xander asks a question, such as "How far would you let your partner go before reporting them to the police?" He also offers some possible answers. "You'd turn them in if you found them shoplifting? Burglary? Committing murder in cold blood? You'd never turn them in?" Options are illustrated by some whizz-bang flashy animated graphics.
While the viewers vote, Jonathan and Frank give their pieces. The talent has surely been tipped off about the questions, they've had time to think about what they'll say. This preparation makes a better programme, the discussion flows well, and we get some interesting anecdotes from the guests. The teams pick the option they think will be most popular, and score points.
To break up the show, Jonathan and Frank will each step forward to a lectern. There, they deliver a comedic lecture to advocate their case.
Viewers found the show to be repetitive, too long, and a bit dull. There's no reason to vote honestly - and with no viewers getting on air, there's no reason to vote at all. The series was also limited by its pre-watershed timeslot, and by an unexpected election to the Westminster parliament.
Key moments
On the question of what the greatest hot beverage was, Lolly Adefope saying that "I feel so healthy and vital all the time I don't really need your old people drinks". You'll get there…
Title music
Marc Sylvan and Richard Jacques, credited as "Composer"
Trivia
First ran through in 2014 (see a contemporary report) before being picked up as a pilot for Sky in 2015.
Web links
See also
Feedback