Alexander Armstrong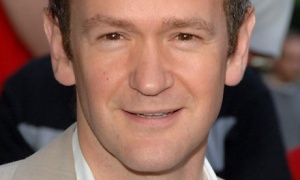 Biography
Half of comedy duo Armstrong and Miller who usually appears on his own these days, in japes such as the BBC animal-hating vet sitcom Beast and the toff who advertises Pimms. He is the nearly man of Have I Got News for You, reputedly verbally offered the chairman role post-Angus only to have it snatched away again, leaving the morsels of semi-regular guestdom instead.
History repeated itself in 2008 when he nearly became the host of Countdown but, reportedly, he pulled out of negotiations at the 11th hour - or the 29th second, rather - saying he didn't want to be pigeonholed as a daytime quiz host. Fortunately for us (and, as he would no doubt now admit, him), fate would not be so easily thwarted, and his next foray into hosting - an unassuming little BBC Two quiz called Pointless, thrown out to fill a gap opposite the ratings behemoth of Deal or No Deal - became an unexpected hit... and the rest is history.
Trivia
Before he was famous, he and comedy partner Ben Miller took part in a challenge during the Matthew Kelly years of You Bet!, where the two of them alongside My Parents Are Aliens star Tony Gardner each took several roles in the same play, and had to speed dress whilst off stage so that they could come back as the relevant character without missing a beat. They succeeded!
Armstrong's other acting roles have included co-starring with Caroline Quentin in the ITV1 comedy-drama "Life Begins" and with Marc Warren and Keely Hawes, among others, in the more recent BBC drama "Mutual Friends". He also had a cameo role in the BBC's popular 1990's sitcom "The Thin Blue Line" and he appeared in a one-off revival of "To The Manor Born" in 2006. In addition, he fronted a recent documentary in which he looked at the history of the Great British Holiday, reminiscing about his own childhood holidays in the process.
Contact
c/o PBJ Management
Web links
Feedback