Frank Sinatra Our Way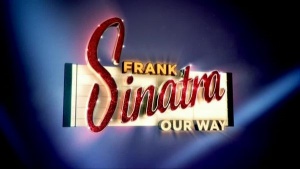 Synopsis
Seven unknown acts performed songs made famous by Frank Sinatra, and did them in their own style. The prize was a place in a tribute concert, to go out in December 2015.
Sinatra was a jazz stylist, he would take a song, play about with it, and do something to make it his very own. Many of the contestants did exactly that. Max and Jason Bowker, a father-and-son duo, performed "Me and my shadow". Sinatra had duetted with Sammy Davis Jr, the Bowkers had BBC choreography to help bring out his story. Ellie Coast put forward a stripped-down version of "I've got you under my skin", and barber shop quartet Proper Sound made "Come fly with me" sound fresh.
The viewing public seemed not to understand what they were seeing. The show borrowed many tropes from Britain's Got Talent - a panel giving constructive criticism, introductory video pieces, a conveyor belt of contestants doing their piece, the prize. But there was no telephone voting - the winner was determined by a jury of experts, judging only vocal ability and performance.
The publicity hadn't made it clear that this was a freestyle programme, taking familiar songs and putting a fresh spin on them. There are many karaoke shows (The X Factor had just finished a series, The Voice UK returned a week later), this was not one of them.
Champion
Theme music
Plus 4 Audio played live in the studio.
Trivia
The winner was decided by a jury of 11 people: Bill Watson, Clara Amofo, Craig McLean, Georgia Jackson, John Altman, Lewis Carnie, Louise Mochan, Nihal Arthanayake, Paula Gardiner, Tony Fisher, Yvie Burnett.
Graphics were by Jump Design, and choreography by Richard Marcel.
Web links
Other reviews: "Better than we had any right to expect", enthused the Daily Telegraph. Digital Spy didn't bother with a review, they just collected negative tweets.
Feedback