You Bet!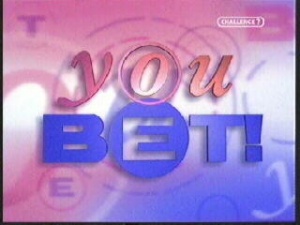 Synopsis
Well made and sometimes stunning stunt show, a precursor to the more extreme Don't Try This at Home!.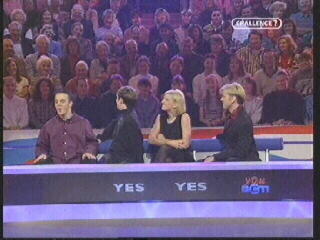 ToDAY's panel are a double act and her from EastEnders.
Members of the public bet they can do a particularly whacky, impressive or just plain dangerous feat. 100 members of the audience bet on whether they think they can do it, as do three/four celebs.
The celebs try to guess the correct outcome, thus earning points (which are later turned into pounds for charity, mate) as well as avoiding the all-important celebrity forfeit.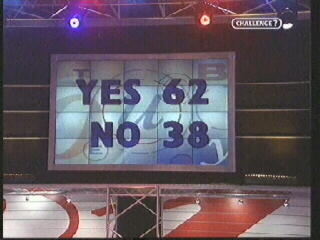 The odds are looking...decent.
The challenges on the show can be categoried into stunts (doing a wheelie in a truck for 1 mile), memory tests (identifying a Madonna song from 5 seconds of the backing track), and skill games (scoring 50 basketball hoops while riding on a motorcycle).
The outside challenges were filmed during the summer months and slotted in, everyone involved in the filming having sworn on their grandmother's grave that they wouldn't say the result.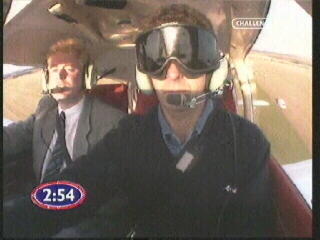 Now we know why series 19 of The Krypton Factor didn't go ahead.
The reward for a successful challenge was awarded a "You Bet Betsy/Trophy" (in later series "The Kelly") or a reward for a failed challenge was awarded a scroll (in later series a medal).
A good show that wore well in the Saturday night TV battles.
Key moments
The two types of fanfare for the end of the challenge: the "happy happy" one and the "oh dear, it's all gone pear-shaped" one.
In an outtake eventually shown on Alright on the Night's Cockup Trip, while Matthew Kelly was filming a trailer explaining the rules for the Celebrity Challenge phone-in competition, he got tongue tied on some of the words and accidentally blurted out an expletive - to his own visible shock.
A fan of The Bill claims she can identify twenty-five characters from the show by just seeing a small area of their face in two and a half minutes, but only got three right and passed on one in twenty-one seconds.

What a shame!
The Red Devils were memorable challengers on the show, mainly because they failed three challenges in a row. They did however finally complete their fourth challenge.

Ooh, so close and yet so far

At last, we can now celebrate
Two memorable forfeits from Matthew Kelly when he had to do one that involved sumo wrestling and one that involved a tight rope walk.

Ain't he 'Game for a Laugh'
Catchphrases
Brucie got the show off to a strong start, despite the decidedly un-streetwise "You Bet Rap", dropped after series 3 but recorded here for posterity:
Bruce: You wanna bet on it?
Audience: You Bet!
Bruce: When you better get on it?
Audience: You Bet!
Bruce: So don't fret, get set, are you ready?
Audience: You Bet!
Another Brucie quote went: "You're now betting for the fate of Forsyth in the form of a forfeit. If you're right - I'm alright, but if you're wrong - I'm right in it!"
Before the ad break, Brucie used to say "We'll be back in a bit, you can bet on it!". Matthew Kelly changed this to "See you in a bit. Ta-ra!". Which isn't as good, but he did redeem himself by improving on the next one...
"Make your bet!", which was changed to "Place your bets now!" when Matthew Kelly took over.
Inventor
Based on an idea by Frank Elstner. it was originally a German show called Wetten dass...? See the ZDF web site for more information.
Theme music
1988: Alan Lisk
1989-96: Jonathan Sorrell
1997: Simon Webb
Trivia
11 years after its UK swansong, Ant & Dec took the format to the States with their presenting debut, Wanna Bet?.
Before they were famous, Alexander Armstrong and Ben Miller took part in a challenge during the Matthew Kelly years, where the two of them alongside My Parents Are Aliens star Tony Gardner each took several roles in the same play, and had to speed dress whilst off stage so that they could come back as the relevant character without missing a beat. They succeeded!
Malandra Burrows was the show's highest celebrity guest scorer. She appeared during the final series and scored 401.
Annabel Giles was the most frequent celebrity guest, appearing five times.
The show originally aired on Saturday nights for the first four series, it was then aired on Friday nights from Series 5 until the first half of Series 7 and was finally moved back to Saturday nights from the second half of Series 7 until the show's end.
Web links
Pictures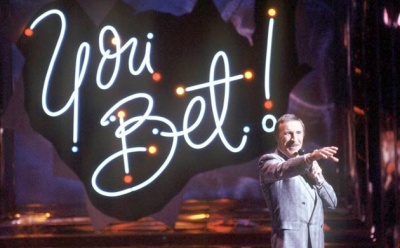 Bruce Forsyth warming up the audience for the You Bet! rap.
Annabel Croft smiling in hoping she will replace a sulky Forsyth.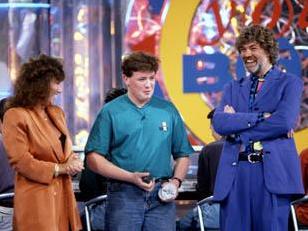 Matthew Kelly and Linda Lusardi with a contestant after he successfully completed his challenge.
A typical celebrity panel from the Kelly years. Sandi Toksvig, Andrew O'Connor, Gareth Marriott and an audience member impersonating as Meryl Streep (They were a guest short).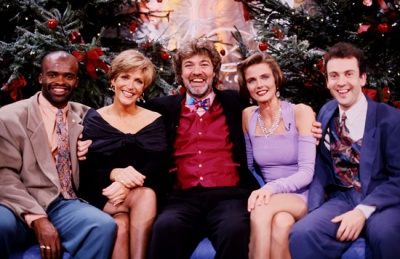 A celebrity panel from the Christmas special. Kriss Akabusi, Judi Spiers, Annabel Giles and Andrew O'Connor (again).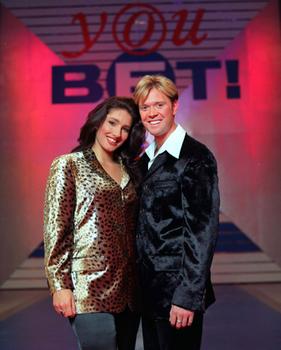 Darren Day and his flying concorde.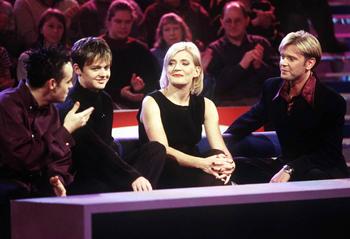 A typical celebrity panel from the Day years. See above who they are.
Videos

An episode from 1996
Feedback