Leslie Crowther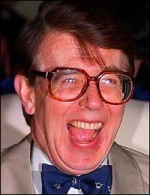 Biography
Nottingham-born presenter and actor, whose 30-year career will be most fondly remembered by a long run on the BBC children's program Crackerjack in the 1960s. He was the original host of the UK version of The Price Is Right - in retrospect, a very odd choice for such a slick show with horn-rimmed glasses and old-fashioned patter. He was angry when ITV axed the show without telling him. However, he went on to further success with Stars in Their Eyes. He died in 1996 at the age of 63, 4 years after a serious car accident which effectively forced him into early retirement.
Trivia
He didn't want to do the "Come On Down" catchphrase on Price is Right because his wife, Jean, thought it was rather brash. The show's producer, William G. Stewart, was most nonplussed by this: fortunately, Jean did eventually agree to it and Leslie soon made the catchphrase his own.
The Beloved's hit song Hello contains the lyric: "Leslie Crowther, Come on Down".
In 1979, he presented the televised finals for Nurse of the Year.
His full name was Leslie Douglas Sargent Crowther.
He had a famous son-in-law: his daughter Caroline married Thin Lizzy frontman Phil Lynott, and their first daughter (Leslie's grand-daughter) was immortalised in the group's hit song, "Sarah". He also had a famous daughter, namely the actress Liz Crowther, who starred in "Shoestring", among other things - and his wife Jean (or 'Jeannie', as she was always referred to in end credits) appeared occasionally on TV too, once on Crackerjack and many years later on 'Goodnight Sweetheart'.
Crowther appeared as himself in a 1990 episode of "Birds of a Feather" and he had previously starred opposite Sylvia Syms in the 1970's comedy series "My Good Woman".
Web links
Feedback