William G. Stewart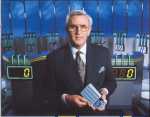 Biography
Originally a comedy producer of sitcoms such as Bless This House and Love Thy Neighbour. While he produced The Price is Right and Family Fortunes, he is best known for hosting and producing Fifteen-to-One. He decided to host the show himself when he couldn't find a host who would know enough about the background to the questions. He retired in 2003 after the axing (more a constructive dismissal) of the quiz was announced.
2007 saw an unexpected return to the limelight as he shared the hosting duties of the People's Quiz, and in the same year he took "Lord Elgin and his Marbles" as his specialist subject on Celebrity Mastermind. He died in September 2017. The first episode of the November 2018 series of Fifteen-to-One was dedicated to him.
Trivia
He was married to Laura Calland, the voice-over artist on Fifteen-to-One with whom he had 2 children. He also had a child from his first marriage and 2 children from his second marriage to actress Sally Geeson, who had starred in the above-mentioned 'Bless This House'.
In early series of the show, Stewart sported a moustache.
The G. stands for Gladstone: this was occasionally mentioned on Fifteen-to-One.
He was the only other person to have hosted Countdown during Richard Whiteley's reign. William G. settled into the chair for the 1997 Christmas special where Richard and Carol were the contestants.
He was shortlisted to appear on Strictly Come Dancing in 2010. He told The Telegraph, "I had an interview with producers, was accepted and even agreed to a location for my training. At the interview I even did a few high kicks, knee bends, and toe-touching to prove how fit I am. All was agreed. Then, two weeks later, my agent got a message to say that the BBC would not insure me – I was too old."
Web links
See also
The People's Quizzer, an obituary in Weaver's Week.
Feedback