Andrew O'Connor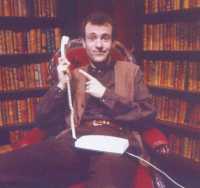 Biography
Child magician turned comedian turned format shifter. Made an early appearance on The Freddie Starr Showcase before coming to fame on ITV's impressions show Copy Cats and presented or appeared on many entertainment formats in the 1980s. Went behind the scenes to co-devise and produce programmes with Action Time, such as the TV 'gems' Lose a Million and Raise the Roof. More successful was his format The Alphabet Game, which has sold to many countries. Currently aiming to make lots and lots of money as supremo of Objective Productions, the brains behind Derren Brown's magic specials and producers of 19 Keys.
Trivia
Appeared on the ITV Saturday morning kids' favourite Number 73, in the demanding role of 'Andrew'.
He featured in some of the observation films in the 1988 series of The Krypton Factor.
He also took on Michael Crawford's former starring role in a touring production of popular biog-musical (with tightrope walking), Barnum.
Web links
Feedback