Sabotage

Host
Broadcast
Action Time for Channel 4, 7 February to 18 March 1994 (30 episodes in 1 series)
Synopsis
The game show about transportation of goods or passengers between two points in the same country by sea, road or air. Oh, wait. That's Cabotage.
Maria McErlane is the chairman (sorry, chairwoman) for this game show/girly chat show. Men aren't allowed, you see. Three women attempt to earn as many points as possible by answering questions on chosen subjects. The main feature was that when someone got a question correct, not only did they get points but also they could force an opponent to put their hands on their head forcing them out of the next question (what larks!).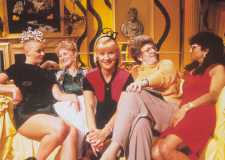 Maria McErlane (centre) with contestants.
At the end of the game, the person with the most points got the chance to go on the next show. If they could solve five picture puzzles in a minute then they'd win, however the two losers could "sabotage" their efforts by answering questions correctly and thus removing these squares from play. Prizes included lots of lipstick.
Inventor
Created by Stephen Leahy and Andrew O'Connor.
Trivia
For whatever reason, the show aired on weekday mornings at 9am, in between The Big Breakfast and Channel 4's schools programmes. This was again the case when the series was repeated a year and a half later, in the autumn of 1995.
Feedback