Nick Hancock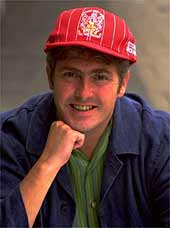 Biography
Actor and gravelly-voiced comedian who, despite being a supporter of Stoke FC, is a sports fan and presented They Think it's All Over for ten years. In a strange change of direction, in 2005 he left TTIAO to take up a marketing job for a finance company - maybe not that strange when you consider he used to be an insurance salesman.
In 2007, he came back to host the EuroMillions draw on UKTV.
Trivia
He had something of a record for appearing in the most rejected sitcom pilots (around 13). The one that did eventually go to series (Holding the Baby) was something of a critical disaster, although, to be fair, it did get a second series, albeit with Hugh Bonneville replacing Hancock in the lead role. Hancock did also co-star with Hugh Dennis and Steve Punt in a 1992 ITV comedy series, 'Me, You and Him', although that also proved unsuccessful and only lasted one series.
Hancock proved highly adept at narrating documentary series for the BBC, namely 'Pleasure Beach' and the second series of 'Zoo Keepers', which had previously been narrated by Richard 'Victor Meldrew' Wilson.
He is a keen angler and presented his own show, Nick Hancock's Fishing School, on STV.
He seems to make a positive habit of dropping out of the public eye for years at a time and then suddenly re-emerging when you least expect it, most recently by appearing as a suspect in a 2020 episode of Midsomer Murders.
Books / Tapes
What Didn't Happen Next (hardback) (paperback)
Contact
c/o Independent Talent Group Ltd, Oxford House, 76 Oxford Street, London W1D 1BS
Web links
Feedback