Kate Copstick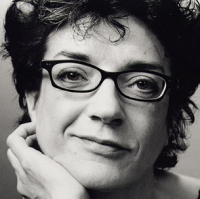 Biography
Actress and writer who's worked with everyone from Big Ted to Tom O'Connor to the Chuckle Brothers. After serving out an apprenticeship in a number of BBC shows, she became a director of a number of documentaries. Since then, she's combined acting, writing and direction to a long, successful and somewhat scattergun career including, bizarrely enough, a show about porn stars in Tenerife. According to the opening spiel of 2011's Show Me the Funny, she's now a "fearless comedy critic", though we rather suspect there probably isn't that much fear involved in the job in any case.
Trivia
She lends her voice to the announcements at Fort William train station.
With Andrew O'Connor, she was a regular on the ITV kids Saturday morning show, No. 73. The pair were also two of the presenters on a later BBC Saturday morning show, 'On The Waterfront'.
In her Cross Wits-era performances, she was sometimes billed as just Copstick.
Web Links
Feedback