So You Want to be Top?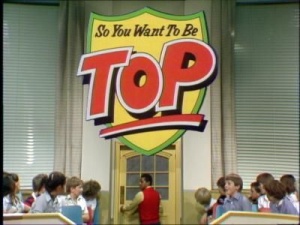 Host
Gary Wilmot
Co-hosts
Bill Homewood (series 1)
The Gemini Twins (scorers, series 1)
Leni Harper (series 2 and 3)
Caroline Bernstein and David Coker (actors who played the teachers in the sketches)
Broadcast
BBC1, 7 November 1983 to 17 December 1985 (18 episodes in 3 series)
Synopsis
Kids' quiz show, with plenty of slapstick and bad puns, and a loose "schoolday" theme to rounds. Bizarrely, for the final series they abandoned the idea of having actual real children as contestants and changed it into a scripted comedy show with adult actors (mostly former 'Grange Hill' actors) in school uniform "playing" the games instead. The original format was no classic, but really, what were they thinking?
Some the sketches were actually rather funny and inventive, particularly those spoof advertisements for wheezes and fake products that could get you off going to school, such as a thermometer that made your temperature look higher than it really was ("Why be a bore at 98.4?") Another one went, "Jenny got so fed up of other kids taking her sweets that she brought in Yucky Drops - the sweets that melt in your hand, not in your mouth" (and which were clearly really quite messy for the kids who were unwise enough to handle them). Oh, and another 'product' that we can remember was 'Snoozeblooms', whereby a pupil would give his/her teacher (ideally a female teacher) a bunch of flowers, and, when said teacher sniffed the flowers, it would cause her to doze off, surprise, surprise. There was also a running 'drinks machine' gag in one of the latter series, whereby a child would select a drink from said machine, with variable consequences. When 'Orange Squash' was selected, the child concerned was knocked down by a descending orange-shaped ball; when 'Hot Chocolate' was chosen, a member of a certain 1970's pop group appeared, and, when 'Raspberry Milkshake' was the drink of choice, it was duly dispensed, accompanied by (yes, you've guessed it) a certain rude noise. A fairly predictable set of gags, but still amusing in an escapist sort of way.
Another amusing moment occurred during a round in which the kids had to avoid mentioning a certain word while being grilled by Gary Wilmot for 30 seconds. When one girl had to avoid the word 'train', Wilmot asked her, "What runs on rails?" and she answered, "Weetabix". Quite where she got that one from remains a mystery to this day, but it certainly worked a treat, as it made Wilmot and the audience laugh so much that the girl easily survived the 30 seconds.
So, as we've said, not exactly a classic kids' show, but arguably like the proverbial curate's egg - good, or sometimes very good, but only in parts. Or failing that, harmless escapism, just right for a Friday afternoon, when it was usually screened, after a tough week at real school.
Catchphrases
Gary Wilmot (in latter series): "Miss Harper - to the scoreboard, please!"
"So that means that the Creeps are top of being bottom and the Crawlers are bottom of being top!"
Leni Harper (when asking the audience to score the contestants via a Clapometer-style scoreboard): "Mark 'em, top kids!"
Inventor
John Langdon and Ian White
Theme music
Lyrics (sung by Gary) went along the lines of "So you want to be top? So you want to be top? So you..." (you can guess the rest). There was also a bit (well, at least for one of the series) which went "So you want to be T.O.P.? You gotta make it B.I.G! Don't wanna be an F.L.O.P! So you want to be top!". Another section went: "Creep to the teacher / Write your report / Always have an excuse, so you don't get caught / Play cool with the rules and sneak to the creep / And you'll find yourself at the top of the heap!"
Trivia
The show was co-created by John Langdon and 17 year old schoolboy Ian White. It was produced by Judy Whitfield, who was behind some of the most succesful children's BBC shows of the time and would later go on to produce 'The Tweenies'. Previously, Whitfield, Langdon and White had worked together on the teatime sketch show "Dear Heart"" which also starred Leni Harper, as well as Billy Hartman (now a regular in the cast of 'Emmerdale'), Bob Goody (one-time comedy partner to Mel Smith), Nicky Croydon and Trevor Laird. After "So You Want To Be Top", Ian White was head writer on the children's show 'Lift Off!' - also produced by Judy Whitfield - which included additional scripts written by John Langdon.
Although we've never heard of them outside the confines of this show, we're informed that scorers the Gemini Twins had a semi-glittering showbiz career which included adverts for the likes of Ariel Ultra and Bachelors Savoury Rice (two things it would be very wise to keep separate, by the way). Their singing career took them to "Yemen, Israel, Zaire, Bombay, New Delhi, Germany, Sri Lanka, Gibraltar, and summer seasons for Butlins, Pontins and Ladbrokes Hotels" and they appeared in the Golden Oldie Picture Show video for "Isn't Life Strange" by the Moody Blues. They also once did a charity parachute jump with James Whale and "they even rode elephants for the circus". In 2003 they were back on TV in Twins - The Identity Test, which the BFI tells us was a "BBC 1 programme seeking to find the most identical set of identical twins in Britain". Our correspondent also tells us that the twins appeared in the first episode of Spender with Jimmy Nail and have worked with the likes of "Izhar Cohen the Israeli Eurovision winner", "Gali Atari the Israeli Eurovision winner", "the fantastic Renato of Renee and Renato" and "Bobby Nut, the comic who stared as the mechanic in Coronation Street". All this and Gary Wilmot too!
Web links
Opening titles from the BBC Motion Graphics Archive
Feedback