The Alphabet Game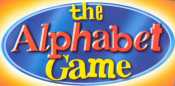 Host
Broadcast
Objective Productions and BBC North for BBC1, 5 August 1996 to 27 March 1997 (74 episodes in 2 series)
Synopsis
Amiable, if unoriginal, celebrity word game which filled the BBC1 lunchtime pre-news slot. Alphabets being something of an international requirement, it has subsequently sold to bucketloads of countries - most notably in Spain where Pasapalabra runs as a big money game show. Why Andrew O'Connor hasn't bought Trinidad and Tobago from the proceeds, we don't know.
Inventor
Created by Rebecca Thornhill, Mark Maxwell-Smith and Andrew O'Connor.
Theme music
A version of "A, You're Adorable"
Web links
Pictures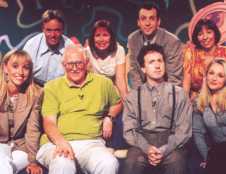 A bevvy of guests. Top row: Allan Stewart, Sian Lloyd, Andrew O'Connor, Heather Couper. Bottom row: Michaela Strachan, Bill Tidy, Steve Punt, Sarah Vandenburgh.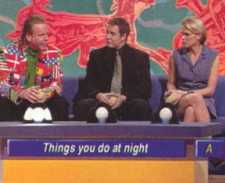 Rick Wakeman buzzes in to claim he can think of something to do at night beginning with "A".
Videos

Part 1 of a 1997 episode.
Feedback