Prize Island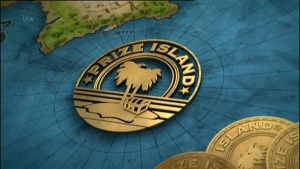 Synopsis
On a sun-soaked tropical island, couples complete games and races. The winners get big prizes.
Four teams take part in each episode, and are given various challenges to win prizes. Most of the challenges are described in a very slightly off-the-wall way: catching balls in a basket is one thing, catching balls in a laundry basket held between the two people is entirely another. Shooting paintballs at a moving target is one thing: shooting paintballs at the actual prize is something else.
Recurring features include an old pirate galleon, where there's an assault course race. Only the show's winners get to keep their prizes, and they take part in the same bonus round every time: skill and mental challenges leading up to a multiple-choice trivia question. The show's top prize is a brand new car and £50,000 cash.
Prize Island was beautifully made: on a cold autumn's night, it's a pleasure to slip away to a tropical island. As a spectacle, it lacked a certain something - there were comparisons to The Crystal Maze and Survivor with the prizes from The Price is Right, and the unchanging endgame meant the end was ten minutes of filler before the big reveal.
Inventor
Theme music
Marc Sylvan and Richard Jacques
Trivia
Filmed in Mozambique during autumn 2012, Prize Island sat on an ITV shelf for over a year before it was finally shown.
The final episode contained an Easter egg for television aficionados. David Letterman's late-night talk show on CBS has "Will it Float?", a recurring skit where Letterman offers a spoof prize for correctly predicting whether a household object will remain on the surface when thrown into a tank of water. (Here's a sample edition.) Prize Island took this comedy idea and turned it into a short game, played for real prizes, demonstrated by throwing an actual toaster into a lagoon.
Web links
See also
Feedback