Takeshi's Castle
Host
Voiceover (UK version):
Craig Charles (2002-4)
Dick & Dom (2013)
Jonathan Ross (2017-18)
Roman Kemp (2018-19)
Guz Khan (2019)
Stephen Bailey (2020)
Romesh Ranganathan and Tom Davis (2023)
Co-hosts
Hayato Tani (Commander Tani, known as "General Lee" in UK)
Takeshi Kitano (Count Takeshi)
Broadcast
Mole Films for Challenge, 9 November 2002 to 1 January 2004
as Takeshi's Castle Rebooted: Challenge, 8 to 29 March 2013 (6 episodes in 1 series)
Comedy Central, 26 October 2017 to 12 June 2020 (80 episodes in 8 series)
as Romesh and Tom Take Takeshi's Castle: Amazon Prime Video, 30 August 2023 (8 episodes in 1 series)
Synopsis
Challenge's reversion of the cult Japanese classic given an innuendo-filled voiceover by Craig Charles.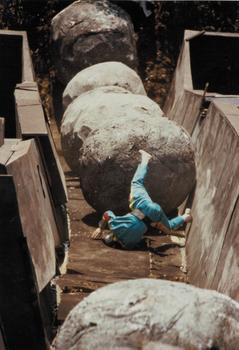 Eat your heart out Crash Bandicoot.
100 people attempt to storm the castle but to do so they must win the challenging, wacky and slapstick games set up by the evil Count Takeshi and the Emerald Guard. Failing means elimination but seeing as most people fail, people are let through for falling into mud stylishly.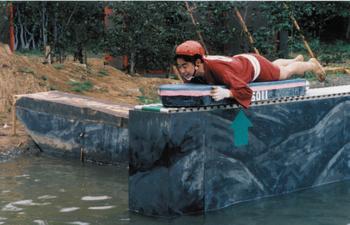 Nearly there.
Favourite games include:
Bite the Bun - one of the openers. Whilst wearing a restrictive rubber ring (or with their hands tied behind their back), contestants have to grab one of the hanging buns with their teeth to progress. Surprisingly low-tech hilarity.
The Gauntlet - players compete in a giant real life Super Mario-style platform computer game and try and get from right to left before the time runs out or the Guards knock them off the platforms by throwing large balls at them.
Rice Bowl Downhill - players get into a giant rice bowl. They are pushed downhill into a swimming pool. If they stay in the bowl when they hit the water they're through, if not they're out.
Bridgeball - walk across a rickety and unstable bridge whilst being pelted by 'cannonballs'. Balancing is tricky as the contestants must perform this feat whilst carrying a golden ball shot to them by General Lee.
Honeycomb Maze - Get from one side of the maze to the other, avoiding the monsters and making sure you go leave through the right door. Failure means running into thin air over a muddy stretch of water.
Skipping Stones - the blue riband event really. Make your way from one side of the pond to another using the stones provided. Hilariously, whilst most of the stones are stable, some will sink when you stand on them. The correct way to play this game is with a full run up and going A over T headfirst into another stone when you lose your balance on a sinker.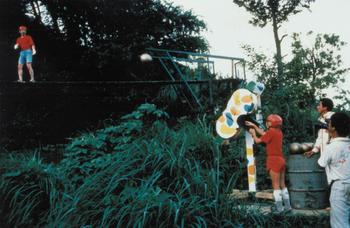 Come on Dad, catch my balls.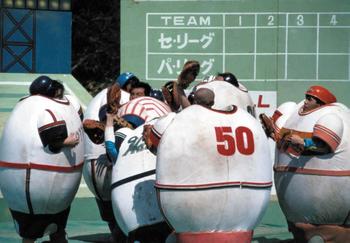 Aston Villa's sober years in the 1980s.
Actually - ha! - that last one makes us grin just thinking about it. But anyway, the handful of people who survive all of this get to 'do' the final showdown. They get into comedy battle cars, as do the Emerald guard and Takeshi himself (in his special brown car). Each car has a target which is either a piece of paper in a ring (in which case everyone carries water guns, the aim being not to let the paper tear) or a laser receptor (in which case everyone has a laser gun and your car goes up in a puff of smoke when you get shot). The last one standing wins and this is invariably Takeshi himself.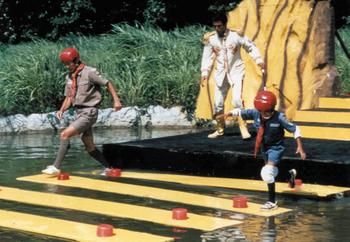 Don't break my teeth dad.
Overall, the series works marvellously well as a piece of xenophobic schadenfreude, because 'Ow!' equals pain in any language.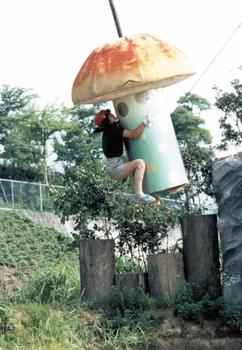 Let's all hug a mushroom because Japan.
Catchphrases
"No winners this time on Takeshi's Castle... but maybe next time!"
"Happy clappy Jappy chappies"
"The mud is specially imported from a pig farm in Southern Japan"
"As my old Dad used to say..."
"Don't let them penetrate your ring!"
"What a wazzock!"
"In the drink!"
Trivia
The original Japanese show ran from 1986 to 1990.
On the off chance that a contestant does win, by taking Takeshi's car out, the prize is 1,000,000 Yen which equates to roughly £7,500.
Clive James was a celebrity contestant on the show in 1987. He didn't make it past the Honeycomb Maze, sadly for him.
The uncut Japanese language episodes from the 2023 revival were released on Amazon Prime Video in the UK on 27 September 2023 with English subtitles just in case people can't stand the cringe inducing and insulting commentary of Romesh and Tom that were released four weeks before.
Pictures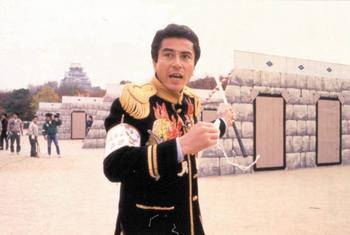 General Lee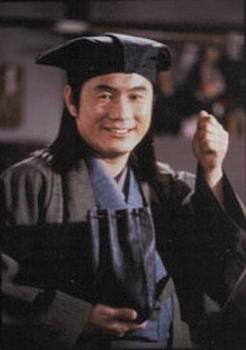 Count Takeshi
See also
Web links
Amazon Prime Video programme page (2023 revival with Romesh and Tom commentary)
Amazon Prime Video programme page (2023 revival without Romesh and Tom commentary)
Feedback