It's Only TV... But I Like It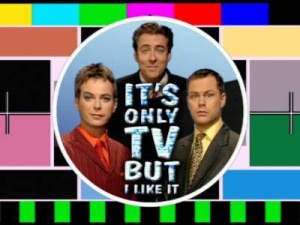 Synopsis
Jonathan Ross takes time out from hosting Film 99 to control the mass medium of television for half an hour in this Comedy Panel Game (or CPG, as it's known in the trade).
Assisted by team captains comedians Jack Dee (later Phill Jupitus) and Julian Clary, together with guests from the world of television, they are trawled through a number of rounds in the name of comedy. And to be fair, it works. Put it this way - it's not as good as Have I Got News for You or They Think it's All Over, but it's certainly far, far better than Not a Lot of People Know That and Space Cadets. Somewhere in the Never Mind the Buzzcocks area of the pecking order. You get the idea.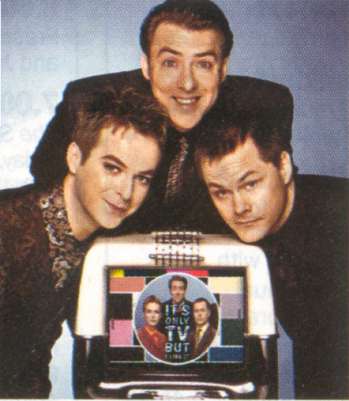 Host Jonathan Ross (centre), with original team captains Julian Clary (left) and Jack Dee (right)
Five rounds are played and some of them change from week-to-week. Examples include:
Trivia: Find the connection between the three telly images shown.
The Blue Peter Round: Each team is given a load of items that were used in a 'make' on Blue Peter ages ago and they have to make something out of them - preferably the same thing that was made years ago.
Guess the Programme: Where the players attempt to guess the programme from the way the old people describe them with more points being given the quicker they get it. A bit like "What's in the Old Man's Bag?" from Not a Lot of People Know That, only funny.
Botticelli: Where one team put velcro masks on them to which pictures of television faces are attached and they have to work out by asking questions which programme they come from.
Remote Control: Team captain chooses channels from an oversized remote control. The others have to act out the titles of TV programmes in the large TV screen behind Ross, often using elaborate props.
Catchphrases: Where people buzz in and complete the famous catchphrases. Or make a satirical observation, whichever they feel like.
Jack Dee is superbly snide, Julian is as camp and bitchy as he ever is and it is good fun, although Wossy perhaps shines better as a guest on other shows than he does as host here. Even so, as a package it gets a modest thumbs up.
Web links
Opening titles from the BBC Motion Graphics Archive
Pictures

The terrible trio.
Feedback