Don't Try This at Home!
Host
Davina McCall (and Darren Day in 1998)
Co-hosts
Voiceover: Russ Williams
Broadcast
LWT and Golden Square Pictures for ITV, 16 May 1998 to 5 May 2001 (46 episodes in 4 series + 3 specials)
Synopsis
Bye-bye You Bet!. Hello Don't Try This at Home! The problem with You Bet was that people wrote in with their own challenges which begged the question "Why write in if you know you can't do it?"
Here, real members of the public tried to conquer real fear as they were dared to do horrible, stupid or dangerous things. Yes, the title really meant something.
A member of the audience is invited to insert their head into a Perspex box full of insects.
The show tended to be sectioned into several sections:
The Saturday Challenge: A member of the audience either picked randomly or planted was picked to do something a bit scary. Before the end of the show they went to the secret location with co-host Kate Thornton and performed the challenge. Challenges included driving under a truck moving at 30 mph, standing on a podium and landing on your feet after a car knocked the stand over, that sort of thing.
The Don't Try This at Home! World News: Footage of people doing outrageous things from around the world.
Paul Hendy's Shoppers' Challenge: Paul Hendy was challenged to persuade a certain amount of shoppers to do something. Fight their way out of a giant paper bag or finding a £5 note in three boxes of yukky stuff. If he didn't get the requisite amount of shoppers to do it then he had to do the challenge himself in the studio the next week!
The Super Challenge: A challenge that took several weeks to complete and was very difficult. These included Climbing to the top of Mount Kilimanjaro in Africa or canoeing the Amazon.
The Challenge of a Lifetime: The main 'bit' of the show, as it were. Someone wrote in for themselves or was nominated. Davina then turned up unannounced and asked them to pick one of three envelopes, each with a different challenge inside given by a cryptic clue. They then travelled to the place of the challenge which could have been round the other side of the world. These challenges asked of you more than you wanted them too and such challenges included handfeeding sharks in Australia, jumping down a 100m gorge in New Zealand on a wire decender, abseiling the tallest building in the Southern Hemisphere, driving a car across a huge drop on nothing but two slack wires and so on. The person could back out if they wanted which from the second series onwards, meant that the host herself was allowed to try the challenge!
The show worked rather well and didn't pretend to intellectually demanding. It was action all the way and it worked rather well. The one problem we would level at it is that it did seem to be too preoccupied with height. Davina McCall hosted it well on her own, better than when Darren Day co-hosted it in fact.
Key moments
The Challenge of a Lifetime when Davina completed a bunjee-jump over the Grand Canyon. To our knowledge, that was the only one of four she succeeded on.
The blooper from one of the Paul Hendy challenges when a man who was asked Are you peckish? replied No, I'm Turkish!. Incidentally, the food Paul offered was sheep's testicles.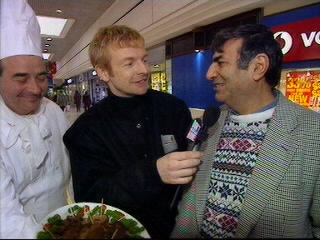 Are you peckish? No, I'm Turkish!
The majority of swearing from the MOTP.
Catchphrases
"Don't Try This at Home!"
Theme music
Theme music by Simon May; incidental music by Mike Woolmans.
Web links
Pictures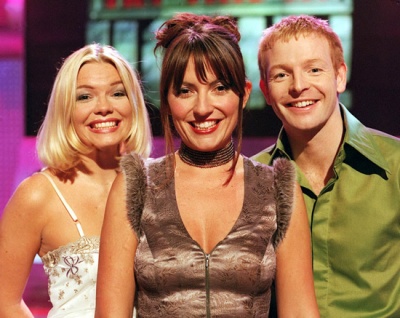 The DTTAH gang (without Darren Day)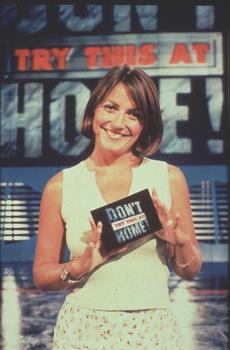 Davina's attempt at modelling...with a card.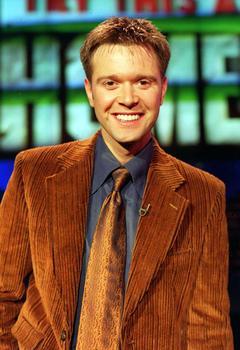 Darren Day: post-You Bet!
Feedback