Eamonn Holmes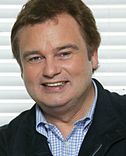 Biography
Belfast-born Holmes trained as a journalist with Ulster Television, getting his first major break when he took over from Gloria Hunniford as host of Good Evening Ulster at the age of 21, making him the UK's youngest-ever regional news anchor.
Early jobs on the mainland included the behind-the-scenes/TV discussion shows Open Air and TV Weekly, as well as Pot Black, before he took up residence on the GMTV sofa. Since then, he's sprung up all over the place. Outside of his game show credits, his other shows have included How Do They Do That?, The National Lottery Live and Sporting Greats. He also presents a weekend show on Radio Five Live and made a high-profile defection from GMTV to Sky News.
Recently he and partner Ruth Langsford have been presenting This Morning when Phil 'n' Holly aren't on hand.
Trivia
He was named after Eamonn Andrews because his mum was a fan.
Holmes spoke the first words on GMTV when it launched on 1 January 1993: "Good morning. A new day, a new year, a new television station. Welcome to GMTV, Britain's brightest start."
The manufacturers of the Eamonn Holmes-endorsed DVD game Spell had to re-print 10,000 copies after getting his name wrong on the packaging. Holmes spotted "Eamon" on the box cover when he was sent one of the DVDs to sign.
Holmes replaced fellow Irishman Des Lynam on not one, but two BBC shows - the Holiday programme in 1990, and human achievement show How Do They Do That? in 1995.
Contact
First Artist Management, 3 Tenterden Street, London W1S 1TD
Books / CDs
This Is My Life (autobiography): hardback | paperback | compact disc
Web links
Feedback