The Alphabet Game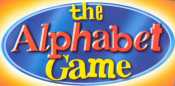 Host
Broadcast
Objective Productions and BBC North for BBC1, 5 August 1996 to 27 March 1997 (74 episodes in 2 series)
Synopsis
Amiable, if unoriginal, celebrity word game which filled the BBC1 lunchtime pre-news slot. Alphabets being something of an international requirement, it has subsequently sold to bucketloads of countries - most notably in Spain where Pasapalabra ran as a big money game show - and then back to us as Alphabetical. Why Andrew O'Connor hasn't bought Trinidad and Tobago from the proceeds, we don't know.
Inventor
Created by Rebecca Thornhill, Mark Maxwell-Smith and Andrew O'Connor.
Theme music
A version of "A, You're Adorable"
Trivia
In October 2019, the aforementioned Pasapalabra was wrenched off the air in Spain after it emerged that the local TV production company hadn't been paying their format fees for the original Alphabet Game. Mediaset refused to pay the 15 million euros compensation due from an earlier court case, and even counter-sued for the previous monies they'd paid for the rights, insisting that the game was something they had created themselves. The courts disagreed and instructed the show to come off the air that day.
Web links
Pictures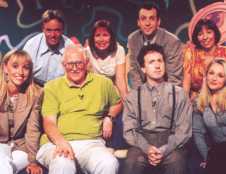 A bevvy of guests. Top row: Allan Stewart, Sian Lloyd, Andrew O'Connor, Heather Couper. Bottom row: Michaela Strachan, Bill Tidy, Steve Punt, Sarah Vandenburgh.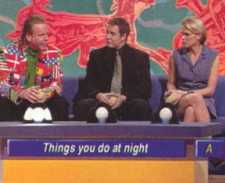 Rick Wakeman buzzes in to claim he can think of something to do at night beginning with "A".
Videos

Part 1 of a 1997 episode.
Feedback