The Other Half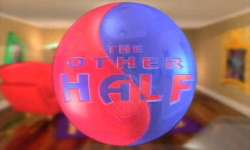 Host
Co-hosts
Announcer: Steve Jones
Broadcast
BBC1, 7 June 1997 to 2 February 2002 (31 episodes in 4 series + 6 specials)
Synopsis
Because Blind Date proved popular, they commissioned this and, to be fair, it was quite fun if switched your brain off.
The idea was to guess which of the four women/men was going out with the woman/man. This was worked out through a number of questions and games, one of the best being Spot the Bad Actor. The correct choice always had to tell the truth whilst the others all lied.
"'Ere, I've never seen you before - oops."
The culmination was the kissing section, where each choice had to kiss the person in question, trying to give as little away in body language as possible. Afterwards, the couple on the settee had to make a choice as to who was that person's Other Half. If they were right they went through to the show semi-final and if they were wrong, the proper couple went through. This was done twice.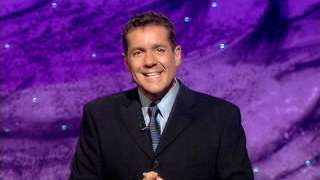 Host, Dale Winton
The semi-final was a Second Guess-style best-of-three quiz. Dale read out clues to a famous fictional or non-fictional couple (Going for Gold-style) until one of the males buzzed. However, it was the female that had to answer. Whoever got two correct went through to the final.
This was basically Tell the Truth - three of the female/male impostors from an earlier round returned to claim that they were really going out with one of the male/female impostors from before. The couple had to guess which impostor was now telling the truth, and they had the chance of winning a holiday, £1000 or a trip round the M25 London orbital motorway (Europe's largest, don't you know).
The show was fine, but it did seem to borrow rather heavily from other shows... in case you hadn't guessed. Oh, and there were a couple of celebrity specials too.
Inventor
Jeremy Lloyd and BBC TV
Theme music
1997-99: Ernie Dunstall
2000-02: Tony Royden
Trivia
BBC daytime TV's consumer rights champion Dominic Littlewood was a contestant on this show two years before getting his big TV break on Faking It.
Web links
Opening titles from the BBC Motion Graphics Archive
Videos

An episode from 1998.
Feedback