Weaver's Week 2015-04-12
Last week | Weaver's Week Index | Next week
This week, we've videos based on Going for Gold and 1000 Heartbeats, the University Challenge semi-finals, and why we can't have seasonally-adjusted television ratings. And we face the end of the world.

Tiger Aspect (an Endemol company) for BBC3, 15 February – 29 March
We've two strands to this review. One is to talk about the show as a game and as a television programme, what worked, what didn't work, why we can understand the ratings dropping by 60% after week one. The other is to talk about the show as an example of bigger concepts and more difficult things.

The basic plot was simple. Six months ago, 5G wireless was switched on. It was exciting, it was superfast internet, it got into places other forms of wi-fi didn't touch. Such as the bloodstream of humans.
According to the plot, 5G causes mutations in bacteria commonly found in the human body. When these bacteria interact with the brain, they can distort motor functions. Sufferers lurch about, lash out violently, their vision and hearing may be impaired, and they find themselves craving raw flesh. A single touch from a virus-infected person could prove fatal.
All of this was explained by animated inserts, made to look cheap and shoddy, and voiced in a warm and carefree manner. The government's Preventative Agency for Neurological Transmission and Zombification had a simple catchphrase: "Avoid zombies. Stay alive."
Back in the real world, things were not so simple. A group of survivors had reached the "Monroe Shopping Village". It had been re-named after the mall in "Dawn of the Dead", a seminal zombie movie. Isolated from the rest of civilisation, they had to survive for one week before the army could rescue them.
Simple, right? Find a location, hunker down, and sleep. This would make rotten television. Though the army wasn't on site, they had the village under observation through drones and CCTV. Disembodied voices gave the contestants tasks. They started out simply enough – get bedding from Walking Ed's store, fill water containers from the tap they've miraculously placed in a bandstand.
Of course, there's a risk of encountering zombies. Walking Ed's was used as a morgue, and are all those bodies really dead? The opening programme was filled with cheesy, predictable, and unsurprising results. As the players leave with pillows and quilts, some of the bodies rise up and follow them.
But it's clear they were under orders not to catch anyone, just scare them. And we saw this sort of manipulation in the first few episodes. Players who hadn't been out all day were told to go out and get water. Two players went into a pipe system when it was obvious only one could survive. Three were given solo missions, arranged so that if the first two succeeded, the third would fail.
The opening episode concentrated much more on the characters. Viewers waiting for the contestants to spill their guts had to wait until halfway through episode two – a long time for little reward.
Remember Survivor?
And so it went on. The plot was advanced, inch by painful inch. Meaningful graffiti appeared overnight on the village's walls. The description we gave earlier is cobbled together from five episodes of PANTZ propaganda.
As the week wore on, we began to get more coherent shows – one episode revolved around rescuing some more survivors, another went big on The Abomination. Other challenges were familiar from elsewhere: the Thrall Threads from Raven put in an appearance. So did the "guiding someone through a darkened room while watching them on infra-red cameras" from The Adventure Game.
But still there was yakking, still the edit alluded to power games without actually showing them. And still the producers pulled the strings. Running back to base from a car, the producers knew that someone would get eaten. Players run one by one, as soon as someone is caught, the rest slip past "while the zombies are distracted". They didn't state who would turn into undead fricassee, so long as someone was.
The final action episode kept closer to the traditional chase genre, moving the players about the shopping village during the episode, until the army arrived to rescue the survivors, and whisk them off to Quarantine. In this case, Quarantine is the Maldives.
Greg James hosted the show, he cut up the action and provided some snarky links to camera. Most of the story was conveyed through editing, they moved past the dull bits, probably removed a few tasks that didn't make good television, and told their story.
We were particularly impressed with the sound mix – mastered at a comfortable volume most of the time, but shrieks and growls stood out as being louder. So much television mixes sounds together so it's a simple sonic cliff, everything as loud as everything else. Zombie Apocalypse was a cut above the rest.
The show also succeeded by representing its audience. The cast wasn't just drawn from the BBC3 target audience; there was a granny, and a couple of contenders in their thirties. The UK's mix of skin colours were present, as were many other minorities. One player had a false leg, he also happened to be an immigrant from Europe. Another player was deaf, and yet another had had gender confirmation surgery. All human life was there. Compare and contrast against recent series of Big Brother.
Big Brother was the direct point of reference; many of the Zombie Apocalypse crew had previously worked on Endemol's big summer project. The early episodes felt as structured, constructed, confining, and manipulated as recent years of Big Brother. The show took three weeks to get going, and we cannot blame viewers for getting bored with this slow progress.
Other viewers were hacked off by the internal BBC politics. BBC3 decided to concentrate its drama budget on one big production, and Tatau reaches the channel this week. This seriously offended fans of BBC3's other dramas, including In the Flesh. This zombie-themed drama ran for nine episodes in two series. It was the follow-up to The Fades, itself a logical successor to the supernatural series Being Human.
Some viewers have followed this trail for years. Quality drama, promising drama, popular drama, and then they reached a slow-starting game show. Some viewers were prejudiced against Zombie Apocalypse because they could have seen a new run of In the Flesh. Others saw the show and said "oh, they could have done so much better." This column never got into In the Flesh, but we see the fans' point.
Another reason why BBC3 went for one big production rather than little ones was to attract tax breaks. When a television drama reaches a certain budget, it become eligible for tax breaks. One production costing a million pounds will hit that mark; two productions each costing half a million are not rewarded by the Treasury. It's right for the BBC to eke out its license fee, of course it is. Anything else would be to defy capitalism.
Zombie Apocalypse was filmed at the West Calder Shopping Village, some way outside Livingston in central Scotland. It's one of the quietest places around, naturally insulated from passing roads. This out-of-town shopping centre opened in 1994. Another centre, nearer to Livingston, opened in 2000, and poached much of the spending that used to go to West Calder. The village closed in or around 2005, since when it's been boarded up, awaiting some new tenants. The owners expected them to be regular people spending money, but capitalists will take dosh from ex-humans and try not to notice the whiff of decaying flesh. It's possible that West Calder could enjoy a second life, as a ready-built set for this sort of post-apocalyptic programme.
We got flashes of other points. Was this series a metaphor for the slow, lingering death of BBC3? It's over a year since the BBC management put forward some ill-considered proposals to put BBC3 online, saving a trivial amount of money and showing that the corporation doesn't care for young viewers. The BBC Trust put out a consultation about the channel's death at the start of the year, and don't expect to report before the summer. Are the zombies to be seen as BBC executives, trying to snuff out the last spark of life amongst the young?
This column's followed the zombie fad from the start, and we've noted the claims from Slingshot (responsible for the open air game Hours Later) that zombies are somehow a metaphor for reductions in government spending. We've never understood that claim.
From our reading, the evidence from Zombie Apocalypse showed that people are the architects of their own fortune, and of their own demise. One player got through from physical excellence. Another showed deep reserves of patience and ingenuity. A third survivor was lucky, always in the right place at the right time. Another was protected by the group and got to the last day without being seriously challenged for survival. Some of the other players got themselves killed through their own faults. A little too slow. A little too hesitant, a little too clumsy. Others were just in the wrong place at the wrong time, or ran into dead-end traps with no escape.
Was Zombie Apocalypse discussing the competence and limitations of the army? Throughout the series, they tended to lead the players into danger, and proposed situations where some death was almost inevitable. Was this a hyper-extended metaphor, against the Fabian model of an all-powerful state and towards greater localism? Continue this discussion on page 94, we're getting out of our depth.
Would there have been more survivors if the "army" had allowed the players to fend for themselves, make their own decisions about food and water? Very possibly. Would this have been better television? No. Each episode had a point, and a dramatic conclusion towards the end. It's just a shame that the first two episodes had very muted conclusions, and a lot of viewers gave up.
It's Debateable
A series of short pieces somewhere between game shows and British politics.
Richard McCourt and someone who isn't Dominic Wood throw around buckets of tax-deductable creamy muck-muck. It's more interesting than any shouting programme hosted by David Bumblebore.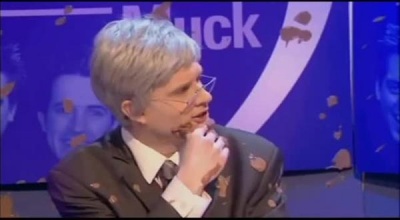 A video by jondharvey.
Actual Halbenfinalrund, match 2: Gonville and Caius Cambridge vs Durham
Gonville and Caius are represented by Ted, Michael, Anthony, and Jeremy, advocates of the CBBC "no family names" policy. No such modern thinking for Durham, their foursome are Daniel Morgan-Thomas, Freddie Lloyd, Fred Harvey, and Nikil Boyd-Shah.
These sides are both from the top half of the draw – the sides we saw in the first four second-round matches back in the autumn. They met in a non-elimination match somewhere in the group phase, and G&C won it quite easily.
Durham's first set of bonuses is on mass extinction events. That'll be a prediction for the end of the game, surely. Harsh stares to the question-writers, who believe the aughts (the decade 2000-09) are the "naughties". We disagree; that's a number of Scottish interviewers.
The first "visual" round is extracts from poems, with nouns replaced by those nearby in the dictionary. This Roumania really is a complete loach of cobalamins, after which Gonolek and Cairo leads Durer by 90-10.
Back to the game, and it's one-way traffic. Gonville and Caius advances to 130 by the music round, Durham retreats to 5. "Nothing's too obvious here," snarks Jeremy "Thumper" Paxman about one question on idealised physical systems. Is the host covering up for not knowing what he's just read out? Perish the thought!
Some slightly harsh (but fair) adjudications this week: G&C get fined for "plenary" when they were looking for "plenum", and neither side has "Daughters of the Revolution" accepted for "Daughters of the American Revolution". See, time spent watching Gilmore Girls was never wasted. It's 145-50 after the daughters picture round, the only women we see on screen this week.
Yet another harsh and incorrect decision to fine a team who push their buzzer just after Thumper has finished a question. This failure has altered games earlier in the series, but not this week. Gonville and Caius win, by 170-75.
This Week and Next
Brain of Britain has many sorts of games. This week's third semi-final was a clear win: David Good took the lead in the first round, and continued to score strongly each time afterwards. Dianne Whitehead kept pace in the opening exchanges, Didier Bruyere tried to catch up after a slow start, Derek Hayes scored something in most rounds. None of them could match Mr. Good's consistency.
The regular UK – Netherlands format exchange continues; the Dutch are going to make their own version of Pointless. Lucille Werner will be calling "mooie lage score"; we don't yet know who gets to take on "en per land, ik bedoel een soevereine staat die lid is van de Verenigde Naties in zijn eigen recht."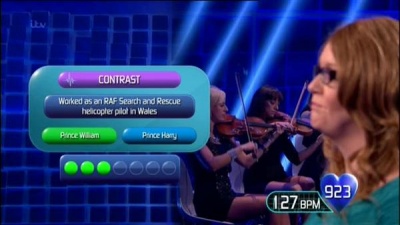 Still with the near continent, a clip from Télé Matin on France 2. They were discussing 1000 Heartbeats (Mille battements de coeur, as it'll be known locally) with a mix of incredulity and admiration. This column is pleased to have provided one of the stills used in the clip, and thanks to Paul Farrer for the tip. Si vous parlez Francais, c'est ici.
BAFTA television award nominations are out. Here are the game show nominations.
Comedy Entertainment – Would I Lie to You
Audience Award – The Great British Bake Off, Strictly Come Dancing
Reality and Constructed Factual – The Apprentice, I'm a Celebrity
Entertainment Performance – Ant and Dec (for Takeaway), Claudia Winkleman (for Strictly), Leigh Francis (for Celebrity Juice)
Entertainment – Saturday Night Takeaway, Strictly Come Dancing, The Voice
Features – The Great British Bake Off
Hasn't it been absolutely lovely outside. Telly execs have tried to put numbers on how much people stop watching the gogglebox in nice weather. By cross-referencing their data against the Met Office, BARB have found that when temperature increases by 1 degree Celsius against the seasonal norm, viewing falls by 0.76%. And an extra hour of sunshine chops viewing by 0.71%. These results were measured against total viewing time, it would be unfair to apply them to individual programmes. We can't produce a robust seasonally-adjusted viewing figure.
BARB ratings in the week to 29 March.
Britain has a new number one: Poldark muttered its way to the top with 7.75m viewers. BBC The Voice of UK reached 7.25m viewers on Saturday.
Masterchef continued with 5.95m for its top episode, and Saturday Night Takeaway brought 5.45m to ITV. You're Back in the Room continued to impress with 3.95m, and Big Star's Little Star amused 3.4m.
BBC2's quizzes – 3.15m for University Challenge, 2.65m for Only Connect, and 1.9m in England for the Mastermind grand final.
Ratings moment of zen: Cameron and Miliband Live 2.6m, The Chase 2.55m.
Celebrity Juice had 1.46m on ITV2, and The Quizeum opened on BBC4 to 705,000 viewers. We'll be interested to see how this rates later in the series.
A new run of Virtually Famous (E4, Mon), Wild Things gets a post-watershed mix (The Satellite Channel, Thu), Spike TV launches with a few imported game shows, and BBC Young Dancer 2015 (BBC4, Fri) begins. Next week's Week majors on the University Challenge final (BBC2, Mon).
Photo credits: thejournal.ie, Tiger Aspect (an Endemol company), CBBC, ITV Studios, Hungry Bear Media.
To have Weaver's Week emailed to you on publication day, receive our exclusive TV roundup of the game shows in the week ahead, and chat to other ukgameshows.com readers, sign up to our Yahoo! Group.