Weaver's Week 2015-04-19
Last week | Weaver's Week Index | Next week
(huge yawn) Coming up, a trip to The Quizeum, and the latest from Countdown. If you detect a certain tiredness, we've been reading all the party manifestos for their broadcast media proposals. So let's begin with the most exciting thing this week.

ITV Studios for BBC2
The final: Magdalen Oxford v Gonville and Caius Cambridge
Harry Gillow, Chris Savory, Hugh Binnie, Cameron J Quinn are up against Ted, Michael, Anthony, Jeremy. Magdalen Oxford hope to make it five in a row, after wins for Osiris, Isis, the men's and women's teams in the boat race last weekend. Gonville and Caius get the first starter tonight, and follow with perfection in the bonuses. Magdalen get the next starter, and draw level. Game on!
G&C give the first incorrect answer of the night, but it doesn't arrive until question ten, the first of a bonus set on elements. The picture round is on the nationality of winners of various Nobel prizes, and apparently New Zealand has to be Rutherford. Er, if you say so, Thumper. Magdalen takes their first lead with the final question of that set, 45-40.
It lasts just a moment, as G&C score with "Mensa" and take the next two starters. One of the bonus rounds is on internet pioneers, such as pioneering web browser "Mosaic". It shows pictures! This is Web 2.0! Magdalen make a rod for their own backs, incurring a missignal penalty after interrupting a question.
Magdalen do fire back with questions on the philosophy of certainty, and secure the music round – questions on works depicted in Chagall's painting on the ceiling of the Palais Garnier. Magdalen don't score, but it's two minutes and 15 points the opposition can't use. G&C leads by 95-75, but the match is tied at 95-95 after the next starter. Game on!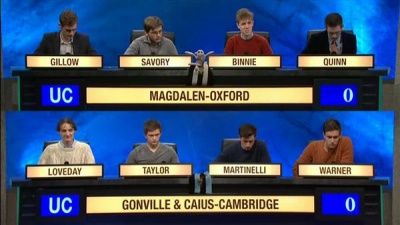 There's a question about the cabinet of one prime minister, whose cabinet included his party's previous and next PM throughout. That'll be Heath, who had Douglas-Home as foreign secretary, and his education minister was Perpetual Quiz Answer Mrs. Margaret Thatcher. Gonville and Caius get that answer, and the next starter, but fail to score on astronomical rotations.
So long as the Cambridge side can keep answering the starters first, they'll win tonight. They answered the starters first when these sides met in the group phase, and won then. Both sides know this: Magdalen have to redouble their buzzer work, G&C just have to be right. By the picture round, when no-one knows about poets laureate, Cambridge have been right: 145-95. And then G&C prove, again, that they have the best buzzer work. With seven minutes to go, this happens:
Q: Inspired by the artworks of Viktor Hartmann, The Gnome, The Hut On...
A: Mussorgsky's Pictures Of An Exhibition.
In an instant, we're thinking "game over". Not just that it's opened the door for Gonville and Caius to take 15 from questions on events in centuries BC. Not just that it's given the Cambridge side a 100-point lead. They're taking the bull by the horns. Magdalen need to buzz in aggressively? G&C will buzz in with even more aggression. When Ted Loveday answers "chiasmus", we know there is only one winner.
"The questions fell badly for you," simpers the host to Magdalen. We disagree, the Oxford side was second best in that match, though not by such a huge margin. At the gong, Gonville and Caius emerge the winners, by 255-105.
Eleven starters from Ted Loveday tonight, his series total (according to Jack's Online Writings) is 29 from six matches. The best buzzer was Gabriel Trueblood from St Peter's Cambridge, 39 from five. No-one has beaten Gail Trimble's 46 from five unbeaten matches.
Back in July, a two-part documentary promoted the new series. "It's an entertainment programme," said the producers. This column didn't find the series particularly entertaining, but we acknowledge that 3 million people saw most episodes. Many of the early matches were Boring College Oxbridge versus the Redbrick University of Some Tedium, neither good quizzing nor good television.
We've never liked the long, wittering starter questions. They sap energy from the show, they turn attention on the host because for twenty seconds, he's the only voice we hear. This year, the show also suffered from many dubious adjudications, teams fined for "interrupting" the host just after he'd finished reading the question.
"It's gonna be a pretty damned good series," claimed the producer. She was almost right, it was a pretty damned series. The questions are too long. The same teams appear all the time – between them, the finalists have appeared in one-third of the shows, and eight times in the last eleven programmes. The host's character winds us up.
And here's the clincher: we have no stake in the result. We only ever cheered against sides, never for them. We cheered against Manchester in the opening match, we cheered against Magdalen in the closing match. There is therapeutic value in a twenty-eight minutes' hate, but we aspire to be better than that.
Can we continue watching a show that winds us up, that evokes such a negative reaction? We're really not sure.

Modern Television for BBC Cymru Wales, shown on BBC4, from 25 March
The Fourth Programme has a short history of game shows, as in shows that are a competition. Only Connect (2) has flown the nest.
BBC4 has a longer and richer history of erudite panel games, programmes that are about the taking part not the winning. Mind Games (2) had a budget of almost exactly tuppence. Then came The Book Quiz with David Baddiel, followed by The Book Quiz with Kirsty Wark, that bloke from Downton Abbey brought us pedantry quiz Never Mind the Full Stops, and Hugh Dennis pulled on a dinner jacket when he revived some old formats.
The latest contribution is The Quizeum, a show hosted by Griff Rhys Jones, and starring a different museum each week. Griff goes from place to place, exploring the nooks and crannies of history, telling the stories of everyday life. Like a modern-day Mr. Pickwick, Griff has regular guests – art historian Janina Ramirez, ceramics specialist Lars Tharp, historian Kate Williams. They don't all turn up in every programme, but at least one is present in each show.
Rounds are faintly predictable: here's an artefact from the museum, what is it used for? Here are some clues, what item in the museum are we talking about? Here's a picture, what does it symbolise? What links your two items? The format is also predictable: two pairs of players, with points awarded at the chairman's whim.
We would have liked to have taken away the learning, to have found out lots of curious little facts about the Ashmolean, or the Maritime Museum. Others might have liked the ever-so-slightly smutty tone, a plate that revealed naughty parts of the anatomy as food was eaten.
Our main takeaway from the programme is Griff Rhys Jones's ability to fill any moment with the sound of his own voice. Every sliver of silence, every corner of quiet, filled with Griff saying something. It's a wall of words, a massive feast of hot air. Once Griff starts talking, he doesn't shut up until the closing credits.
That's a shame: we'd love the space to appreciate these artworks, to ponder on the antiquities, to hear a tale told well. Instead, we get a vam-vam-vam programme, moving at many hundreds of miles per hour. By cramming so much into his half-hour, Griff doesn't give us time to let anything sink in.
Galleries and museums are places of quiet contemplation. We could like The Quizeum far more if it didn't sound like a motorbike in the whispering gallery.
It's Debateable
A series of short pieces somewhere between game shows and British politics.
This week's piece is not short: if you want to skip to the Countdown Update, do it.
What are the promises? We've read the party manifestos so you don't have to. Very few people's votes will be shifted by policy on broadcast media, but we think it will be useful to note each major UK party's platform. Quotes are edited for brevity.
Greens
Tighten the rules on cross-media ownership and ensure that no individual or company owns more than 20% of a media market.
Maintain the BBC as the primary public service broadcaster, free of government interference, with funding guaranteed in real terms in statute to prevent government interference.
The Green Party has also published a statement of policies.
A healthy democracy is an informed democracy. Market mechanisms alone are an insufficient basis for regulation of the mass media. OFCOM will remain as the primary regulatory authority across all media, but the remit will be amended to give social and cultural concerns equal weight to commercial factors. The current bias against intervention has tended to create a focus on market failure as the basis for regulation. Membership of the OFCOM Board and the Board Committees will be reformed to include democratically elected representatives from stakeholders.
Liberal Democrats
We will protect the independence of the BBC while ensuring the Licence Fee does not rise faster than inflation, maintain Channel 4 in public ownership and protect the funding and editorial independence of Welsh language broadcasters.
We recognise the importance of a plural and diverse media, free from state influence or from monopolistic or dominant market control, in guaranteeing a vibrant national conversation. We will therefore reform the existing arrangements for safeguarding plurality in the media broadly in line with the recommendations of the 2014 Lords Communications Select Committee report.
We will:
Give lead responsibility to Ofcom and enable it to conduct reviews periodically, as well as when triggered by proposed mergers and acquisitions, and enable Ofcom to set down conditions to prevent the reach of any media company damaging the public interest.
Ensure any conditions or requirements that Ofcom lays down following a plurality review can only be vetoed or interfered with by a Minister after a vote of both Houses of Parliament.
Use a variety of measures to ensure that there is a vibrant local and 'hyperlocal' media to help inform citizens about their local area and their local politics, including:

Redirecting the current subsidies for 'local TV', which have failed to contribute significantly to cultural life.
Extending Ofcom's community radio grant support to online hyperlocals, and allowing non-profit local media outlets to obtain charitable status where the public interest is being served.
To promote the independence of the media from political influence we will remove Ministers from any role in appointments to the BBC Trust or the Board of Ofcom. We will maintain funding to BBC World Service, BBC Monitoring and the British Council.
Continue to support free media and a free and open Internet around the world, championing the free flow of information.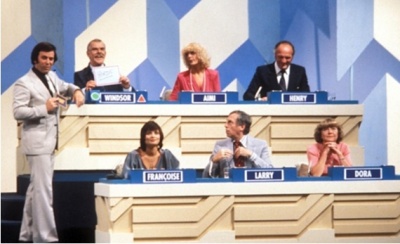 UKIP
UKIP will abolish the Department for Culture Media and Sport.
UKIP's website gives an additional policy:
We will review the BBC Licence Fee with a view to its reduction. Prosecution of non-payments of the Licence Fee would be taken out of the criminal sphere and made a civil offence.
Labour
The free flow of information and of different points of view is crucial for open debate and countering concentrations of unaccountable power. That is why the concentration of media power in too few hands is damaging to our democracy. No one media owner should be able to exert undue influence on public opinion and policy makers. No media company should have so much power that those who run it believe themselves above the rule of law. Labour will take steps to protect the principle of media plurality, so that no media outlet can get too big, including updating our rules for the 21st century media environment.
Our system of public service broadcasting is one of Britain's great strengths. The BBC makes a vital contribution to the richness of our cultural life, and we will ensure that it continues to do so while delivering value for money. We will also commit to keeping Channel 4 in public ownership, so it continues to produce vital public content.
Plaid Cymru
We will devolve broadcasting to Wales. A BBC Trust for Wales as part of a more federal BBC within the UK, appointed by the Welsh Government and the appointment process including public hearings held by the National Assembly for Wales.
Responsibility for S4C would transfer to the National Assembly for Wales, as would the funding for the channel that is currently with the Department for Culture, Media and Sport. We will ensure that S4C is adequately funded and that the channel maintains editorial independence.
We support establishing a new Welsh language multimedia service to operate online, on radio and other platforms, in order to reflect the needs of Welsh language audiences and improve current affairs coverage in Wales.
Ofcom's office in Wales should have greater powers, including the authority to take licensing decisions. The members of Ofcom's Advisory Committee for Wales should be appointed by the Welsh Government. This would be best achieved by the federalisation of the work of Ofcom in a UK context.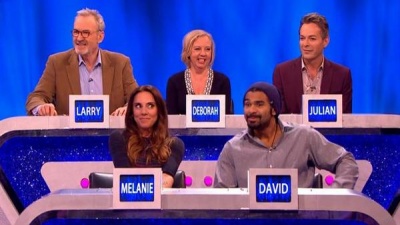 SNP
The manifesto isn't launched until next week, the website has a policy:
The SNP is supporting Gaelic broadcasting. This includes consistent support for BBC Alba to gain access to Freeview, increased funding for MG ALBA and for other projects such as media equipment at the Fàs studios, capital for the Seaforth Road studios, funding of the Gaelic learners website and support for the Film G competition.
Conservatives
A free media is the bedrock of an open society. We will deliver a comprehensive review of the BBC Royal Charter, ensuring it delivers value for money for the licence fee payer, while maintaining a world class service and supporting our creative industries. That is why we froze the BBC licence fee and will keep it frozen, pending Charter renewal. And we will continue to 'top-slice' the licence fee for digital infrastructure to support superfast broadband across the country.
We will continue tax reliefs, with a tax credit for children's television next year, and expand them when possible.
We will strengthen Ofcom's role so that tough measures can be taken against channels that broadcast extremist content.
Countdown Update
We last looked at Countdown in late February, when Jordan Barker was making his eight-win run. A total of 713 points is low. Mark Sutcliffe (1 win), Chris Dromey and Charlene Rose (2 wins each) followed in the champions' chairs, then along came Tom Cappleman.
In his first game, Tom scored the maximum in 14 rounds, missing one letters round (which Charlene spotted, so the players combined for a perfect game). Tom scored a century in all eight heats, a top score of 135, and a 13-max game. His total of 924 points looked unbeatable.
Kate Ritchie won two games; she's already a quarter-finalist, made the elite eight in summer 2000. Gerry Tynan brought her run to an abrupt end, he became the latest octochamp, with five century scores. Gerry twice recorded 10-max games, and if he has a good day and Tom a bad one..?
We'll find out sooner rather than later, Finals Week is in early June, the schedulers are completing the series just before Royal Ascot. Very sensible.
This Week and Next
A gripping semi-final of Brain of Britain was won by Nigel Jones. He wasn't leading after the first round, that honour fell to Martin Riley who got five in a row. But while Mr. Riley stalled after this strong start, Mr. Jones progressed with two or three answers in most round. The other players, including Peter Whitehead, struggled at times, but a slight wobble from Mr. Jones in the penultimate round gave everyone help. Andrew Frazer answered most of his final set, and would finish second on the day, but Mr. Jones did enough to hold off all others and win the match.
Mr. Jones takes his place in the final next week. The host has suggested that this year's final will last for just one minute, but the show will last the full half-hour. Who will be the 61st Brain of Britain? We'll know next week.
Dermot O'Leary has left a big hole in The X Factor. It's too big to be filled by one person, so there will be two co-hosts. Caroline Flack and Olly Murs will present the programme when it returns in the summer.
BARB ratings to 5 April.
The Eastenders reached the top spot, with 7.8m viewers on Monday. The Voice final was seen by 6.85m, barely beating Masterchef (6.1m).
The Fifteen-to-One revival on ITV pulled 5.9m on Thursday night. Saturday Night Takeaway was seen by 4.65m, and You're Back in the Room 3.25m.
Holidays on Friday allowed Pointless (3.85m) and The Chase (2.9m) to grow. University Challenge topped on BBC2 with 3.05m, while 2.55m saw the Only Connect final.
Celebrity Juice pulled 1.37m to ITV2. Four in a Bed was seen by 910,000, Channel 4's biggest game show.
Missing: The Quizeum fell out of BBC4's top ten. Eurovision's Greatest Hits went out on BBC1, with less than two million viewers. 80,000 saw the karaoke version on the Red Button. We should have watched that, we always wanted to know the words to "Riverdance".
So many questions this week. Will Shane Richie be a friend of Ant's? Find out on Decimate (BBC1, weekdays). Who will be this year's Brain of Britain (Radio 4, Monday)? Who will be choir of the year? Find out on Côr Cymru (S4C, Sun). And is Seven Envelopes (Watch, Mon) a game show? We'll have to see. Morning telly on Pointless Celebrities (BBC1, Sat), and a warning that Piers Morgan is on Play to the Whistle (ITV, Sat).
Photo credits: ITV Studios, Modern Television, ITN, BBC, 12 Yard, The Jim Henson Company, Endemol.
To have Weaver's Week emailed to you on publication day, receive our exclusive TV roundup of the game shows in the week ahead, and chat to other ukgameshows.com readers, sign up to our Yahoo! Group.