The Guess List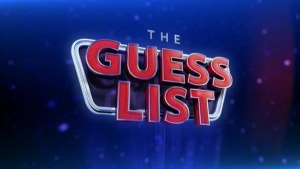 Host
Brendan O'Carroll as "Mrs. Brown" (non-broadcast pilot)
Broadcast
12 Yard in association with Small Man for BBC One, 12 April to 24 May 2014 (6 episodes in 1 series)
Synopsis
This show could be described as Rob Brydon Gets Cheeky With Celebrities; the game element is very much secondary to the comedy. But, as this is UKGameshows.com, and not UKCheekyBanter.com, we'll run through the game.
Two contestants compete for a prize that has been specially selected for them. Helping the contestants find the answers to a series of questions are five celebrities.
Each contender is asked two questions, usually lending themselves to some mild innuendo. The panellists write down their guess to the right answer. Rob Brydon talks to them, distracts them, and uses them as set-up lines for his comedy. Eventually, the contestant is presented with a list of guesses, picks one, and scores a point if they're right.
Whichever contestant has the more points goes to play for the specially-selected star prize, a question that requires a number as an answer. The panel give their guesses, then Rob narrows it down to two possible options - neither of which were necessarily on the guess list. A right answer wins the prize.
As we say, nothing to the game that Blankety Blank and Family Fortunes didn't cover. The show works for viewers who like Rob Brydon being cheeky with celebrities, and fails for those who don't.
Trivia
A non-broadcast pilot was made in late 2012 called Mrs. Brown's Celebrities with future For Facts Sake host Brendan O'Carroll as Mrs. Brown on hosting duties. O'Carroll declined a full series in 2013 because he didn't wish to water down the Mrs. Brown brand.
Web links
See also
Feedback